WILLIAM STEVENSON (1807-1870+)
MARY WILLAMS (1820-?)
WIDOW FANNY (nee HOPE) THOMAS (1822-1892)
(Last Updated: September 05, 2014)
William STEVENSON, an Indian, was borns about 1810 in Red River, probably in what later became the St Peters Indian Reserve, a son of Mary and John STEVENSON (b-1787), both half-breeds.
It is important to note that prior to 1836 the St Peters Reserve did not exist by that name. In 1817 Chief PEGUIS (1774-1864) signed a Treaty with Lord SELKIRK (1771-1820) granting his Band exclusive rights to the land along both sides of the Red River from Sugar Point (including what is now the Town of Selkirk) all the way to the mouth of the river at Lake Winnipeg. The area ceded became known as" the Indian Settlement" or the First Peguis Reserve.
** MORE ABOUT CHIEF PEGUIS
In 1820 Reverend John WEST (1778-1845) arrived in Red River, the first clergyman appointed to Rupert's Land by the HBC.
** MORE ABOUT REVEREND JOHN WEST and the FIRST RED RIVER CHURCHES & SCHOOLS
The North West Company - Hudson's Bay Company Merger
1821
In 1821 the union of the North West Company (NWC) and the Hudson's Bay Company (HBC) occurred, ending the years of bitter rivalry for dominance of the fur trade in Western Canada.
HBC Heritage By the terms of the merger the administration of the Company was split into two regions, the Northern and Southern Departments, each with its own Governor. Most of the profitable fur areas were in the former area, which covered the region westward from Rainy Lake and Fort Albany to the Pacific coast. London designated William WILLIAMS (1771-1837) as the senior Governor with responsibility for the Northern Department. But WILLIAMS instead chose the governorship of the Southern Department, leaving to George SIMPSON (1786-1860) the more promising appointment.
** MORE ABOUT GOVERNOR WILLIAM WILLIAMS in DCBO by Shirlee Anne Smith
** MORE ABOUT GOVERNOR GEORGE SIMPSON
In the spring of 1822 Governor SIMPSON reported to the board of governors of the HBC that he had established a fort at the junction of the Red and Assiniboine Rivers.  He named it Fort Garry (later named Upper Fort). Following the HBC-NWC union many fur-traders and voyageurs lost their jobs and were offered land and encouraged to take up farming. Many settled with their families along the Red River from the 'Forks' all the way north to the Indian Reserve occupied by Chief PEGUIS and his Band..
William STEVENSON, a member of this Peguis Band, would have been about 15 years old at that time.
Heather Hallett: William WILLIAMS walked out one day in 1822 and left Sarah (FIDLER) and their daughter(s) destitute (Note: Heather makes no mention of Mary as a second daughter). Sarah must have also been pregnant with their second (third?) child when he left her. George SIMPSON did not like native or mixed-blood women, except for sex, and he was likely behind WILLIAMS' transfer (as Governor) to Moose Factory. WILLIAMS' wife and children from England joined him there. It was unusual for English wives to be allowed to join their husbands at the Forts they were stationed at. Perhaps Mrs. WILLIAMS and her children were test cases. "Poor things, it was probably pretty awful for them."
Sarah FIDLER was the alleged mother of Mary WILLIAMS who would later be associated with our William STEVENSON.
** MORE ABOUT SALLY FIDLER and GOVERNOR WILLIAM WILLIAMS
On Dec 27, 1822 Sally's father (Peter FIDLER) died at Dauphin House.
By 1824 Sally's widowed mother (Mary MACKAGONNE) had moved with her youngsters to Red River. They moved into the house that old Peter FIDLER had built earlier. It was known as Fidler's Fort' and was located near the junction of the Red and Assiniboine rivers not far from Upper Fort Garry. At that time Sally FIDLER's surviving siblings would have been Thomas Jonathan FIDLER ( married to Nancy HALLETT), Charles (age 26), George (24), Andrew (18), Alban (15), Mary (13), Clement (10) Colette (7) and Peter FIDLER Jr. (age 4) and Harriet (age 2). Certainly the youngest of these would have still been with their widowed mother. It seem safe to assume that Sally (age 22) and her children probably joined them there. In 1824 these would have been William WILLIAMS Jr. (age 1), Matilda WILLIAMS (age 3), and presumably our Mary WILLIAMS (about 4 or 5 years old).
Arrival of Reverend William COCKRAN
1825
On Oct 14, 1825, Reverend William COCKRAN (1798-1865) came to Red River with his wife to serve and assist Reverend David JONES (1796-1844) at the Middle and Upper Churches (St Paul and St Johns). 
** MORE ABOUT REVEREND WILLIAM COCKRAN in DCBO
In 1826 Sally's mother (Mary MACKAGONNE) died.
In 1828 when Mary WILLIAMS would have been about 18 years old, her mother (Sally FIDLER) became the wife of James HALLETT (1800-1883) and they were living in St James-Assiniboia.
When Reverend JONES left in 1829 for a year's furlough in England, Reverend COCKRAN moved down to the Lower Church at Grand Rapids, now called St Andrews.  While there, his attention was caught by the bands of Swampy Cree and Salteaux Indians who customarily gathered at Netley Creek, 11 miles down-river. For some years prior to this the Indians had visited Red River, begging for food to replace the game whose habitat had been destroyed to make way for agriculture.  It was clear they needed assistance but it was not until COCKRAN arrived that any organized program was undertaken.  Hoping to evangelize them as well as improve their material condition, COCKRAN began encouraging the Indians to pursue an agricultural existence.  It was felt that Indians who were supporting themselves by cultivating the land were easier to convert and that religious instruction had relatively little effect until they were so settled.


William STEVENSON and Mary WILLIAMS
1830
Around 1830 William STEVENSON is alleged to have had a child (Peter) with Mary WILLIAMS, the alleged daughter of Sarah "Sally" FIDLER and the aforementioned Governor William WILLIAMS (1771-1837).
In 1831 the first Anglican log church (1831-49), referred to as "The Rapids Church" and a school, were established by Reverend COCKRAN in the St Andrews area. The old St Andrews stone church wasn't built until the 1840's.
In 1836 COCKRAN built the first St Peters Church (of log) near the mouth of Cook's Creek and it wasn't officially opened until Jan 4, 1837. Only after that did the term St Peters Reserve and St Peters Parish come into being.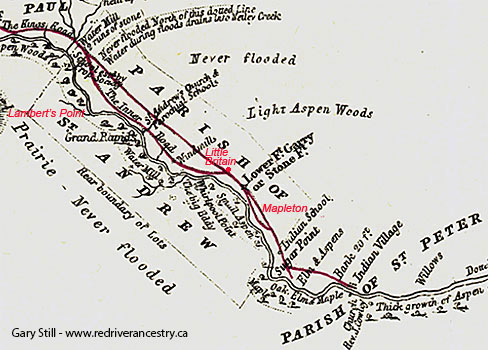 St Andrews Parish from Hind's Map of 1857
William STEVENSON and Fanny HOPE
1840
Fanny HOPE, also an Indian, was born 1822 in Red River. Around 1843 Fanny was united with Thomas THOMAS (1819-1859) at which time daughter Fanny THOMAS was born (baptised Dec 30, 1843) in St Peters. 
** MORE ABOUT FANNY HOPE and THOMAS THOMAS
In 1854 son Peter STEVENSON married Margaret BELLENDINEof uncertain origins.
By 1856, Fanny HOPE & Thomas THOMAS had about eight children, all born in St Peters, including William THOMAS b-1845, who was the great grandfather of my (Gary Still's) sister-in-law. 
On Mar 12, 1859 Thomas THOMAS died.
We don't know what became of William's first wife (Mary WILLIAMS), but in 1862 William STEVENSON re-married (a common-law relationship) with Fanny (nee HOPE) THOMAS, then a 40 years old and widowed herself.
Census of 1870 in St Andrews Parish: William STEVENSON, age 60; wife Fanny, age 55. Children: Joseph THOMAS (age 17) and Caroline THOMAS (age 16).
Sometime after 1870 and before 1881 William STEVENSON must have died.
In 1873 a Charlotte STEVENSON married William McDOUGALL (born 1847 in St Boniface), the son of Marguerite McDONALD and Duncan McDOUGALL (1796-1870) from Quebec. In a Scrip Affidavit Charlotte indicated that she was the daughter of Mary WILLIAMS and William STEVENSON. William McDOUGALL died in 1875, and Charlotte re-married to a Henry B HODGSON of St Peters. If anyone has more information about these people, please let us know on the Forum.
In the 1881 Census, Widow Fanny THOMAS (age 55) was recorded in the household of her daughter Catherine and son-in-law, Cornelius JOHNSTON in St Peters.
On Jul 20, 1892 Fanny THOMAS died in St Clements Parish.
Comments and queries at this link: FORUM DISCUSSING the WILLIAM STEVENSON FAMILY
============================ Family Details ============================
Possible child by Mary WILLIAMS:
1. 1830 PETER STEVENSON (m. Margaret BALLENDINE)
?2. CHARLOTTE STEVENSON (m1. William McDOUGALL; m2. Henry B HODGSON)