JOHN GEORGE KENNEDY (1870-1944)
JULIET THOMAS (1876-?)
LYDIA (nee SMITH) PRINCE-KENNEDY-STENLUND (1903-1980)
(Last Updated: February 07, 2017)
Inspiration to present this family page came from postings on this Forum by Kennedy Jr., grandson of Isabelle (Bella) SIMARD and Dietrich HARDER (born around 1920). His great grandmother (Bella's mother) was Margaret KENNEDY who in turn was a daughter of our John George KENNEDY. Kennedy Jr. has done an excellent job of researching his ancestors and has flooded us with a complex array of information that provides valuable insight into the KENNEDY families.
John George KENNEDY was born Sep 4, 1870 in the St Peters Indian Reserve, son of Margaret DENNETT & Alexander KENNEDY (1852-1935), a Treaty Indian. This was the year that Manitoba became a Province.
** MORE ABOUT ALEXANDER KENNEDY
He was yet a baby when in 1871 Treaty Number One was signed by Chief Henry PRINCE or RED EAGLE (1819-1902) and his councillors, establishing the boundaries of the new St Peters Indian Reserve as shown in the map below.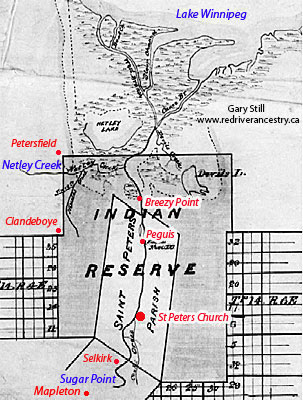 Plan showing St Peters Reserve No.1
Lest anyone might misunderstand, Treaty One was not the first Treaty signed, and the New St Peters Reserve was new only in the sense that the boundaries were redefined, essentially eliminating the portion of it that became the Town of Selkirk. The first reserve was created with the signing of the Selkirk Treaty of 1817 by Chief PEGUIS.
From ICC (Indian Claims Commission): By 1876 St Peters Parish was divided in two, the Saulteaux and Cree having become openly antagonistic toward one another.  The formal split caused the Reserve to alter in appearance with the southern half (Dynevor) occupied by the Cree basically with the northern half (Peguis) housing the Saulteaux. - - half of the Parish's population had become non-treaty Indians - - farming had become a subsidiary occupation for many of the Indians who drifted back to fishing and hunting - - for longer periods of time - - they were also working at many manual labour jobs and accepting occupations outside of the reserve setting.
On Apr 21, 1876 The Daily Free Press (Winnipeg) published an article regarding the creation of the St Peters Reserve. Here are some excerpts from that article: "In 1871 Henry PRINCE was declared Chief of the St Peters Indian Band, replacing his father, Chief PEGUIS. Numerous Band Members were listed in the articles, including Antoine KENNEDY, John G KENNEDY, John KENNEDY, Adam KENNEDY, John KENNEDY, Alex KENNEDY, Henry KENNEDY, Joseph KENNEDY, Thomas KENNEDY and Alex KENNEDY JR. These were undoubtedly John George's father and his near relatives. Along with all their children, the KENNEDY families obviously composed a significant portion of the population of the new reserve.
More from ICC: The existence of the privately held river lots within the boundaries of the St Peters Reserve, and the conflicts that arose as a result, would plague the DIA for decades. One source of conflict concerned the right of Treaty Indians to sell property owned by them prior to Treaty One. There was a divergence of opinion among high-ranking officials of the Department on this point. Wemyss SIMPSON (1824-1894) believed that the St Peters Indians could not be prevented from selling their holdings, given that it had been agreed at the Treaty negotiations that the river lots would remain their own property, whereas the Minister of the Interior had made public statements to the contrary.
In the Census of 1881 John George KENNEDY was recorded as an Indian (age 6) with his parents in St Clements Parish (somewhere east of the Red). His siblings were recorded as William (age 13), Alexander (11), Margaret (6), Charles (5) and Alfred (age 4).
On June 15, 1882 the Town of Selkirk was incorporated with James COLCLEUGH (1841-1918) as the first Mayor. At that time it was still believed that the new CPR mainline from the east would pass through Selkirk. There were already branch lines on both sides of the river, from Winnipeg to Selkirk and East Selkirk, with Selkirk at the crossroads. In that belief, the town was booming, a veritable land rush, and COLCLEUGH was at the forefront of the land speculators. He circulated a petition which called on the Federal Government to put the St. Peter's reserve up for sale, as it was a "drawback to our growth and prosperity." Such feelings were shared by other land-grabbers, touching off an Indian Land Claim Dispute that would last well into the 21st century. It should be noted that very soon afterwards the Government chose Winnipeg for the main east-west rail route, and Selkirk was no longer a boom-town.
In February of 1886 John George's father (Alex) withdrew from Treaty. He soon after moved to Peace River Landing in present day Alberta.
John George KENNEDY marries Juliet THOMAS
1891
On Jan 1, 1891 John George married Juliet THOMAS, daughter of Mary Ann STEVENS & William THOMAS (1846-1931), also a member of the St Peters Band. On Nov 1, 1891 their first child, Margaret, was born.
From LAC (Library of Archives Canada): A letter dated Feb 22, 1900 from John George KENNEDY to Hon LAURIER, Ottawa: - - The Government – Should make provisions that the parcel of land that was given to the late Chief PEGUIS from Lord SELKIRK and our father bought this land from PEGUIS long, long before the Transfer. My Lot is No.4, two mile limit River front. I ask your honor to grant me a patent for this parcel of land. This Lot is about one mile from West Selkirk.
In the Census of 1901 John George and his family were enumerated in the Parish of St Clements. He was recorded as age 30; wife Juliet as age 24. They had four children: Margaret (age 9); Matilda (age 6); Mary Elizabeth (age 4) and baby Roderick (1 month old).
The last record we have of John George and his family is from the Census of 1906. At that time he was recorded in St Peters, Dynevor as age 40; wife Juliet as age 26, and children as Margaret (age 13); Agnes (12); Mary (6); Millie (5); Rod (4) and Maggie (age 2).  Next-door is his brother Alex KENNEDY. This record is somewhat puzzling in that it records a teen-age Margaret as well as a two year old Maggie.
** Something must have happened to this family after 1906. None of them (except Agnes) are traceable in future censuses. Daughter Agnes (age 18) is recorded with the family that year, but coincidentally she (and a 10 year old daughter also named Agnes were also recorded with the family of Juliet's parents, Mary Ann & WIILLIAM THOMAS 1846 **
In 1920 daughter Mary Elizabeth married Alexander WOOD in Manigotagan, son of Mary Rachel (nee ASHFORD) MEADE and John WOOD (1839-1893). ** MORE ABOUT JOHN WOOD
Perhaps around 1930 son Roderick married Florence BUSHIE, daughter of Rachel and John BUSHIE of uncertain origins. ** MORE ABOUT JOHN BUSHIE
John and Widow Lydia (nee SMITH) PRINCE
1931+
We have no information as to exactly when John re-married to Lydia (nee SMITH) PRINCE, the widow of Bedson PRINCE (1886-1931) who died in 1931 in the Peguis Indian Reserve north of Hosgson.
On Oct 26, 1944 the Winnipeg Free Press reported that the body of John George KENNEDY was found at the dry docks in Selkirk. "Kennedy, about 70 years old, formerly of Selkirk and lately of Manigotagan, had been missing for a week."
Lydia remarries to Ernest STENLUND
On Dec 8, 1980 Lydia STENLUND died at the St Boniface Hospital, predeceased by her third husband, Ernest STENLUND in 1977. Her obituary indicated that she was survived by two sons, Gilbert KENNEDY of Winnipeg, Harold PRINCE of Vancouver, and her daughter Violet BROWN, also of Winnipeg.
Comments and queries at this link: FORUM for DISCUSSING the FAMILY OF JOHN GEORGE KENNEDY
========================== Family Details ==========================
Children:
1. Nov 1, 1891 MARGARET KENNEDY (m. Charles SIMARD aka SEYMOUR)
** MORE ABOUT CHARLES SIMARD aka SEYMOUR
2. Mar 11, 1893 ALFRED JAMES KENNEDY (Died in infancy, age 1)
3. Dec 6, 1894 AGNES MATILDA KENNEDY (m. Wallace MAYO)
4. Nov 25, 1896 MARY ELIZABETH KENNEDY
5. Nov 9, 1898 EDWARD KENNEDY (Died in infancy, age 1)
6. Feb 18, 1901 RODERICK KENNEDY (m. Florence BUSHIE)
7. Dec 5, 1904 MILLIE VINA KENNEDY
?8. c1904 MAGGIE KENNEDY