JOHN BUSHIE (c1880-?)
RACHEL (?)
(Last Updated: July 09, 2015)
At this point we know very little about the origins of John BUSHIE or his wife Rachel who were obviously living in the Hollow Water Indian Reserve in the early 1900's. ** If anyone has information about John's origins, please let us know on the Forum (link provided below).
**Conflicting information regarding John's wife Rachel on Ancestry.ca: wife as Rachel HENDERSON, another as Rachel PEEBLES. These sources still leave us in the dark.
On Aug 2, 1902 daughter Philomena was born in the Hollow Water Reserve where she lived the whole of her life.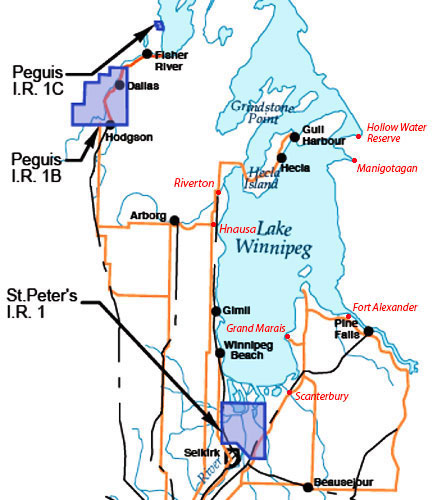 In 1912 daughter Florence was born. Her obituary mentions two brothers (John and Ambrose) and two sisters, Mrs. Adam HARDISTY (Philomena) and Mrs John COWLEY (Harriet).
In 1914 son John Alfred was born in Hole River (Hollow Water Reserve). His obituary indicates his parents as Rachel and John BUSHIE.
World War I
1914-1918
On Aug 4, 1914 Great Britain (Canada on Aug 5) declared war on Germany and Austria-Hungary to uphold treaties with France and Belgium which were under German attack. This marked the beginning of World War I.
November 11, 1918, Armistice Day (Remembrance Day) marked the end of the First World War.
In 1924 the last child, Ambrose Paul was born. His obituary also indicates his parents as Rachel and John BUSHIE, and mentions brothers, John Bushie Jr. and George Bushie and sisters, Harriet, Flora, Philomena. ** This is the only reference to a brother named George and he may actually be a step-brother. An obituary for a George Alexander BUSHIE born in Hole River in 1812 indicates his parents as Margaret and George BUSHIE SR. and siblings that don't match the ones here. He may have been an adopted nephew?
In 1929 eldest daughter Philomena married Adam HARDISTY, son of Christie and John HARDISTY (1866-1929), a former Chief of the Hollow Water Reserve. This was Philomena's second husband, her first being someone by the name of BOYD.
Not sure when daughter Florence married Roderick KENNEDY, the son of Juliet THOMAS and John George KENNEDY (b-1870). ** MORE ABOUT JOHN GEORGE KENNEDY
In 1932 daughter Harriet married John COWLEY in the Hollow Water Reserve.
In 1934 son John Alfred married Florence Beatrice MONEYAS in Hollow Water, daughter of Jane and Joseph MONEYAS of uncertain origins.
Around 1940 the aforementioned possible nephew George Alexander BUSHIE married Bella, daughter of Esther BEAR-PETERSON and Frank SIMARD aka SEYMOUR (b-1890).
In 1945 son Ambrose married Virginia SIMARD, daughter of Esther BEAR-PETERSON and Frank SIMARD aka SEYMOUR (b-1890).
Comments and queries at this link: FORUM DISCUSSING the JOHN BUSHIE FAMILY
========================== Family Details ==========================
Children:
1. Aug 2, 1902 PHILOMENE BUSHIE (m1. BOYD. m2. Adam HARDISTY)
2. 1912 FLORENCE BUSHIE (m. Roderick KENNEDY)
3. Jul 27, 1914 JOHN ALFRED BUSHIE (m. Florence Beatrice MONEYAS)
4. 1917 HARRIET MARIE ADELE BUSHIE (m. John Albert COWLEY)
5. Sep 19, 1924 AMBROSE PAUL BUSHIE (m. Virginia SIMARD)
Adopted / Nephew (?):
1. 1912 GEORGE ALEXANDER BUSHIE (m. Bella SEYMOUR or PETERSON)