CHARLES SIMARD aka SEYMOUR (1888-1935)
MARGARET KENNEDY (1891-1938)
(Last Updated: September 02, 2012)
Charles SIMARD aka SEYMOUR was born Aug 2, 1888 at Manigotagan, son of Betsy COCHRANE & Louis SIMARD (1855-1920). ** MORE ABOUT LOUIS SIMARD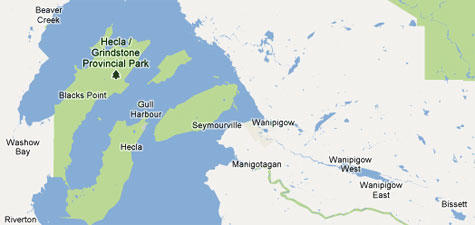 In the Census of 1901 and 1906 Charles SEYMOUR (age 13, 18) was recorded with his parents (Betsy & Louis) in the Manigotagan area. ** Note that these records use the surname SEYMOUR; yet Vital Stats records his name as SIMARD in his marriage record (next).
Marriage to Margaret KENNEDY
1910
On Oct 23, 1910 Charles SIMARD married Maggie KENNEDY in Winnipeg. Margaret was the daughter of Juliet THOMAS & John George KENNEDY (born c1870). ** MORE ABOUT JOHN GEORGE KENNEDY

In the Census of 1911 Charles SEYMOUR was recorded at Manigotagan as a Sawmill Labourer (age 25); wife Margaret (age 25). In 1912 son Stanford was born.
In the Census of 1916 Charles SEYMOUR was recorded at Manigotagan as a Lake Winnipeg Fisherman (age 28); wife Margaret (age 25) and son Stanford (age 4). ** Note the inconsistent ages given in the 1911 and 1916 records.
Charles SIMARD died Jun 22, 1935 in Pine Falls, age 49 (from Vital Stats).
Margaret dies in a House Fire
1938
On Mar 13, 1938, Maggie SEYMOUR died at Pine Falls, age 48 (from Vital Stats). According to Sandra LITWIN, Margaret died in a house fire.
Upon her death in 1938, Margaret left the following children orphaned: Stanford (age 26), Betty (age ?), Eugene (age ?), Isabella (age 17), Angeline (age ?) and Mildred (age 12). According to Sandra these children were raised by "the nuns" as she explains next below.
Sandra on the Forum: After speaking with Mildred LITWIN the children were placed in a school in Berens River which was run by the Catholic nuns. I searched schools and asked her a name called Lady of Snow. She has a sharp memory and said yes this is where her and her siblings were taken. After the fire she lived with her older brother (Stanley) for a short time and then went there from 1940-1944. Mary left there and went to BC and died she said there at the age of 21 or 22. This school is not listed as a qualifying residential school run by the federal government as it was listed as being run by a religious group. I have requested a search of her school records. She lived with her siblings and attended a school next door which other children also attended.
Please Post Comments & queries at this link: ** FORUM DISCUSSING the CHARLES SIMARD aka SEYMOUR FAMILY
========================== Family Details ==========================
Children:
1. 1912 STANFORD SIMARD/ SEYMOUR
2. BETTY SIMARD (m. The Priest of her Church)
3. EUGINE SIMARD
4. 1921 ISABELLE (BELLA) SIMARD (m. Dietrich (Dick) HARDER)
5. ANGELINE SIMARD
6. Jan 10, 1926 MILDRED (MILLIE) SIMARD (m. LITWIN)