LOUIS  SIMARD aka SEYMOUR (1855-1920)
ELIZABETH "BETSY" COCHRANE (1871-)
FLORA FAVEL (-)
MRS ST GERMAINE (-)
(Last Updated: March 02, 2015)
Louis SIMARD aka SEYMOUR was born around 1855 in Quebec, son of Catherine TREMBLAY & Francois SIMARD
Census 1871: Montmagny, Quebec (#163), pg 44, HH-180: Louis SIMARD, age 17 (born c1854 in PQ). He's in the household of Adelaide & Xavier GUILMET, age 44 (born c1827 in PQ). Montmagny is located not far east of Quebec City.
It was in the early 1870's that Louis SIMARD as a young man moved west to the newly created Province of Manitoba (created in 1870) and the new District of Keewatin. It was the beginning of a new era of settlement that attracted settlers and entrepreneurs not only from the eastern provinces, but from all over the world, eager to take advantage of new opportunities that were developing. The first Icelandic settlers, mostly fishermen settled on the west side of the lake and soon began shipping fish to Winnipeg on the new schooners that were also used in the lumber trade.
Treaty Five
1875
On Sep 17, 1875, Treaty Commissioners Alexander MORRIS (1826-1889) and James McKAY left Fort Garry aboard the Hudson's Bay Company (HBC) steamer Colville. Perhaps Louis SIMARD arrived at Dog Head as a passenger on this first steamboat to ply the waters of Lake Winnipeg.On Sep 28 the commissioners met Chief THICK-FOOT and a portion of the Island Band of Indians at Wa-Pang or Dog Head Island.
MORRIS and his party proceeded to Berens River where, in short order, they secured that band's acceptance of the treaty terms. From there, they quickly pushed on to Norway House where many people had earlier expressed a desire to move south and establish an agricultural colony. When the treaty was signed there, the commissioners agreed that any who left the original settlement would receive a reserve at their new location. A number of them subsequently moved to Fisher River.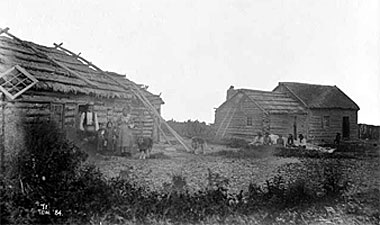 Hudson's Bay Company Post at Dog Head (Point), Lake Winnipeg Narrows
Operated from 1878 to 1895
Louis & Betsy COCHRANE
1881
Around 1881-82 Louis married Elizabeth "Betsy" THADDEUS aka COCHRANE, daughter of Nancy STEVENSON and Thaddeus COCHRANE. Betsy was a member of the Fisher River Indian Band at the time (she was later discharged from Treaty status in order to receive Half-breed Scrip). ** MORE ABOUT THADDEUS COCHRANE
On Oct 18, 1882, son Louis Jr. was born at Moose Creek, near Snake (Matheson) Island.
On Nov 10, 1885 daughter Adelaide was born at Bull Head. She was baptized on June 13, 1886 in Selkirk. Her Godfather was Edouard NORBERT; godmother, Mary BIRD. In 1887 Adelaide died at Duck Bay at the age of two. It would seem that this may have been Duck Bay on Lake Winnipegosis.
Manigotagan Established
1887
In 1887 the Manigotagan Post (HBC) was established as an outpost of Fort Alexander. This site was originally known as Bad Throat Post (note: another name for Manigotagan is Anacootaugan River). The current community of Manigotagan is located near this site. It was originally founded because of the saw logs and timber resources in the area. In the early days of the settlement, people lived off the land. Important food sources included wild rice, berries and moose, deer, beaver, muskrat and rabbits. In 1893 the post was abandoned when the fur industry came to a halt.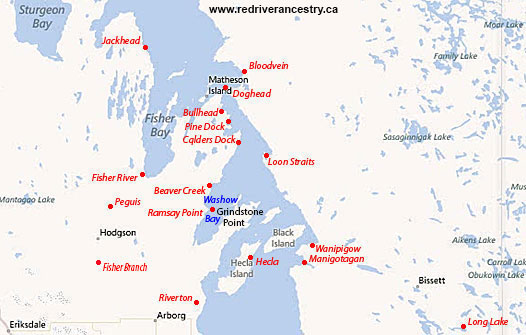 Three years at Fisher River
1897-1900
In his Scrip records, Louis would later indicate that he "Lived three years at Dog Head East; Bad Throat River (Manigotagan) for 11 years; and Fisher River for three years." That places him at Fisher River approximately from 1897 to 1900.
The Manitoba Gold Rush
In the beginning of the 20th century, gold was found in the Manigotagan area and the 'East Central Manitoba Gold Rush' began (1). During this time, the Manigotagan River was used as amajor transportation route to access the gold mines near Bissett.
Around 1900 son Louis Jr. married Mary COCHRANE.
On Jul 25, 1901, Louis SIMARD gave his address as Dog Head East when he made a Scrip application regarding his deceased daughter Adelaide. His next five children were born at Manigotagan, and in the Census of 1901 his family was enumerated as follows: Louis SEYMOUR (age 41), wife Betsy (age 30); children as Louis (age 19) and his wife, daughter-in-law Mary (age 20), Charles (age 13), Frank (12), Alexander (11), Catherine (6) and William (age 1). It is interesting to note that this census recorded Louis gave his surname as SEYMOUR. Later descendants are recorded using both surnames.
Louis & Betsy no longer together
The Census 1906 places Louis SEYMOUR (age 45) at Manigotagan, alone with seven children: Charles (age 18), Frank (16), Alexander (14), Catherine (12), William (7), Jane ( 3) and Henry (age 1). Wife Betsy is conspicuously absent. Next-door in the same Census is Louis SEMOUR JR (age 24), also alone with children Louis (age 5) and George (age 1).
Louis moves to St Peters
In 1910 Louis was living in St Peters when son Alex drowned in a canoeing accident at Whiskey Jack at the age of 20. Alex was then a member of the Hudson Bay (Railroad) survey party working towards Fort Churchill.
In 1910 son Charles married Margaret KENNEDY, daughter of Juliet THOMAS & John George KENNEDY (born c1870).
Louis and Flora FAVEL
c1910
Census 1911, Sub-District of West St Peters: Wilfred (obvious error; this is Louis) SEYMOUR, age 61 (born Feb, 1851 in Montreal); wife Flora, age 30 (born Mar, 1881 in MB); son Wilfred, age 1. Niece: Rosie MONKMAN, age 8 (born Mar, 1903).

Louis returns to Manigotagan and stakes his Claim
1915
One of the earliest and most successful mining developments was the Central Manitoba Mine, 6.5 km north of Long Lake. Its original claims were the Redwing, Goldbird, Fighter, Growler and Kitchener. Eventually, the Central Manitoba Mine comprised 5 shafts, each sunk into a different gold-bearing quartz vein. The Kitchener, staked in 1915 by Louis SIMARD, was the site of the first shaft.
In the 1916 Census Louis was enumerated as age 57; wife Flora (age 37); children as Wilfred (age 6) and Mary Hilda (age 1).
Around 1917 son Frank married a lady named Esther. They would have a large family and descendants almost all are identified with the surname SEYMOUR. If anyone knows Esther's surname or origins, please let us know on the Forum.
In 1918 son William married Isabella CLARK, daughter of Sarah BIRD and William CLARK (born c1863 in Montreal, a saw mill labourer).
In 1919 daughter Catherine married Henry James SINCLAIR, son of Jane HARPER & Andrew SINCLAIR (1860-1901).
Louis & Mrs ST GERMAIN
Kennedy/Thomas: Some of the SIMARD/ SEYMOUR's stayed in the mining industry, although, not always together there are mines staked by Louis which he discovered and laid claim to prior to his death. Louis was with a Flora Jane FAVEL and then a Mrs. ST GERMAIN(E) right before he died.
Louis SEYMOUR died Feb 16, 1920 at TPG (Hospital), age 65, according to Vital Stats. Someone tell me what does TPG stand for?
Two of Louis' children by Flora FAVEL were married. In 1831 daughter Hilda married Peter MOUSSEAU of unknown origins (to me). Also son Thomas Wilfred SIMARD married Mathilda SEYMOUR (his cousin; daughter of Esther and his Uncle Frank). I would much appreciate further information about these marriages also.
Elizabeth's Death in 1963?
Below is a clip from a Death reported in the Apr 10, 1963 issue of the Winnipeg Free Press. The details in it are rather puzzling. I am still trying to determine exactly who the people mentioned as children were, and when they were born. Here again, I would be very grateful if someone in the family would clarify all this via the Forum.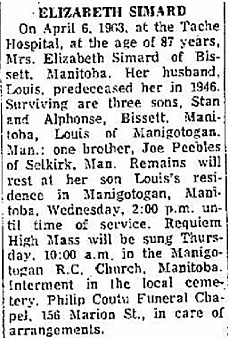 In order to avoid confusion and maintain organization of subject matter, please post all comments associated to this family at the following Link: ** DISCUSSIONS about LOUIS SIMARD FAMILY
========================== Family Details ==========================
Children by Betsy COCHRANE:
1. Oct 18, 1882 LOUIS SEYMOUR (m1. Mary COCHRANE; m2. Susan (nee GUIMOND) PARISIAN; m3. Elizabth)
** MORE ABOUT LOUIS SEYMOUR aka SIMARD JR
2. Nov 10, 1885 ADELAIDE SIMARD (Died in infancy, age 2)
3. Aug 2, 1888 CHARLES SEYMOUR (m. Margaret KENNEDY}
** MORE ABOUT CHARLES SIMARD aka SEYMOUR
4. 1890 FRANK SEYMOUR (m. Esther)
5. Sep 4, 1891 ALEXANDER SEYMOUR (Died (drowned) in 1910)
6. Sep 2, 1895 CATHERINE SIMARD (m. Henry James SINCLAIR)
** MORE ABOUT HENRY JAMES SINCLAIR
7. Mar 2, 1900 WILLIAM SIMARD aka SEYMOUR (m. Isabella CLARK)
Children by Flora FAVEL:
1. 1910 THOMAS WILFRED SEYMOUR
2. 1913 JANE SEYMOUR
3. 1915 HENRY SEYMOUR
4. 1915 MARY HILDA SEYMOUR
========================== Notes & References ==========================
An interesting introduction to this lineage is provided in the following article written by Colleen SIMARD, a great-great-great-granddaughter of Louis SIMARD.

Colleen Simard
Link to Colleen's Story: Louis Louis, who oh, he gotta go, to Wanipigow