LOUIS SEYMOUR aka SIMARD (1882-)
MARY COCHRANE (1881-c1905)
SUSAN (nee GUIMOND) PARISIAN (1897-)
A WIFE NAMED ELIZABETH (1890-)
(Last Updated: November 03, 2012)
Louis SIMARD aka SEYMOUR was born Oct 18, 1882, son of Half-breed Betsy COCHRANE & Louis SIMARD aka SEYMOUR (1855-1920), a French Canadian (born in Quebec). ** MORE ABOUT LOUIS SIMARD SR
Louis & Mary COCHRANE
1900-1905
In 1900 Louis married Mary COCHRANE; so far her parents are unknown. On July 29, 1901 Louis claimed Scrip at Fort Alexander (which verifies this marriage).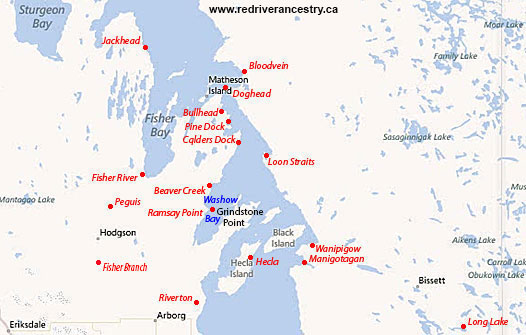 In the Census 1901 Louis SEYMOUR JR (age 19) and his wife Mary (age 20) were enumerated at the home of his parents (Betsy & Louis SEYMOUR Sr.) at Dog Head East.
Margaret dies
c1905
Perhaps around 1905 it seems that Louis' wife Margaret must have died (at some time after the census of 1901 and before the census of 1906 when Louis was recorded alone). The census of 1906 taken in Manigotagan records Louis SIMARD (age 24), alone with two children – Louis (age 5) and George (age 1).
Louis & Susan (nee GUIMOND) PARISIAN
1906-1911
On Aug 22, 1906 Louis SIMARD married Widow Susan (nee GUIMOND) PARISIAN in Fort Alexander. Susan b-1875 was a daughter of Susan FINLAYSON and Pierre GUIMOND (1848-1915).
** MORE ABOUT PIERRE GUIMOND

Susan had been previously married to John George PARISIAN (1872-1904) who died in 1904. Here again, we don't know what became of Susan (had she also died?), for we find Louis alone again in 1911.

Census 1911: Louis SEYMOUR (age 30) alone again. That same year sons Louis (age 9) and Alphonse (age 7) were recorded as resident students at the Roman Catholic Mission in Fort Alexander.
Louis and a wife named Elizabeth
In 1916 when the census was taken in Manigotagan we find Louis (a fisherman) with a wife named Elizabeth. His two sons, Louis Jr. (age 14) and Alphonse (age 10) are back with him after having been in the Residential School in Fort Alexander.
In 1919 son Louis Jr. married Margaret SAUNDERS in Manigotagan.
Vital Stats: On Oct 26, 1931 son Joseph Louis Alphonse SIMARD married Margaret (Noella?) KENT.
Please post comments & queries at this link: FORUM DISCUSSING the LOUIS SIMARD FAMILY
========================== Family Details ==========================
Children:
1. 1901 JOSEPH LOUIS SIMARD (?m. Margaret KENT or SAUNDERS)
2. 1905 GEORGE (ALPHONSE) SEYMOUR (?m. Noella)