THADDEUS OKEWAKAHPO (COCHRANE) (c1825 -1880)
JEANNE APPITAYOSSIN (STEVENSON) (1846-)
(Last Updated: March 05, 2015)
This Page is an attempt to establish origins of THADDEUS aka COCHRANE and his descendants. We are assuming that he was the father of Bethsay COCHRANE b-1856 who married Louis SIMARD aka SEMOUR (1855-1871).
Most of the information and inspiration about the early THADDEUS families has been provided by Kennedy/Thomas and Warren SINCLAIR (wsink2) who are both descendants and seem to be the experts according to numerous postings under various topics on the Forum of this website. I'm hoping they will continued to cooperate further by posting their comments under the new Topic provided below for this purpose.
Kennedy/Thomas-HARDER: St. Boniface Archives (1990) recommended following leads on a Thaddeus COCHRANE and a blank STEVENSON as possible parents to Betsy COCHRANE who was my grandmother's grandmother. Betsy COCHRANE's husband Louis SIMARD SR. got scrip and there are four names next to question about his wife's name before marriage. The names were Betsy COCHRANE, Betsy TADIESSE, Thaddeus COCHRANE and low and behold possibly Mary or a Fanny but STEVENSON is for sure. Betsy was recorded later with Louis and all the correct children in 1901 census after her name was changed along with her husbands to SEYMOUR from SIMARD to sound more British as the story goes. Betsy was Cree and had limited English skills - -
I am only guessing when I say that Thaddeus OKEWAKAHPO (COCHRANE) was born around 1825. This is based on the assumption that he was probably in his late 20's or early 30's when daughter Bethsy was born in 1856.
Marriage to Jeanne APPITAYOSSEN (STEVENSON)
1855
I'm guessing that Thaddeus was probably the father of Peter OKEWAKAPO or WAKEMOWKAPOW aka THADDEUS who was born around 1855.
Thaddeus probably lived in the Norway House region around the time of Confederation.
Canadian Confederation
A Red River Rebellion
Manitoba becomes a Province
Signing of Treaty Number One
1867-1871
On July 1, 1867 the British colonies in North America were united under the British North American Act to become the Dominion of Canada.  Sir John A MACDONALD (1815-1891) was appointed as Canada's first Prime Minister. William McDOUGALL (1822-1905) became the Minister of Public Works, and he began negotiations to acquire Rupert's Land from the HBC; surveyors were sent to Red River to prepare the way for an expected influx of settlers.
On Oct 11, 1869, Louis RIEL (1844-1885) placed his foot on the surveyors' chain to tell them their work was finished! This marked the beginning of the historic Red River Métis Rebellion.
On July 15, 1870 the Rebellion ended when RIEL's Provisional Government accepted the terms of the Manitoba Act and Manitoba became the fifth province of Canada.
In 1871 Chief Henry PRINCE or RED EAGLE (1819-1902) signed Treaty Number One on behalf of the St Peters Indians.
** MORE ABOUT CHIEF HENRY PRINCE
In 1871 KAKAKEPENAISE (William MANN) signed Treaty Number One (The Stone Fort Treaty) on behalf of the Sagkeeng (Fort Alexander) First Nation people.
** MORE ABOUT SAGKEENG FIRST NATION in WIKIPEDIA
Around 1872 son Peter THADDEUS JR. (alleged) married a lady named Eugenia "Jennie". ** More about that later. I (Gary STILL) am particularly interested in this union as this pair may have been ancestors of my niece's husband.
Historic:  In June of 1874, David RUNDLE, chief of the "Christian Indians of Rossville", wrote to Lt Gov MORRIS requesting that a treaty be made.  One of the primary reasons for the request was that, because of the introduction of steam navigation on Lake Winnipeg a large portion of the Indian people at Norway House were being thrown out of work as "trippers" with the HBC and could no longer support themselves at Norway House through this means.  On Sep 24, 1875 the Cross Lake Band, along with Norway House Band, signed Treaty No.5 at Norway House.  One of those to sign this Treaty was Chief David RUNDLE of the Norway House Band. 
Chief RUNDLE was one of the Chiefs who was instrumental in the establishment of a Reserve at Fisher River. It looks very plausible that he may have been an ancestor, perhaps even the father, of David RUNDLE (b-1863) who married (around 1890) Jane Mary THADDEUS (b-1876 - I'm guessing this Peter's granddaughter).
North-West Territories Act
Treaty Five
1875
On Sep 17, 1875, Treaty Commissioners Alexander MORRIS (1826-1889) and McKAY left Fort Garry aboard the Hudson's Bay Company steamer Colville. They proceeded to Berens River where, in short order, they secured that band's acceptance of the treaty terms. From there, they quickly pushed on to Norway House where many people had earlier expressed a desire to move south and establish an agricultural colony. When the treaty was signed there, the commissioners agreed that any who left the original settlement would receive a reserve at their new location. A number of them subsequently moved to Fisher River. ** MORE ABOUT ALEXANDER MORRIS in DCBO
Warren Sinclair: (wsink2):  From 1875 to 1877 both Jeanne APPITAYOSSIN and Thadeus OKEWAKAHOP were a members of the Norway House Band.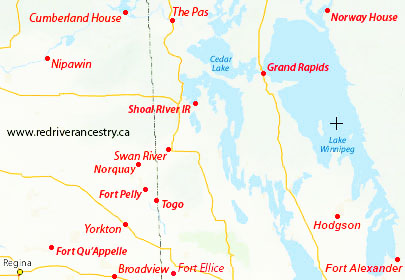 Thaddeus moves his family to Fisher River
1877
In 1877 Jeanne APPITAYOSSIN and Thaddeus relocated with their family and became members of the Fisher River Band (north of Hodgson on map above).

In 1880 Thaddeus OKEWAKAHPO died.Shortly before his death he was baptized and possibly given the Christian name of Thaddeus COCHRANE. Warren Sinclair: In the 1880 Treaty Annuity Paylist for Fisher River the note for No. 26 Thadeus OKEWAKAHPO indicated that he was baptized and was dead, and that the money was paid to "widow" (Jeanne APPITAYOSSIN).
Origins of the surname COCHRANE among the Indians of Manitoba
(Some hypotheses by Gary Still)
The name COCHRANE probably didn't originate (among the Indians) until after Anglican clergy arrived in Red River Country, beginning with Rev John WEST in 1820.  When natives were baptised, they were often endowed with European surnames, and many were baptised as adults.  Thereafter the surname so-bestowed was extended to other members of the family, including parents, siblings, etc.
On Dec 24, 1829 an Indian named Thomas was church-wed to Harriet NEETCHEESIS in Red River. In all likelihood he and his children were bestowed with the COCHRANE name by (or after) Reverend (Archdeacon) William COCKRAN (1798-1864) from England, who came to Red River in 1825, and who probably married him. These were the parents of Reverend Henry COCHRANE (1834-1898) who was one of the first native born (Indian) clergymen of his era.
** MORE ABOUT REVEREND HENRY COCHRANE in DCBO
It so-happens that it was in 1880 (when our Thaddeus OKEWAKAHPO was baptized with the COCHRANE surname) that the aforementioned Reverend Henry COCHRANE resigned from his charge and from the CMS to return to St Peters as a schoolmaster.
** Question for Warren Sinclair: Do you have, or have you seen the original baptismal document regarding Thaddeus' baptism which would perhaps name the clergyman who performed the baptism?
========================= // =========================


In 1884 daughter Bethsy married Louis SIMARD in the Fort Alexander Reserve, theson of Catherine TREMBLAY & Francois SIMARD (b-1832). ** These are the Great Grandparents of Warren SINCLAIR and the Great-Great Grandparents of Kennedy/Thomas (HARDER). ** MORE ABOUT LOUIS SIMARD
Jeanne marries Charles LAUND
Fort Alexander Reserve
1885
On Jan 12, 1885 Jeanne married Charles LAUND and she became a member of the Fort Alexander band. Warren Sinclair: Chief consented to admit wife's children in band". Thadeus COCHRANE, aka Thadeus OKEWAKAPO, was No 26 in the Fisher River paylist.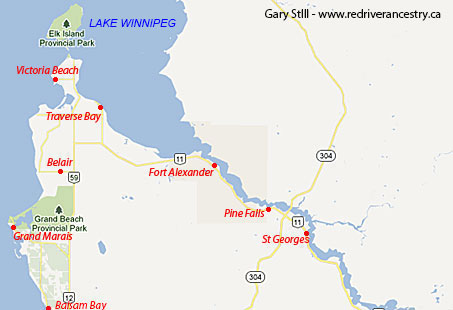 This Page is under construction – More to Come
Comments and queries at this link: FORUM DISCUSSING DESCENDANTS OF PETER THADDEUS (COCHRANE)
========================== Family Details ==========================
Children:
1. c1855 PETER OKEWAKAPO or WAKEMOWKAPOW aka THADDEUS (m. Eugenia "Jennie")
2. c1856 BETHSAY COCHRANE (m. Louis SIMARD)