JOHN WOOD (1839-1893+)
MARY RACHEL (nee ASHFORD) MEADE (1850-1924)
(Last Updated: April 14, 2016)
John WOOD (of Irish descent) was born around 1839 in Ontario.
Mary Rachel ASHFORD was born Mar 25, 1850 in Point Douglas (Winnipeg, MB), the daughter of Sarah GROAT and James (John) ASHFORD (born 1807 in England). In 1866 Mary Rachel ASHFORD married Roland Price MEADE in Winnipeg, son of Rachel PRICE and Franklin MEADE (1804-1859).
Canadian Confederation
A Red River Rebellion
Manitoba becomes a Province
1867-1870
On July 1, 1867 the British colonies in North America were united under the British North American Act to become the Dominion of Canada.  Sir John A MACDONALD (1815-1891) was appointed as Canada's first Prime Minister. William McDOUGALL (1822-1905) became the Minister of Public Works, and he began negotiations to acquire Rupert's Land from the HBC; surveyors were sent to Red River to prepare the way for an expected influx of settlers.
From 1868 to 1873 John WOOD was a Contract Employee (Labourer) with the Hudson's Bay Company (HBC) in the Red Ricer District.
On Oct 11, 1869, Louis RIEL (1844-1885) placed his foot on the surveyors' chain to tell them their work was finished! This marked the beginning of the historic Red River Métis Rebellion.
Roland Price MEADE was imprisoned in Fort Garry in December of 1869 during the Red River Rebellion. His wife (Mary Rachel) and baby son (Roland Franklin) were also taken to Fort Garry during this time, and afterwards, the family traveled north to the safety of Fort Alexander, only arriving to find it was overcrowded with refugees. Mr. ROSS, the Factor, sent them to a cabin that stood below the rapids at Pine Falls where they stayed for the remainder of the winter and into the summer until General WOLSELY's troop arrived, at which time it was safe for the family to return to Winnipeg.
On July 15, 1870 the Rebellion ended when RIEL's Provisional Government accepted the terms of the Manitoba Act and Manitoba became the fifth province of Canada.
In 1879 Mary Rachel (nee ASHFORD) MEADE was living on Meade Street in Winnipeg (The street was named after her husband) with her husband and four children (Roland Jr, May Rachel, William Richard, Allan Douglas). She was pregnant with a fifth child (George) when her husband died that year. Son George MEADE was born on September 12 that year.
With no means to support her children, Widow Mary Rachel MEADE took a job as a cook and headed north to a camp (probably at Manigotagan) to earn some money. She left her children with families who were willing to care for them.
John and Widow Mary Rachel (nee ASHFORD) MEADE
1880
Around 1880 John WOOD began a common-law relationship with the aforementioned Widow Mary Rachel (nee ASHFORD) MEADE at Manigotagan.
Census 1881 in Lake Winnipeg, NE Extension: John WOODS, age 42 (Occupation: Manager and Hunter), wife Mary (age 35 and baby Anne.
An 1888 Manitoba Fisheries Report refers to Fishery Guardian John WOOD, Bad Throat River, Lake Winnipeg.
Census of 1891 in Manigotagan area:John WOODS, age 46; wife Mary, age 41. Children: Annie (age 10), John (7), and Albert (age 1). Step-children: Mary MEAD (age 18) and Allan MEAD (age 12). Lodger: James HALCROW, widowed, age 55 (born 1836 in Quebec).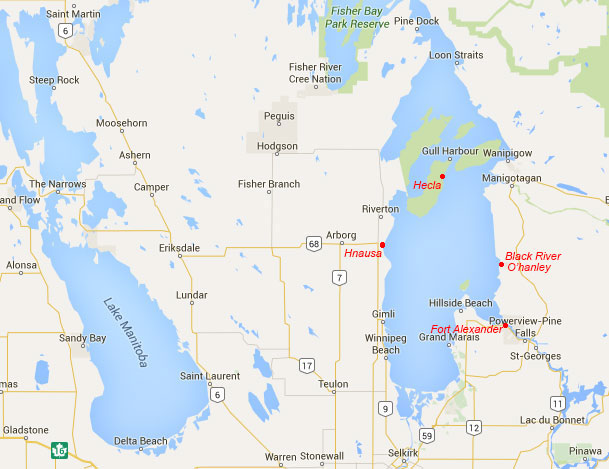 An 1891 Manitoba Fisheries Report regarding Fort Alexander, Lake Winnipeg: "Guardian John WOOD, who has charge of the east side or Lake Winnipeg from Loon Straits to the mouth of the Red River, reports a considerable falling off in the catch of fish in his district during the past year. This he attributes partly to less gill nets being used, and commercial fishermen being debarred from using nets at Elk Island as in previous years."
In 1891 eldest daughter Mary Rachel MEADE married Duncan BUCHANAN in Winnipeg. (Later she married Arthur QUESNEL)
On May 5, 1892 John WOOD was appointed as Postmaster of the Manigotagan Post Office. On June 1, 1893 this P.O. was closed. ** This is the last record found for John WOOD who seems to have died sometime before 1911.
In 1899 son William Richard MEADE married Mary Elizabeth "Minnie" PERRY in Winnipeg, daughter of Mary FOX and Frank PERRY (b-1848).
Around 1903 daughter Annie was married to Walter BAKER in Manigotagan. He was born in 1869 in England.
Around 1909 son John WOOD JR. married Mildred Gertrude BRUCE, daughter of Margaret KENNEDY and John Edward BRUCE (b-1871). ** MORE ABOUT JOHN EDWARD BRUCE
Census of 1911 in Manigotagan: Widow Mary MEADE, age 63. Children: Allan (age 32), Martha (19), Albert (17) and Alexander (age 15). ** These are obviously Allan MEADE (age 32) and Martha WOOD (age 19), Albert WOOD (age 17) and Alexander WOOD (age 15).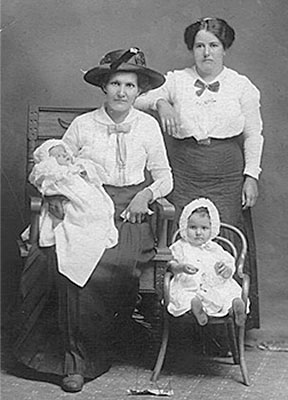 1912 Photo from Roxanne: Standing is Mildred Gertrude (nee Bruce) Wood
Widow Mary Rachel (her mother) in chair with hat holding granddaughter Mamie (Mildred's baby)
Mary Mildred (also Mildred's child) is in the little chair
Around 1813 son Allan Douglas MEADE married Elizabeth THOMAS of uncertain origins.
Census of 1916 in Manigotagan: Widow Mary MEAD, age 68. Children: Bert (age 26), Martha (24) and Alexander (age 20). ** Children of John WOOD
In 1920 youngest son Alexander married Mary Elizabeth KENNEDY at Manigotagan, daughter of Juliet THOMAS and John George KENNEDY (b-1870). ** MORE ABOUT JOHN GEORGE KENNEDY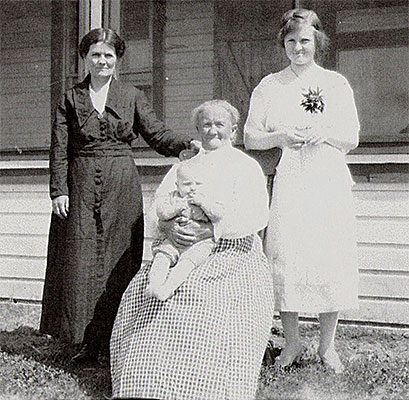 Mary (Meade) Quesnel, her mother Mary, her daughter Mary and grandson Billie
This photo would have been about 1920 (Grandson Billie Quesnel was born that year)
On Oct 7, 1924 Mary Rachel (nee ASHFORD) MEADE died in Manigotagan.
Comments and queries at this link: FORUM DISCUSSING THE FAMILY OF JOHN WOOD SR
======================= Family Details =======================
Children of Mary Rachel ASHFORD and Roland MEADE:
1. 1869 ROLAND FRANKLIN MEADE
2. Oct, 1872 MARY RACHEL MEADE (m1. Duncan BUCHANAN, m2. Arthur QUESNEL)
3. 1876 WILLIAM RICHARD MEADE (m. Mary Elizabeth "Minnie" PERRY)
4. 1878 ALLAN DOUGLAS MEADE (m. Elizabeth THOMAS)
5. Sep 12, 1879 GEORGE MEADE
Children of Mary Rachel ASHFORD-MEADE and John WOOD:
1. Apr 6, 1880 ANNIE WOOD (m. Walter BAKER)
2. Oct, 1884 JOHN WOOD JR (m. Mildred Gertrude BRUCE)
3. 1892 MARTHA WOOD
4. Jan 9, 1896 ALEXANDER WOOD (m. Mary Elizabeth KENNEDY)
5. ALBERT (BERTIE) WOOD