JOHN WOOD (1884-1968)
MILDRED GERTRUDE BRUCE (1890-1956)
(Last Updated: December 04, 2015)
John WOOD was born in October of 1884.in Manigotagan (MB), son of Mary Rachel (nee ASHFORD) MEADE and John WOOD SR (born 1839 in Ontario). ** MORE ABOUT JOHN WOOD SR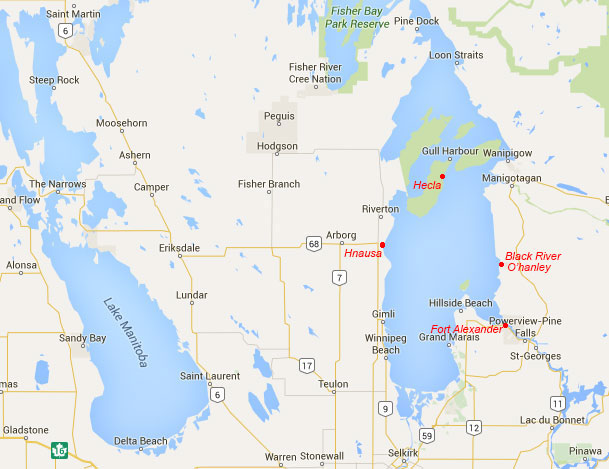 Marriage to Mildred BRUCE
1908
In 1908 John married Mildred Gertrude BRUCE, daughter of Margaret KENNEDY and John Edward BRUCE (1871-1968) from Loon Straits (Lake Winnipeg; north of Manigotagan). ** MORE ABOUT JOHN EDWARD BRUCE
Roxanne: Mildred Gertrude Bruce – 16 years old (1906)
Census of 1911 in Manigotagan: John WOOD, age 26; wife Mildred, age 20. Children: Margaret Ann (age 1) and baby Martha Gertrude (age 2 months).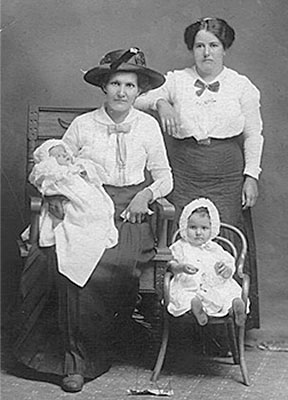 1912 Photo from Roxanne: Standing is Mildred Gertrude (nee Bruce) Wood
Widow Mary Rachel (her mother) in chair with hat holding granddaughter Mamie (Mildred's baby)
Mary Mildred (also Mildred's child) is in the little chair
In 1914 Angus McDONALD and John WOOD staked claims (Gold Pan and Gold Seal) in the deposit north of Quesnel Lake (near Bissett). The claim was later assigned to McDONALD.
World War I
1914-1918
On Aug 4, 1914 Great Britain (Canada on Aug 5) declared war on Germany and Austria-Hungary to uphold treaties with France and Belgium which were under German attack. This marked the beginning of World War I.
Census of 1916 in Manigotagan: John WOOD, age 22 (obvious error); wife Mildred, age 25. Children: Margaret (age 6), Gertrude (5), Cecille May (3). Mary Mildred (1) and baby Mamie Beryl (2 months).
November 11,1918, Armistice Day (Remembrance Day) marked the end of the First World War.
Census of 1921 in Manigotagan:John WOOD, age 38; wife Mildred, age 31. Children: Maggie (age 11), Gertrude (10), Cecile Mary (8), Mildred (7), Mamie (5), John (3) and Robert (age 1).
In 1926 eldest daughter Margaret married Harry Henry ANDERSON in St Clements. Harry was born 1892 in Iceland.
In 1931 daughter Cecille married Palli PALSON in Winnipeg.
In 1932 daughter Mildred married Alexander NEISON in Selkirk, the eldest son of Mary SINCLAIR and Captain Edward Adrian NEISON (1887-1982). ** MORE ABOUT CAPTAIN EDWARD ADRIAN NEISON

Also in 1932 daughter Mamie married Lawrence OLSON in Winnipeg.
World War II
1939-1945
On Sept 4, 1939 Canada and Britain declared war on Germany, and almost immediately new recruits began pouring into Winnipeg to sign up with the Winnipeg Grenadiers and the Royal Rifles of Canada.
On May 7, 1945 Germany surrendered and the War in Europe ended; the next day, May 8, was declared VE Day.
In 1946 daughter Winnie married Hannes BELL, son of Thorun EGGERTSON and William Ernest BELL (b-1891).
In 1956 Mildred Gertrude (nee BRUCE) WOOD died.
On May 12, 1968.John WOOD died at the age of 85 in Selkirk, at the home of his daughter, Winnifred BELL.
Comments and queries at this link: FORUM DISCUSSING THE JOHN WOOD FAMILY
======================= Family Details =======================
Children:
1. Sep 24, 1910 MARGARET ANN "MAGGIE" WOOD (m. Harry ANDERSON)
2. Apr 12, 1911 MARTHA GERTRUDE WOOD
3. Sep 12, 1912 CECILLE-MAY WOOD (m1. Palli PALSON; m2. John JOHNSON)
4. 1914 MARY MILDRED WOOD (m. Alexander Edward NEISON)
** MORE ABOUT ALEXANDER EDWARD NEISON
5. 1916 MAMIE BERYL WOOD (m. Lawrence OLSON)
6. 1918 JOHN EDWARD CHARLES "JOHNNY" WOOD (m. Elizabeth)
7. 1920 ROBERT WOOD
8. 1924 GRACE THELA WOOD (m. Joe BOULETTE)
9. 1926 BURMA MYRA WOOD (m. Robert LAUDER)
10. Jan 31, 1928 WINNIFRED DAISY WOOD (m. Hannes BELL SR)
11. PATRICK EYSRUM WOOD
12. ALBERT BRUCE WOOD
13. Feb 15, 1935 ISAAC WOOD (m. Cecile)