JOSEPH ALBERT OIG (1896-1929)
CLARA STEVENSON - SINCLAIR (1895-1969)

(Last Updated: January 04, 2015)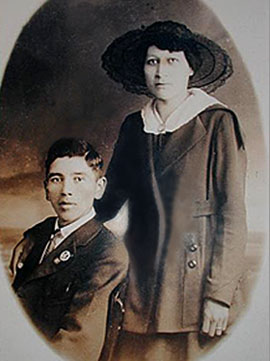 Joseph Albert & Clara Oig
(original photos used on this page were provided by Staci & Yvonne
I did some restoration work (modifications) using Adobe Photoshop)
Joseph Albert OIG was born Nov 10, 1896 in St Norbert (Ritchot), the son of Louise Anne PARISIEN & Charles OIG (1853-1927).  St Norbert was a Métis settlement just south of Winnipeg. His ancient paternal ancestors were northern Chipewyan Indians from the Athabasca - Northwest Territories region. His mother was of French Canadian descent.
Albert lived in St Norbert until he was a teenager. By 1911 his mother had died, and the OIG family moved to the St Peters Indian Settlement in the Selkirk area. His father re-married that year to Sarah HENDERSON.
Albert meets Clara
By 1914 Albert was romancing his neighbour, Clara, the daughter of Widow Susan (nee SMITH) SINCLAIR. Clara was a full-blooded Indian. Her parents were members of the Kee-see-Koose Band of Indians located near Fort Pelly (Kamsack area), just west of the Manitoba-Saskatchewan border. Her father was Adam STEVENSON (c1859-c1898), a Swampy Cree Insian. ** MORE ABOUT ADAM STEVENSON
World War I and Marriage
1914-1918
On Aug 14, 1914 World War I began when Great Britain declared war on Germany and Austria-Hungary to uphold treaties with France and Belgium which were under German attack.
On Dec 18, 1915, Albert enlisted at Selkirk as a Private in the 108th Canadian Infantry Battalion. His attestation papers indicated that he was a 19 years old and un-married. He was 5' 7" tall, with a dark complexion, brown eyes and black hair. He stated his next-of-kin as his father (Charles OIG) of St Peters. He began his military training at Camp Hughes (east of Brandon, MB).
On Apr 4, 1916, before departing for overseas duty, Albert and Clara were married at St Peters.He and his new wife were enumerated in St Peters that year. Clara's 54 year old widowed mother (Susan) was living with them at that time.
Mike Stevens: On Sep 18, 1916 Albert embarked aboard SS OLYMPIC in Halifax (page 13 of the BN's nominal roll), arriving in England on Oct 1. The people in the 108th were then transferred to the 14th Reserve while they cooled their heels in southern England awaiting reassignment to an active battalion in France. It would appear he probably was assigned to the 107th Pioneer Battalion (a group of specialized infantry units) since his "casualty record" (when he died after the war) records him in the 107th BN.
On Nov 16, 1916, son Howard (Yvonne's father) was born in St Peters.
Mike Stevens: On Nov 19-29, 1917, Albert was aboard the Hospital Ship ARAGUAYA while he was invalided to Canada on account of loss of function of his left arm. This would place him on the Western Front probably in early 1917 (possibly in time for Vimy Ridge) and most of the Battle of Passchendaele.
On Apr 15, 1918 Joseph Albert was honourably discharged (suffered from a gunshot wound injury to left shoulder). The Armistice was signed on Nov 11, 1918 (Remembrance Day); World War I was over.
After World War I
In 1923 daughter Muriel Grace was born in St Peters.
In 1927 both Albert's father (Charles OIG, age 74) and his step-mother (Sarah) died. They were buried in St Peters.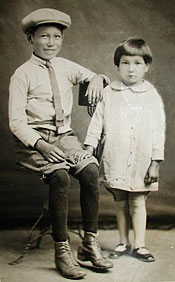 Youngsters Howard & Muriel Grace Oig
Albert dies of TB
On Aug 10, 1929, Joseph Albert OIG died of Pulmonary Tuberculosis (TB) in Selkirk (he was only 32 years old). He was buried in the St Peters Cemetery. At the time of his death, their son Howard (Yvonne's father) was only 13 yrs old and Muriel Grace was 6 years old. Pictures tell a thousand words! To lose their grandfather and then their father at such a young age must have devastated these youngster and would affected them for many years to come. Look at the handsome smiling youngster in the picture above, and compare it with the sad countenance of the young man (below) who went to war 10 years later. As the years passed, alcohol would become a problem for this entire family. During his military service, Howard is known to have been arrested by MP's for boozing and being AWOL. Grace died from alcoholic related heart problems.These two youngsters probably began drinking as teenagers.

During the winter of 1932-33, 17 year old Howard had an affair with a 15 year old Winnie SHAND. The result was that the following October Winnie gave birth to a daughter (Yvonne, my own dear sister-in-law).  Obviously this pair, only children themselves, could not properly care for a baby.
Yvonne's Baptismal Certificate. Shirley Yvonne SHAND, date of birth:  Oct 27, 1933 at Selkirk.  Names of Parents: Winnifred Gertrude SHAND and Howard OIG (not married). Address at the time of baptism: Selkirk, MB. Sponsors: Mrs Eleanor Florence SHAND, James Hamilton SHAND, and Mrs Emmy NEILSON. Date of Baptism: Oct 11, 1934 at home of JH SHAND, baptised by RS MONTGOMERY. ** MORE ABOUT WINNIE SHAND
Yvonne soon became a ward of the Children's Aid Society in Winnipeg; then a foster-child of Mary Anne (nee FIDLER) & Frank REID in Mapleton. Frank RIED died in 1936 and Yvonne's next foster-parents were Florence (nee GRAY) & Roddy SPENCE in Selkirk. These were the only parents Yvonne would know until after she married. It would be many, may years before she discovered who her real parents were. But that is another long tale to tell (coming soon).
In the spring of 1938, sixteen year old daughter Muriel Grace similarely had an affair with an unknown man. On Jan 19, 1939 she gave birth to a boy (William Edward, "Bill"). Bill never knew who his father was. Late in life he would jokingly say "I suspect it might have been Donnie COOK from 'over the fence'. When I heard about this, it tweaked a snippet of my own memory. I remembered a Donnie COOK from my days as a fish-scaler for Stephanson Fisheries in Selkirk (just a brief, casual acquaintance). COOK also worked as a fish processor for Booth Fisheries, located just down the hill from where I worked as a teenager.
WORLD WAR II
1939-1945
World War II: On Sep 10, 1939, a special session of Parliament approved Prime Minister Mackenzie KING's request that Canada join the war in Europe. The decision, seen by most Canadians as inevitable, came exactly one week after England and France declared war on Nazi Germany. It was the first time that Canadians made their own declaration of war as a sovereign nation.
By the spring of 1941 son Howard was 25 years old with a dark complexion, brown eyes and black hair. He was almost 6' tall, but he was a rather frail, skinny young man for his height (140 lbs), as you can tell by the pictures below. There was much trepidation for Clara when she realized that her only son was determined to become a soldier, like his father had been.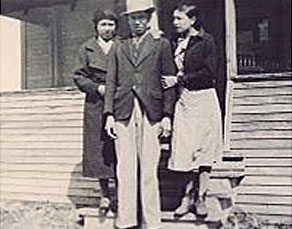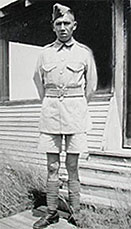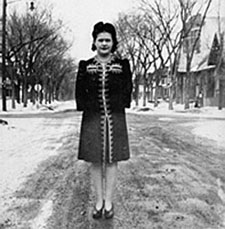 "Please, Don't Go!"
Left: Clara, Howard and Grace OIG around the time Howard enlisted
Centre: Howard the departing soldier, standing in front of the same house
Right: Winnie SHAND
On April 28, 1941, Howard went to Winnipeg and enlisted. He became a member of the Winnipeg Grenadiers. After six months of military training he embarked from Vancouver on Oct 27; disembarked at Hong Kong on Nov 16, 1941.
Howard would end his life as a warrior (his father would have been proud of him), first in the Battle of Wong Ne Chong Gap; almost a year of internment in the Shamshuipo P.O.W. Camp; and finally his death there on Nov 28, 1942. For much more about all this, click here: BATTLE for HONG KONG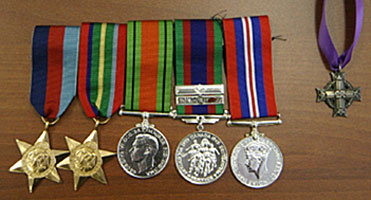 War Medals of Private Howard Oig – Winnipeg Grenadiers
L-R: Star (1939-45); Pacific Star; Defence Medal; Hong Kong (1935-45); War Medal (1939-45)
Also shown is the Memorial Cross (aka Silver Cross) awarded to his mother
After the War
For some years after the War, Clara OIG, daughter Muriel Grace and grandson (Bill) lived together in Selkirk. Grace eventually became Mrs. POIRIER (her son became Bill POIRIER) and they moved to Yellowknife in the Northwest Territories.
On Aug 9, 1952, granddaughter Yvonne married Ernest STILL at the St Clements Church in Mapleton, still unaware of these blood-relatives living in the same town where she grew up. She undoubtedly passed them by on the streets of town, oblivious of them all.
Understandably, Clara developed a bitterness toward the Japanese people who had so mercilessly taken her only son. Many years later, a Mrs. LILLIE would relate that she remembered one time being with Clara in a store in Selkirk when an oriental woman came in. Apparently Clara went wild, yelling at the unfortunate lady that she had killed her son! (Interestingly, the wife of the Donnie COOK I mentioned above was a good friend of the same Mrs. LILLIE).
In her final years Clara was receiving a military pension and she had in her possession war medals that had been awarded to her late husband (Joseph Albert OIG) after World War I as the following document reveals: An Action Request submitted to VAC on Mar 31, 1987 (Albert OIG had been dead 58 yrs by this time) by Diane VINCENT:  Subject D.O. File for:  Joseph Albert OIG WW1:  721292, with remarks:  "This W.W.I veteran's medals were found (in the Yellowknife Airport) & returned to me and I would like to locate relatives that could have lost these.  So, can you give a try & identify him.  He died 1929 and it was attributable to his service, so I presume his widow was getting a pension or benefits.  I know it's a very long shot but at least will say we've tried everything -  Thanks - Diane" (Clara was probably visiting her daughter Grace at Yellowknife when these medals were lost)
The passing of Clara OIG
1969
Clara OIG died in 1969 in Selkirk, age 74.
When Clara died, her daughter Grace (now POIRIER) was 47 years old, possibly living in Yellowknife or Edmonton.

Granddaughter Yvonne (now STILL) was 36 years old; married with three children and living in St James (Winnipeg).

Grandson Bill (now POIRIER) was 30 years old; possibly living in Yellowknife or Edmonton.
There were also numerous great-grandchildren.
Please post comments & queries at this link: FORUM DISCUSSING the family of JOSEPH ALBERT OIG
========================== Family Details ==========================
Children of Clara STEVENSON & Joseph Albert OIG:
1. Nov 14, 1916 JOSEPH HOWARD OIGE (Winnie SHAND)
2. Nov 3, 1922 MURIEL GRACE OIG (m. POIRIER)
** Mother of William Edward "Bill" (POIRIER) **