DUNCAN McRAE (1857-1921)
JANE MARY BALLENDINE (1866-1940)

(Last Updated: October 12, 2016)
Duncan McRAE was born Oct 21, 1857 in St Andrews Parish (Little Britain), son of Charlotte SMITH and Duncan McRAE SR (1818-1898), the notable Red River Stonemason. In census 1870 and 1881 (age 13, then 23) he was recorded with his parents there. ** MORE ABOUT DUNCAN McRAE SR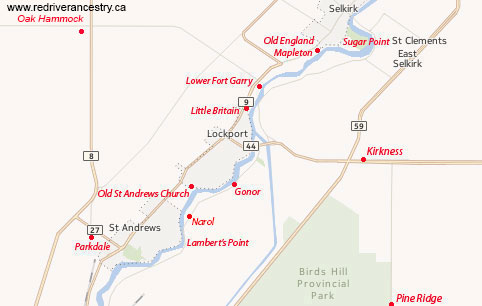 Marriage to Jane Mary BALLENDINE
1882
On Apr 5, 1882 Duncan married Jane Mary BALLENDINE in St Andrews, daughter of Elizabeth SMITH and Samuel BALLENDINE (1839-1903). ** MORE ABOUT SAMUEL BALLENDINE
In 1888, at the age of 70, Duncan Senior retired. His legs had become afflicted and he was unable to move about without extreme difficulty. Duncan Jr would take care of his aging parents for the rest of their lives. In the 1891 census they were recorded together in Little Britain: Duncan McRAE SR (age 63) and his wife Charlotte (age 68), Duncan MvRAE JR, age 23; his wife Jane (age 25) and their children: Elizabeth (age 5), Walter (3) and baby Eliza (5 months).
In 1894 Duncan' mother (Charlotte) died, and in 1898 Duncan Senior died. They were both buried in the Little Britain Cemetery.
Census of 1901 in Little Britain: Duncan, age 43; wife Jane, age 35. Children: Elizabeth (age 15), Walter (13), Eliza (9), Mildred (8), Mary (6), Charlotte (4) and baby Catherine.
In 1901 daughter Lizzie married Robert James McLENNAN in Selkirk, son of Annie BIRD and Murdoch McLENNAN (1825-1916). ** MORE ABOUT MURDOCH McLENNAN
Census of 1906, Lot 112 Lower Fort Garry: Duncan McRAE, age 48; wife Jane Mary, age 40. Children: Lizzie (age 20), Walter (18), Eliza (16), Mildred (13), Mary (11), Lottie (9), Catherine (5), Jane (3) and baby Duncan (b-Mar 29).
Census of 1911 in Little Britain:  Duncan MacRAE, age 53; wife Jane Mary, age 45. Children: Mildred (age 18), Mary (16), Charlotte (14), Catherine (12), Jane (8), Duncan (5) and Violet (age 2).  Granddaughter Isabella McLENNAN, age 8 (child of daughter Lizzie).
Perhaps around 1914 daughter Eliza married Roderick Joseph MUNROE (from the USA), son of Lexina MACRAE and Reuben Jesse MUNROE (1866-1943).
By 1916 daughter Catherine was the wife of Arthur HUDDLESTON (born 1892 in England and enlisted in 1915 at Camp Sewell (near Douglas, MB).
Ridgely
1916
Census of 1916 near Ridgely (14-3-Epm): Duncan McRAE, age 58; wife Jane, age 66. Children: Mildred (age 26), Jane (14), Duncan (10) and Ida(age 8). Granddaughter Isabel McLENNAN, age 13 (daughter Lizzie's chid). Servant: John WILLIAMS, age 65 (born c1851 in England).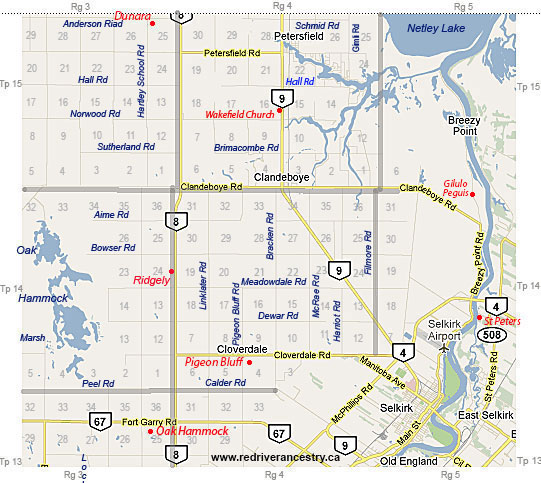 In 1917 daughter Mildred married Ralph SMITH in Selkirk, son of Harriet McKAY and John James SMITH (1869-1947).
In 1919 daughter Charlotte married Einar Marius Christian MUNCH in Winnipeg, son of Fanny Elizabeth GRONBERG and Viggo Berhard MUNCH (b-1857) from Denmark.
 On Apr 22, 1921 Duncan McRAE died at the age of 63.
Census of 1921 near Ridgely (14-14-3-Epm): Widow Jane Mary McRAE, age 55. Children: Jannie (age 19), Duncan (15) and Violet (13). Brother-in-law Arthur HUDDLESTONE, age 30 (born 1891 in England; immigrated 1906).
In 1926 daughter Violet married Alexander CALDER in St Andrews, son of Sarah CHASTELLAINE and Albert CALDER (1858-1927).
In 1928 daughter Mary married Henry SCHOFIELD in St Andrews, son of Maud DELAROQUE and Samuel SCHOFIELD (1873-1934) from England.
By about 1934 daughter Jane was the wife of Henry George CUBBAGE, son of Rose WEEKES and John Stanley CUBBAGE (1870-1913) who was born in England.
Son Duncan married Mary McCartney MILLER, daughter of Mary Harvey BUCHANAN and Charles Edward MILLER.
On July 22, 1940 Jane (nee BALLENDINE) McRAE died in St Andrews at the age of 74.
Comments and queries at this link: FORUM DISCUSSING THE FAMILY OF DUNCAN McRAE JR
========================== Family Details ==========================
Children:
1. May 14, 1883 MARGARET JANE McRAE (Died in infancy, age 3)
2. Jun 14, 1885 ELIZABETH "LIZZIE" McRAE (m. Robert James McLENNAN)
3. Jan 18, 1888 WALTER SCOTT McRAE
4. Oct 9, 1890 ELIZA McRAE (m. Roderick Joseph MUNROE)
5. Mar 9, 1893 MILDRED MURIEL McRAE (m. Ralph SMITH)
6. Mar 6, 1895 MARY McRAE (m. Henry SCHOFIELD)
7. Apr 2, 1897 CHARLOTTE "LOTTIE" McRAE (m. Einar Christian MUNCH
8. Sep 18, 1899 CATHERINE McRAE (m. Arthur HUDDLESTONE)
9. Aug 15, 1902 JANE (JUNE) McRAE (m. Henry George CUBBAGE)
10. Mar 29, 1906 DUNCAN (BUD) McRAE (m. Mary MILLER)
11. 1908 VIOLET (IDA) McRAE (m. Alexander CALDER)