SAMUEL BALLENDINE (1839-1903)
ELIZABETH SMITH (1829-1913)
MARY CHATELAIN (1854-?)
(Last Updated: October 12, 2016)
Samuel BALLENDINE was born on Dec 19, 1839 in St Andrews Parish (Red River), son of Jane BLACK and George BALLENDINE (1807-1875). ** Most likely he was named Samuel after his maternal grandfather, Samuel BLACK (1780-1841).
Further review is required to learn about Sam's early life. It appears that around 1845, when he was about six years old, his father re-married to Mary PARISIEN. We know very little about the whereabouts of Sam and/or his mother (Jane BLACK) after she was estranged from his father. He most likely grew up in St Andrews Parish where his mother died in 1887. ** If anyone has more information we would love to hear from you on the Forum (Link below).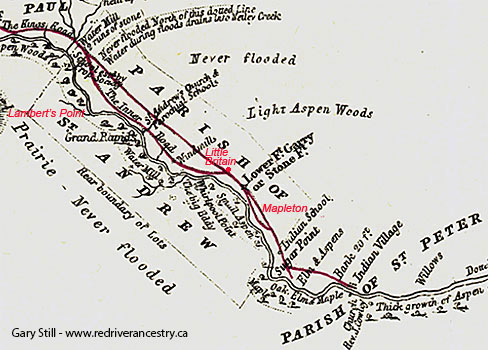 St Andrews Parish from Henry Hind's Map of 1857
Sam and Elizabeth SMITH
Saskatchewan River District
1860
Around 1860 Samuel was united with Elizabeth SMITH in St Andrews, the daughter of Mary Anne SWAIN & William Robert SMITH (1797-1869).  ** MORE ABOUT WILLIAM ROBERT SMITH
Samuel may have been influenced to travel to the far west by Peter BALLENDINE (1836-1885) who seems to have been his cousin (at least twice removed). Peter was a son of Mary HUMPHREYVILLE and John BALLENDINE (1800-1879), a half-breed voyageur, interpreter and trader with the Hudson's Bay Company (HBC). Peter was around the same age as Sam (three years his elder), and in 1860 had begun to work for the HBC in the Saskatchewan River District.
** MORE ABOUT PETER BALLENDINE
Not long after their marriage, Sam and Elizabeth travelled as far as Edmonton House in the Saskatchewan River district. It was there on Apr 17, 1861 that their first child, William Robert (named after his maternal grandfather), was baptized. There seems to be no reference to Sam in the HBC Archives, so if he was employed by them it must have only been on a part-time basis.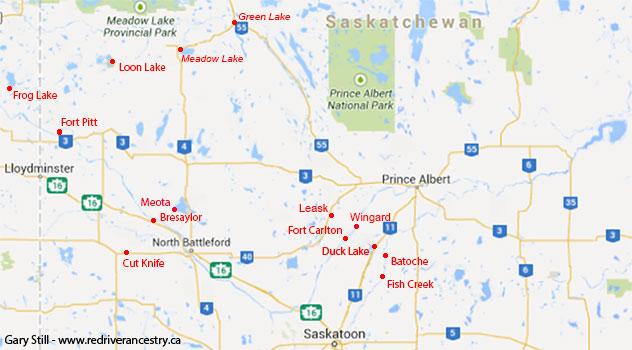 Localities associated with the North West Rebellion of 1885
On Apr 12, 1866 their second child, Mary, was baptized back in St Andrews by Reverend James GARDINER.
Canadian Confederation
A Red River Metis Rebellion
Manitoba becomes a Province
1867-1870
On July 1, 1867 the British colonies in North America were united under the British North American Act to become the Dominion of Canada.  Sir John A MacDONALD (1815-1891) was appointed as Canada's first Prime Minister; a month later he won the first federal election.William McDOUGALL (1822-1905) became the Minister of Public Works, and he began nnegotiations to acquire Rupert's Land from the HBC; surveyors were sent out to prepare the way for an expected influx of settlers.
In 1869 Louis RIEL (1844-1885) began to organize resistance to the transfer of the North-West to the Dominion of Canada without prearranged terms. This marked the beginning of the historic Red River Metis Rebellion.
** MORE ABOUT THE RED RIVER METIS REBELLION in WIKIPEDIA
On Aug 8, 1869 their third and last child of Sam BALLENDINE and Elizabeth SMITH together, son Roderick, was baptized at Fort Carlton, Saskatchewan, by Reverend James NESBIT.
On July 15, 1870 Manitoba became the fifth province of Canada, the Canadian Government having acquired the territory previously governed by the HBC. The Rebellion was essentially over.
On July 15, 1870 (at the time of the Transfer), according to his Scrip affidavit, Samuel was still a resident of St Andrews Parish (MB), but he apparently moved later that year to Prince Albert, SK. He and Elizabeth SMITH had parted ways, Elizabeth remaining in Red River (St Andrews) with their children while Sam returned to Saskatchewan where he remained for the rest of his life.
Common Law Marriage to Mary CHATELAIN
Prince Albert, Saskatchewan
1870
In 1870 Sam moved to Prince Albert (SK) where he began a common-law relationship with Mary CHATELAN. According to her Scrip of 1900, Mary CHATELAIN, a Treaty Indian, the daughter Mary and John MIS-SA-WAY-POCK CHATELAIN.
In 1871 son Felix was born at Eagle Creek (near Battleford); he died in 1873 at Carleton, SK.
Creation of the Northwest Mounted Police
Founding of North Battleford
1873-1875
In 1873 the Norwest Mounted Police force (NWMP) was created. In October that year Lieutenant-Colonel George Arthur FRENCH was appointed Commissioner of the Force, recruits were assembled and Lower Fort Garry (MB) was used as a training ground that year. In 1874 FRENCH led the force on its famous march to the foothills of the Rockies.
In 1875 the Town of North Battleford was created as a fur-trading post and headquarters for the NWMP.

Fort Battleford Historic Site (From Wikipedia)
Treaty Number Six
1876
In 1876, when Treaty 6 was being negotiated in the Fort Pitt – Fort Carlton – Battleford areas, the main interpreters of note wee Peter ERASMUS (1833-1931) and Peter BALLENDINE. Samuel BALLENDINE (as Peter's cousin) is mentioned briefly as an interpreter in some of the literature associated with Treaty negotiations involving POUNDMAKER (1842-1886) who gained prominence when he split off to form his own band during the negotiations. ** In her Scrip affidavit many years later (1900), wife Mary CHATELAIN mentions that Samuel was an Interpreter for the Indian Department.
In 1877 Elizabeth (SMITH) claimed Scrip for herself as the wife of Samuel BALLENDINE, and for their children (William R, Jane Mary and Roderick). They were in St Andrews at the time.
On Jan 12, 1879 Samuel claimed his Scrip as a resident of the NWT (Saskatchewan), formerly of the Parish of St Andrews (MB).
Census of 1881: Estranged wife Elizabeth (age 49) and their children William Robert(age 20), Jane Mary (15) and Roderick (age 11) are living with her brother-in-law, George BALLENDINE (Sam's brother) in Lower Ft Garry, MB. ** George had no children of his own.
In 1882 eldest daughter Jane Mary married Duncan McRAE in St Andrews, son of Charlotte SMITH and Duncan McRAE SR (1818-1898), the notable Red River Stonemason. ** MORE ABOUT DUNCAN McRAE SR
From Footprints in the Dust: On April 12, 1883, a number of freighters left Battleford under the leadership of Goodwin MARCHAND to mark out a new trail to the railroad. This caravan included Johnny PRITCHARD, Sam BALLENDINE, Johnny (Saskatchewan) LONGMORE, Johnny and Cornelius PRUDEN, John TODD, Walter SALISBURY, W.B. CAMERON, Malcom YOUNG and a few others. Before long, mail was carried between these points and the enterprising Peter BALLENDINE began operating a stage.
Peter TAYLOR Resigns as Farm Instructor
Sam in charge at the Strike-Him-on-the-Back's Reserve
Unrest on the POUNDMAKER Reserve
1883
In 1883 as part of a government economy drive many Indian Department employees were dismissed. From an article in the Manitoba Daily Free Press, April 4, 1883: Peter TAYLOR (1840-1920), instructor on Strike-Him-on-the-Back's Reserve (later the Sweetgrass Reserve), is also about to leave the service of the Indian Department, his resignation taking effect on April 1. He is going to settle on his claim between the rivers (Bresaylor). Sam BALLENDINE, at present on POUNDMAKER's Reserve, will assume charge of Strike-Him's, and an assistant under him will be placed on the former reserve. ** MORE ABOUT PETER TAYLOR
Due to the Government austerity measures, rations to the Indians were reduced as well. Delays in delivering supplies caused rumors to spread that rations would be curtailed completely, and the Indians left to starve. Moreover, as complaints by the agents that the Indians were starving after the severe winter of 1883–84 went unheeded by officials in Ottawa, POUNDMAKER was unable to maintain peace among his followers, particularly the younger warriors.
Northwest Rebellion
1884-1885
In 1884 Samuel was a Farming Instructor with the Indian Department on the Sweet Grass Reserve and the Strike-him-on-the-back Band. During the 1885 Riel Rebellion Sam served #2 Company of the Battleford Home Guard (South Battleford).
At the beginning of March, 1885, when RIEL proposed forming a provisional government, support from the English-speaking settlers and the church vanished. DUMONT then seized hostages near Batoche and a Provisional Government of Saskatchewan was formed. This marked the beginning of the historic Northwest Rebellion.
** MORE ABOUT THE NORTHWEST REBELLION in WIKIPEDIA
During the 1885 Riel Rebellion Sam served #2 Company of the Battleford Home Guard (South Battleford).
After the defeat of the Métis force at the Battle of Batoche and the surrender of Louis RIEL to MIDDLETON on May 15, POUNDMAKER (Pitikwahanapiwiyin) surrendered to General MIDDLETON at Fort Battleford on May 26.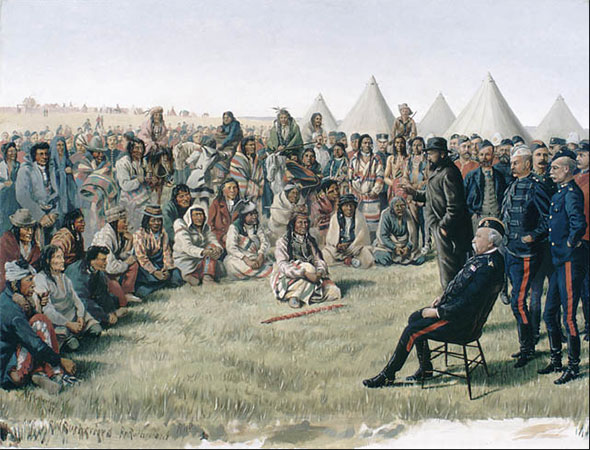 Poundmaker surrenders to Middleton in Battleford May 26, ,1885
In 1886 Sam was a "Freighter" in Battleford.
Census of 1891 in South Battleford (SK): Samuel BALLENDINE, Freighter, age 57; wife Mary, age 37. Children: Matilda (17) and Alexander (age 15). Adopted son: William (age 24; b-1867),
Census of 1891 in St Andrews Parish (MB): Elizabeth BALLENDINE (age 62) and son Roderick (age 21).
Around 1896 son Alexander was married to Harriet SAYER in Battleford, daughter of Mary BREMNER and Henry Fleury SAYER (1841-1916).
Around 1898 son Roderick married Elizabeth Mary Jane MUIR, daughter of Isabella Harriet SAUNDERS & James MUIR (1847-1892). ** MORE ABOUT JAMES MUIR
In 1899 eldest son William Robert married Jane LOUITT in Manitoba, daughter of Nancy HARPER and John LOUTIT (1841-1925). ** MORE ABOUT JOHN LOWE LOUTIT
On Aug 8, 1900 Sam's wife Mary CHATELAIN claimed Scrip at Battleford, indicating that she was a Treaty Indian. She states that she was never legally married to Samuel BALLENDINE but that she was living with him as his wife for 30 years, since the summer of 1870. She indicates that their son Felix died about 1898 at Carlton at the age of two.
Census of 1901 in North Battleford: Samuel BALLENDINE, age 66; wife Mary, age 46. With them is Son Alec (age 24), his wife Harriet (age 21) and their children: Annie (age 3) and William (age 1), Sam's grandchildren. Also granddaughter Mary PETERSON, age 3 (deceased daughter Matilda's child with William PETERSON).
On May 23, 1903 Samuel BALLENDINE died in Bresaylor, Saskatchewan.
Censuses of 1906 and 1911: Widow Elizabeth BALLENDINE, (age 78, 82) with son Roderick near Clandeboye, Manitoba.
.
On July 11, 1913 Sam's estranged wife, Elizabeth (nee SMITH) BALLENDINE, died in St Andrews Parish (near Clandeboye, MB) at the age of 83.
Comments and queries at this link: FORUM DISCUSSING THE SAMUEL BALLENDINE FAMILY
========================== Family Details ==========================
Children with Elizabeth SMITH:
1. Apr 17, 1861 WILLIAM ROBERT PEMBLE BALLENDINE (m. Jane "Jenny" LOUTIT)
2. Apr 15, 1866 JANE MARY BALLENDINE (m. Duncan McRAE)
3. Aug 8, 1869 RODERICK BALLENDINE (m. Elizabeth Mary Jane MUIR)
Children with Mary CHATELAIN:
1. 1871 FELIX BALLENDINE (Died in infancy)
2. 1874 MATILDA BALLDENDINE (m. William PETERSON)
3. May 2, 1876 ALEXANDER BALLENDINE (m. Harriet SAYER)
4. April, 1881 AMELIA BALLENDINE (Died in infancy)
5. 1883 PETER BALLENDINE
6. Aug 3, 1883 JAMES BALLENDINE (Died in infancy)
7. Mar 9, 1889 WILLIAM JOHN BALLENDINE (Died age 13)
Adopted son:
1. 1867 WILLIAM BALLENDINE