PETER BALLENDINE (1836-1885)
CAROLINE ROWLAND (1849-1922)
(Last Updated: September 16, 2015)
On Dec 6, 1836 Peter BALLENDINE was born at Cumberland House, son of Mary HUMPHREYVILLE and John BALLENDINE (1800-1879), a half-breed voyageur, interpreter and trader with the Hudson's Bay Company (HBC).
Peter was educated at St John's College in Red River.
In the Service of the Hudson's Bay Company
1860
On Sep 17, 1860 Peter began to work for the Hudson's Bay Company as an interpreter in the Saskatchewan River District. From 1864 to 1868 he was the Post Master at Carlton House; 1868-1874 at Battleford In 1873-74 he retired from Company Service.
Marriage to Caroline ROWLAND
1863
In 1863 Peter married Caroline ROWLAND at Fort Carlton, daughter of Elizabeth BALLENDINE and William ROWLAND (1799-1873) from Scotland, an HBC voyageur and trader. ** MORE ABOUT WILLIAM ROWLAND
Battle River (Battleford)
1868
In 1868 Peter became the Post Master in Charge at Battleford where he remained for the rest of his HBC career.
In 1874 Peter retried from HBC service, and that spring he purchased an area of land from Joseph TANNER (KASSISSOWAY) (1812-1874) on the south side of the Battle River in the settlement of Telegraph Flat. At the time, he was not aware that the land he purchased was to become the future town site of Battleford (SAB, Dept. of the Interior, Homestead File no. 80979. Claim of Peter BALLENDINE). He then became an independent Free Trader.
John WILLS, a mail carrier from the Forks of the Red River, witnessed Peter's Declaration regarding his land claim, and swore that TANNER had resided on the claim from September of 1873 to April of 1874.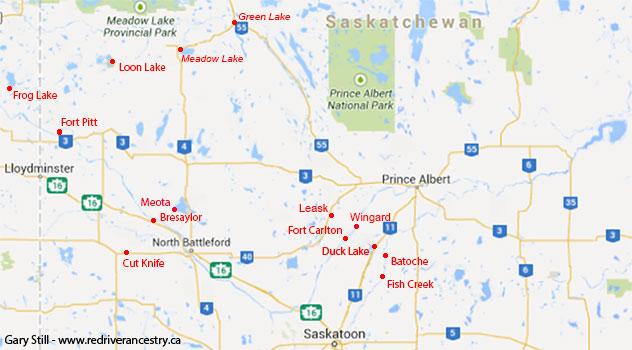 Localities associated with the North West Rebellion of 1885
In 1875, Peter ERASMUS (1833-1931) made another trip to Fort Garry - - He mentioned Gabriel DUMONT (1937-1906) and buffalo hunts with Metis hungers from St Laurent - -  DU,MONT accused a HBC hunting party out of Fort Carlton of contravening the laws of the hunt. The party included Métis individuals Peter BALLENDINE, Baptiste PRIMAU, Alexandre CADIEU, Theodore COVENANT, and William WHITFORD, along with First Nations people. DUMONT had the interloping hunters' tents toppled, their carts relieved of provisions and game, and additional fines levied against men with ties to St. Laurent. BALLENDINE reported the incident to HBC Factor Lawrence CLARKE, who had recently been appointed Justice of the Peace for the Territories. The DUMONT party was reprimanded and their governing council was dissolved.
Treaty Number Six
1876
Early in March of 1876, Peter ERASMUS received a letter by courier from BIG CHILD and STAR BLANKET, asking if he would consent to act as their interpreter for a treaty that was proposed for the coming summer - - Peter BALLENDINE, and his brother Sam, came to the chiefs, and informed them that the Governor MORRIS decided to meet him (Mista-wa-sis) at the fort (Carlton) that evening. The Governor said "I have twp of the most efficient interpreters that could be obtained. There stand Peter BALLENDINE and Rev John McKAY".  BIG CHILD answered "We have our own interpreter, Peter ERASMUS, and there he is".  Chief POUNDMAKER was there. 
In 1876 Peter was the interpreter for Treaty No 6 at Fort Carlton, and, also when Chief Mosquito signed at Battleford in 1878. Also that year, Peter was appointed as the Crown Timber Agent.
In 1880 adopted son Frederick (ERMINESKIN) married Sophie CARDINAL at Whitefish Lake, daughter of Marie BRUNEAU and Gabriel CARDINAL (b-1813).
From Footprints in the Dust: On April 12, 1883, a number of freighters left Battleford under the leadership of Goodwin MARCHAND to mark out a new trail to the railroad. This caravan included Johnny PRITCHARD, Sam BALLENDINE, Johnny (Saskatchewan) LONGMORE, Johnny and Cornelius PRUDEN, John TODD, Walter SALISBURY, W.B. CAMERON, Malcom YOUNG and a few others. Before long, mail was carried between these points and the enterprising Peter BALLENDINE began operating a stage.
In May of 1884 Commander Lief CROZIER (1846-1901) of the Northwest Mounted Police (NWMP) was sent to command the detachment at Battleford (Sask.). This was the most difficult NWMP posting at the time. Dissatisfaction and militancy were building among the large groups of Cree in the area. Soon after he reached Battleford, CROZIER helped create the most dangerous situation that had yet arisen. In June about 2,000 Cree from several bands gathered on the reserve of POUNDMAKER [Pītikwahanapiwīyin**], some 40 miles west of Battleford, for a Thirst Dance and council.
** MORE ABOUT LIEF CROZIER in DCBO
In 1884 Peter was appointed as a Justice of the Peace and Game Guardian.
Near the end of March 1884 Gabriel DUMONT called a meeting at the house of Abraham MONTOUR. To the 30 who attended DUMONT recounted his failed attempts to move the government and suggested that Louis RIEL (1844-1885) was the only one who could organize the kind of pressure necessary. ** MORE ABOUT GABRIEL DUMONT in DCBO
Northwest Rebellion
1885

** MORE ABOUT THE NORTHWEST REBELLION in WIKIPEDIA

Peter BALLENDINE served as a member of the Battleford Home Guards in the Rebellion, and as a scout forCaptain William OTTER (1843-1929) when he was defeated in the Battle of Cut Knife Hill by Chief POUNDMAKER and his people on May 2, 1885. ** MORE ABOUT THE BATTLE OF CUT KNIFE in WIKIPEDIA

On Dec 21, 1885 Peter BALLENDINE died in Battleford at the age of 49.
On Sep 25, 1891 portions of Peter's land claim were awarded to his wife Caroline and son James. The 70 lots patented to Mrs. BALLENDINE and her son were located within the town site of South Battleford. The adjacent quarter section of land (160 acres) housing the St Vital Cemetery and located outside of town limits was not awarded to Peter's family after his death for unknown reasons.
Widow Caroline remarried to Louis GOULET
1888
On Apr 13, 1888 Caroline re-married to Louis GOULET (1859-1936) in St Vital, son of Marie BEAUCHAMP and Moise GOULET. ** MORE ABOUT LOUIS GOULET in DCBO
Around 1896 son James married May Belle McDERMOTT, daughter of Sarah LINKLATER & Joseph Augustine McDERMOTT (1847-1896) from Sligo, Ireland.
On March 24, 1922 Caroline (nee ROWLAND) BALLENDINE – GOULET died at Battleford.
On Sep 26, 1936 Louis GOULET died in Portage la Prairie.
Comments and queries at this link: FORUM DISCUSSING the PETER BALLENDINE FAMILY
=========================== Family Details ===========================
Adopted Child:
1. c1860 FREDERICK SAMUEL BALLENDINE (m. Sophie CARDINAL)
Children with Caroline ROWLAND:
1. Oct 14, 1867 MATILDA BALLENDINE (Died age 12)
2. 1869 JOHN ROBERT BALLENDINE
3. Apr 13, 1871 JAMES WILLIAM BALLENDINE (m. May Belle McDERMOTT)
4. Dec 4, 1884 ELIZABETH BALLENDINE Died in infancy)
5. 1885 MARIA BALLENDINE (Died in infancy)