JOHN LOWE LOUTIT (1841-1925)
NANCY ANN HARPER (1845-1922)
(Last Updated: October 26, 2017)
John Lowe LOUTIT was born Jun 18, 1841 in the Saskatchewan District (Fort Edmonton), son of half-breed Jane McDOUGALL & Louis LOWE-LOUTIT (1816-1865), an HBC Blacksmith who was born in the Orkneys of Scotland.
In 1844 John's father retired and the LOUTIT family moved to St Andrews Parish (Little Britain). His mother (Jane) died and around 1857 and his father (Lowe) re-married to Catherine MOORE.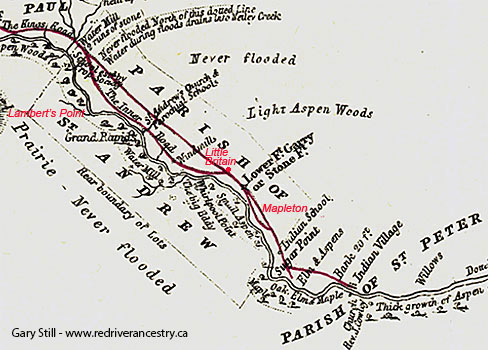 St Andrews Parish from Hind's Map of 1857
John marries Nancy Ann HARPER
Canadian Confederation
A Métis Rebellion
Manitoba becomes a Province
1867-1870
On Apr 11, 1867 John married Nancy Ann HARPER, half-breed daughter of Charlotte TURNER & James HARPER (1813-1887), a retired HBC voyageur. ** MORE ABOUT JAMES HARPER
On July 1, 1867 the British colonies in North America were united under the British North American Act to become the Dominion of Canada. Sir John A MacDONALD (1815-1891) was appointed as Canada's first Prime Minister.William McDOUGALL (1822-1905) became the Minister of Public Works, and he began negotiations to acquire Rupert's Land from the HBC.
The area where the LOUITIT family settled was then referred to as Little Britain. Many years later, after the bridge and locks were constructed it became the Village of Lockport.
On Jan 2, 1869, daughter Jane was born.
In August of 1869, as the transfer of the region drew near, another surveying crew under Colonel John Stoughton DENNIS (1820-1885) was dispatched by McDOUGALL to survey the settlement in anticipation of an influx of settlers.On Oct 11, 1869, Louis RIEL (1844-1885) placed his foot on the surveyors' chain to tell them their work was finished! He began to organize resistance to the transfer of the North-West to the Dominion of Canada without prearranged terms. This marked the beginning of another Red River Métis Rebellion.
During winter of 1869-70 John LOUTIT is listed among the men from the Lower Fort Garry (Little Britain) area who mustered to rescue prisoners held by Louis RIEL.
On July 15,1870 Manitoba became the fifth province of Canada, the Canadian Government having acquired the territory previously governed by the HBC. In December of 1870 a Census of Red River was completed. The results recorded 5, 757 French-speaking Métis; 4, 803 white settlers and 558 Indians in the census region. This information would be later used to determine who would be eligible for Land Grants and Scrip.
In January of 1871 the first Legislature of Manitoba was formed, and on March 10, 1871 John's neighbor at Lockport, the Honorable Donald GUNN (1797-1878), was appointed to the Legislative Council of Manitoba. Donald's youngest daughter, Janet GUNN, was the school teacher at Little Britain during this period.
On Jul 25, 1875, John LOUTIT applied for his Half-breed Scrip. John & Nancy settled on Lot 106, just north of present Lockport Bridge (west side of the Red River).
In the census of 1881 John and his family were enumerated in St Andrews Parish; children as Jane (age 12), John James (9), Alex Lowe (6), Emma (4) and Peter Robert (age 2). In December of 1881, daughter Mary Isabella (Ellen) was born. Their last child was Elizabeth Ann born in 1887. There were several other children who died in infancy.
In 1889 daughter Jane "Jennie" married William BALLENDINE, son of Elizabeth SMITH & Samuel BALLENDINE (1839-1903). ** MORE ABOUT SAMUEL BALLENDINE
In 1896 son Alexander married Ellen COOPER and in 1899 son John married Matilda COOPER, both daughters of Catherine THOMAS and Jeremiah COOPER (1842-1904). COOPER owned the long strip of land that now lies between the Lockport (Bridge) Road and Stevens Avenue, south adjacent to the LOUTIT property.
In 1905 son Peter (then a school-teacher) married Margaret REEKIE, probably in Margaret, Manitoba, a village SE of Souris in the RM of Riverside, daughter of Annie SINCLAIR and John REEKIE (1830-1900).

Also in 1905, daughter Isabella married William Vincent GOFF from England, a Guard at the Stony Mountain Penitentiary.
** MORE ABOUT WILLIAM VINCENT GOFF
John & Nancy move to Robinson Spur
1905
Before 1906 John Sr. & Nancy moved to the Netley Lake area (south of Matlock), leaving their Lockport residence to son John Jr. and his family.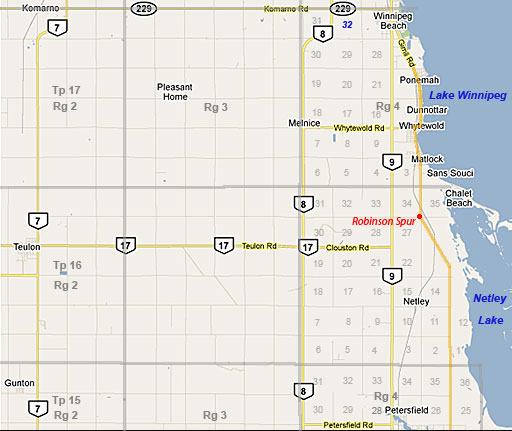 Nancy & John LOUTIT received a Land Grant for NW-28-16-4-Epm
This location is only about a mile west of Robinson Spur
In the 1906 census John (age 65) and Nancy (age 61) were enumerated at their new home west of Robinson Spur.
In 1908 daughter Jane BALLENDINE (widowed in 1900) remarried to Colin MUIR, son of Isabella SAUNDERS & James MUIR (1847-1892). ** MORE ABOUT JAMES MUIR
Census 1911, 1916: Nancy (age 66, 70) & John LOUTIT (age 70, 75) with daughter & son-in-law (Jane & Colin MUIR) on 25-15-4-Epm (along Netley Creek, NE of Clandeboye), joined by daughter Elizabeth (age 27) in 1916.
In 1917 daughter Elizabeth married Reginald George MASON in Selkirk. Reginald was from Kings Lynn, Norfolk, England.
On Jan 8, 1922, Annie LOUTIT died at the age of 76.
On Feb 2, 1925, John LOUTIT died at the age of 83.
Please post comments & queries at this link: FORUM DISCUSSING this JOHN LOUTIT FAMILY
========================== Family Details ==========================
Children:
1. Jan 2, 1869 JANE "JENNIE" LOUTIT (m. William Robert BALLENDINE, m2. Colin MUIR)
2 Aug 19, 1870 MARGARET ANN LOUTIT (Died 1872, age 2)
3. Mar 31, 1872 JOHN JAMES "JOCK" LOUTIT (m. Matilda COOPER)
4. May 22, 1874 ALEXANDER LOWE LOUTIT (m. Ellen/Eleanor "Nellie" COOPER)
5. May 14, 1876 EMMA LOUTIT (Died 1894, age 17)
6. Jun 23, 1878 PETER ROBERT LOUTIT (m. Margaretta Grant "Etta" REEKIE)
7. Sep 20, 1880 ELIZABETH ELLEN LOUTIT (Died in infancy, 3 days)
8. Dec 4, 1881 MARY ISABELLA ELLEN LOUTIT (m. William Vincent GOFF)
** MORE ABOUT WILLIAM VINCENT GOFF
?9. Jan 29, 1885 JOHN LOUTIT
10. May 31, 1886 WILLIAM LOUTIT (Died in infancy, 18 days)
11. Aug 10, 1887 ELIZABETH ANN 'LIZZIE" LOUTIT (m. Reginald George MASON)