JAMES HARPER (1813-1887)
CHARLOTTE TURNER (1828-1909)
(Last Updated: November 11, 2012)
James HARPER was born in 1813, probably at Albany River (Albany Post), son of Mary (Indian) and William HARPER (1783-1820), an HBC Sloop Master and Teacher born in the Orkneys of Scotland.
On July 13, 1820, when James was about seven years old, his father (William) died by drowning at Moose Factory.
A Voyageur with the Hudson's Bay Company
Albany River District
Marriage to Charlotte TURNER
1831-1844
In 1831 James (age 16) was engaged by the Hudson's Bay Company (HBC) as a voyageur in the Albany River District.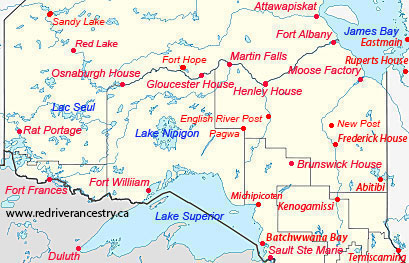 On Jun 21, 1841 at Martin Falls James married Charlotte TURNERdaughter of Emma & Joseph TURNER (1783-1865), both Métis. ** Charlotte was a granddaughter of Surveyor Philip TURNOR (1752-1799). ** MORE ABOUT JOSEPH TURNER
Strangers in Blood pg 76: When James HARPER married Charlotte TURNER at the HBC outpost of Marten Falls on Jun 21, 1841, Charlotte's father, a native employee and descendant of a late eighteenth century trader, made a record of agreement to be filed at Moose Factory. From his phrasing it is clear that he regarded the tie being established between himself and the junior employee who was marrying his daughter as being as important as the uniting of the couple. Further, like company fathers before him, he reserved the right to approve or perhaps even to arrange the marriage and officiated at it himself as the key party involved.
Joseph TURNOR wrote this to his future son-in-law:  "James HARPER I this day consent to be your father in law and by the blessings of the ald mite god join you to my beloved Daughter Charlet TURNER hoping that you will consider your self well married to her as if you were joined by a minister." (Moose Factory register)
James retires to Red River (St Andrews)
1844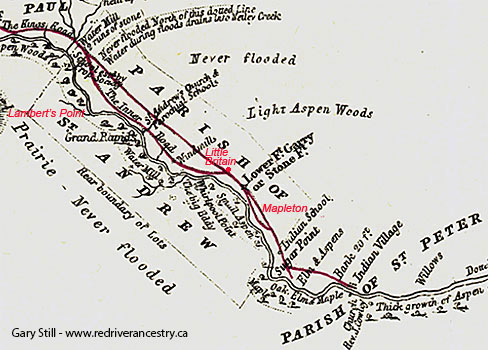 Part of Henry Hind's Map of 1857 showing St Andrews Parish
In 1844 James was retired to Red River (St Andrews Parish).
In 1865 son Philip married Margaret DANIEL, daughter of Isabella FAVEL & Edward DANIEL (1826-1864).
Canadian Confederation
1867
On July 1, 1867 the British colonies in North America were united under the British North American Act to become the Dominion of Canada. Sir John A MACDONALD (1815-1891) was appointed as Canada's first Prime Minister.William McDOUGALL (1822-1905) became the Minister of Public Works, and he begannegotiations to acquire Rupert's Land from the HBC. He sent surveyors to Red River in anticipation of a flood of new settlers to the area.
In 1867 daughter Nancy married John LOUTIT, son of Jane McDOUGALL & Louis Lowe LOUTIT (1816-1865).
On Feb 24, 1870 son William married Jane Mary THOMAS, daughter of Victoria TAYLOR & Alexander THOMAS (1830-1869).
In 1870 James' family was recorded on Lot 111 in St Andrews Parish. Children / ages at that  time were
Emma (age 19), Robert (14), Joseph (12), Sarah (11), Alexander (10), Thomas (8) and Edward (age 4).
In 1875 both James and his wife Charlotte, living in St Andrews, applied for their halfbreed Scrip
Around 1878 daughter Emma married John FORBISTER, a shoemaker from Scotland.
Around 1880 son Robert married Anne STEVENSON, daughter of Marie FOULDS & William Richard STEVENS (1829-1918).
In the 1881 Census James HARPER was recorded in St Anderws Parish as age 65; wife Charlotte, age 54. Children with them were Alexander 18; Thomas 16; Harriet J 10; David 7. Also with them are daughter and son-in-law, Emma & John FORBISTER, a shoemaker from Scotland, and their children Margaret (age 2) and John FORBISTER (age 1).
In 1886 son Joseph Richard married Jane (nee SINCLAIR) FOLSTER, daughter of Margaret SWAIN & Baikie SINCLAIR (1802-1887).
On Apr 8, 1887 James HARPER died in Red River.
On Jan 8, 1891, daughter Harriet married Sydney John MASTERS (1870-1929) from England. In the 1891 Census taken on May 7 in St Andrews, Widow Charlotte HARPER, a Midwife, was recorded there. With her was her 16 year old son David. Also her daughter Harriet MASTERS (age 20) and grandson Walter MASTERS (age 3 months).
In the 1901 Census Widow Charlotte was recorded in Lockport with her daughter & son-in-law Nancy & John LOUTIT
On Dec 24, 1909 Charlotte HARPER died in Selkirk at the age of 79.
Please post comments and queries at this link: ** FORUM DISCUSSING the JAMES HARPER FAMILY
========================== Family Details ==========================
Children:
1. Feb 13, 1842 PHILIP HARPER (m. Mary Margaret DANIEL)
2. Jul 19, 1845 NANCY ANN HARPER (m. John LOUTIT)
** MORE ABOUT JOHN LOUTIT
3. ANDREW HARPER (Died in infancy)
4. Feb 22, 1847 JOHN JAMES HARPER
5. Jun 18, 1849 WILLIAM HARPER (m. Jane Mary THOMAS)
6. July 3, 1851 EMMA HARPER (m. John FORBISTER)
7. 1853 ELIZABETH HARPER (Died in infancy)
8. Jun 25, 1853 ROBERT HARPER (m. Anne STEVENS)
9. Dec 18, 1857 JOSEPH RICHARD HARPER (m. Jane (nee SINCLAIR) FOLSTER)
10. 1860 SARAH HARPER (Died age 15)
11. Mar 5, 1862 ALEXANDER GEORGE HARPER (Died age 20)
12. Feb 7, 1864 THOMAS HARPER
13. 1866 EDWARD ANDRAS HARPER (Died at birth)
14 Jan 12, 1871 HARRIET JANE HARPER (m1. Sidney MASTERS m2. Harold SANPERT)
15  1874 DAVID HARPER