WILLIAM VINCENT BERNARD GOFF (1872-1940)
MARY ISABELLA ELLEN LOUTIT (1881-1974)
(Last Updated: October 26, 2017)
William Vincent Bernard GOFF was born on Dec 4, 1872 in Harleston, Norfolk, England (SW of Lowestoft), immigrating to Canada in 1904.
Marriage to Mary Isabella LOUTIT
1905
On Nov 2, 1905 William married Mary Isabella LOUTIT in St Andrews, the daughter of Nancy HARPER and John Lowe LOUTIT (1841-1925). ** MORE ABOUT JOHN LOWE LOUTIT
Census of 1906 in Stony Mountain: William V. B. GOFF, age 36; wife Mary, age 24.
Census of 1911 in Stony Mountain:William GOFF, Penitentiary Guard, age 40; wife Mary, age 30. Children: Dorothy (age 4) and baby Mary (11 months).
World War I
1914-1918
On Aug 4, 1914 Great Britain (Canada on Aug 5) declared war on Germany and Austria-Hungary to uphold treaties with France and Belgium which were under German attack. This marked the beginning of World War I.
On Dec 7, 1915 William enlisted at Selkirk (MB). He was described as a Hardware Clerk of Lockport (MB). He was 43 years old, 5' 10 ½", dark complexion, hazel eyes and black hair. Next of kin: his wife: Mary Isabella GOFF of Lockport.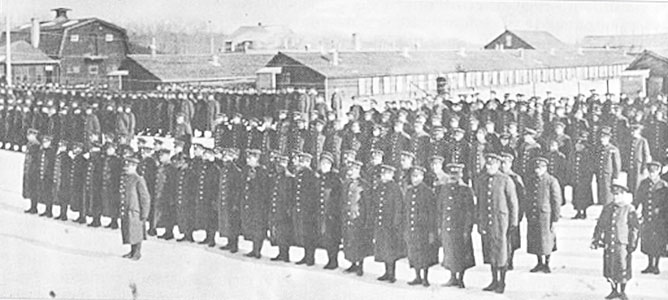 Soldiers at Red Feather Farm barracks in Selkirk during World War I
Census of 1916 in the Town of Selkirk (76 Eveline St): William GOFF, Hardware Clerk, age 45; wife Mary, age 34 (born MB). Children: Dorothy (age 9), Edith (6), William (3) and Anna (age 1).
November 11,1918, Armistice Day (Remembrance Day) marked the end of the First World War.
Lockport – St Andrews
After William returned from the war he settled on River Lot 106 in St Andrews Parish (Little Britain). This Lot was the original property owned by his father-in-law, John LOUTIT.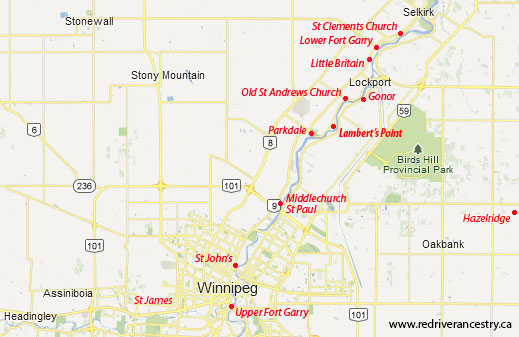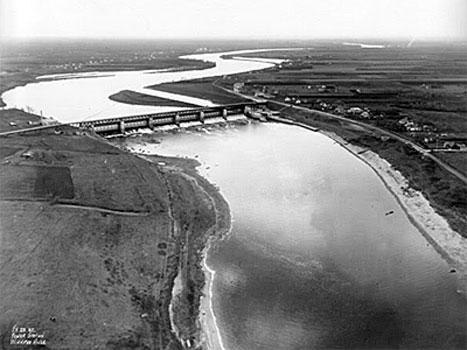 The Lockport Dam in 1923
Census of 1921 in St Andrews (Lot 106): William E.B. GOFF, age 55; wife Mary I, age 39. Children: Dorothy H (age 14), Mary E (10), William V B (8), Anna P (6) and Haig V B (age 1).
Eldest daughter Dorothy would marry Mervin Frederick WAY, probably in High River, Alberta, son of Minnie Geraldine BAILEY and William Bertram WAY (Born 1881 in England). ** These are probably the parents of Barbara WAY who married Ormond MITCHELL.
Daughter Mary Edith married Ralph (Ray) Simmons SINCLAIR, son of Harriet Louisa HARRIOTT and Cuthbert Allan SINCLAIR (1885-1958).  
In 1939 son William Vincent Jr. married Marguerite WILSON in Vancouver.
Daughter Anna Patricia married Tom WARRINTON of uncertain origins.
On Jun 3, 1940, Willam Vincent Bernard GOFF died in St Boniface at the age of 72.
Youngest son Haig married Olga KOSOWICZ, daughter of Martha LATCHUM and Alexander KOSOWICZ (1885-1976) from Galcia.
By 1960 daughter Vivian was married to Robert Archibald CAMPBELL (1921-2012) who died in Ottawa.

On Oct 9, 1974 Mary Isabella (nee LOUTIT) GOFF died in Courtenay, BC; buried in St Andrews, MB.
Comments and queries at this link: FORUM DISCUSSING THE FAMILY OF WILLIAM VINCENT GOFF
========================== Family Details ==========================
Children:
1. Aug 19, 1906 DOROTHY HELENE GOFF (m. Mervin Frederick WAY)
2. Feb 21, 1909 Un-named son GOFF (Died at birth)
3. Jun 21, 1910 MARY EDITH GOFF (m. Ralph Simmons (Ray) SINCLAIR)
4. VIVIAN GOFF (m. Robert Archibald (Bob) CAMPBELL)
5.  Oct 5, 1912 WILLIAM VINCENT BERNARD GOFF (m. Marguerite WILSON)
6. Mar 29, 1915 ANNA PATRICIA GOFF (m. Tom WARRINGTON)
7. 1919 HAIG V.B. GOFF (m. Olga KOSOWICZ)