ANGUS McRAE (1876-1957)
ELIZABETH JANE FLETT (1879-1898)
ANN ELIZABETH "ANNIE" NORQUAY (1878-1970)
(Last Updated: January 13, 2015)
Angus McRAE was born Mar 1, 1876 in Little Britain, a son of Elizabeth HARCUS & Alexander McRAE (1849-1916).  
Angus was a grandson of the noted Stonemason Duncan McRAE (1818-1898).
** MORE ABOUT STONEMASON DUNCAN McRAE
Around 1878 Angus' family moved to the Clandeboye area.
When the 1881 census was taken in the Clandeboye area, Angus (about five years old) was not recorded with the rest of the family. It seems very likely that he may have been staying with his grandparents or other relatives in Little Britain or Mapleton in order to go to school.
In the 1891 census Angus (age 15) was recorded twice; first with his parents at Clandeboye and secondly, a few weeks later with his aunt and uncle, Sarah Ann (nee McRAE) and her husband, Captain Angus MORRISON (1842-1900) in Mapleton.
A short marriage to Elizabeth Jane FLETT
1896-1898
On Dec 22, 1896 Angus married Elizabeth Jane FLETT in Selkirk, daughter of Christie ANDERSON and John Alfred FLETT (1859-1943). ** MORE ABOUT JOHN ALFRED FLETT
A son (Morrison McRAE) was born Apr 13, 1898 in Selkirk. Jane died less than two weeks after this birth (Apr 26, age 19), and the child (Morrison); died Sep 16, 1898 (5 months old).
Marriage to Annie NORQUAY
1899
On Apr 28, 1899 Angus re-married Annie Elizabeth NORQUAY at the St Clements Church in Mapleton, daughter of Caroline FIDLER & George NORQUAY (1852-1942).Witnesses were James RYAN and Minnie STEVENS.
The newlyweds apparently moved in with his Uncle Angus MORRISON, and on Jan 20, 1900 their first child, Ida, was born. In the 1901 census Angus, his wife Annie and baby Ida were recorded in the MORRISON household at Mapleton.
In 1913 Annie's sister Mary Emily NORQUAY married Colin McRAE (Angus' brother).
World War I
1914-1919
On Aug 4, 1914 Great Britain (Canada on Aug 5) declared war on Germany and Austria-Hungary to uphold treaties with France and Belgium which were under German attack. This marked the beginning of World War I.
The Family in Selkirk
Angus worked as an Engineer on the steamboat Wolverine, and for the Street Railway Company.
In the 1916 Census Angus was recorded as a 40 year-old Railroad Electrician, living at 196 Rosser Avenue in the Town of Selkirk; wife Annie was 37 years old and their children were Ida (age 16), Roy (14), May (11), Norman (9), Alexander (7), Angus Jr. (2) and baby Victor (4 months).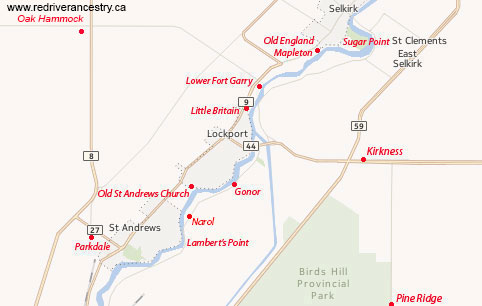 From 1918 until his retirement, Angus worked as an Electrician at the Manitoba Rolling Mills (MRM). By this time they were living in Old England (Mapleton) west of where Craig Avenue meets Hwy #9.
On Jan 31, 1919, daughter Sarah Myrtle was born; their last (youngest) child.
November 11, 1919, Armistice Day (Remembrance Day) marked the end of the First World War.
Not sure when or where, but daughter Ida married John William DELAHOY from England, son of Catherine WESTERBY and Charles Henry DELAHOY (1852-1930).  
Around 1926 son Roy married his cousin, Lena FIDLER, daughter of Isobel COOPER and William Thomas FIDLER (1869-1956). ** MORE ABOUT WILLIAM THOMAS FIDLER
In 1932 son Norman married Barbara MINTY in Selkirk, daughter of Bessie and James MINTY (born 1883 in Scotland).
World War II
1939-1945
On Sept 4, 1939Canada and Britain declared war on Germany, and almost immediately new recruits began pouring into Winnipeg to sign up with the Winnipeg Grenadiers and the Royal Rifles of Canada.
Around 1943 son Angus "Dumpy" married Anne KREVIAZUK, daughter of Annie USKIW and Nicolas KREVIAZUK (1880-1950) who came from Austria around 1907. ** MORE ABOUT NICOLAS KREVIAZUK
It is uncertain when son Alexander "Nicky" married Marion McKENZIE, daughter of Charlotte LYONS & Douglas McKENZIE (1882-1970). ** MORE ABOUT DOUGLAS McKENZIE
On May 7, 1945 Germany surrendered and the war in Europe ended.
In the mid 1940's I (Gary STILL) remember their son Victor at Mapleton, a big stocky youngster with his balloon-tired bike. He chummed around with my brother Denis and Sid GOWEN.
It is uncertain when or where daughter Sarah married Reginald MITCHELL of unknown origins.

Angus & Annie McRae, Old England, 1955 (BGLFG)
On May 28, 1957 Angus McRAE died in Selkirk.
In 1970 Annie McRAE died.
Please post comments & queries at this link: FORUM DISCUSSING the ANGUS McRAE FAMILY
========================== Family Details ==========================
Child by Elizabeth Jane FLETT:
1. Apr 13, 1898 MORRISON McRAE (Died in infancy, 5 mos)
Children by Annie NORQUAY:
1. Jan 20, 1900 IDA McRAE (m. William DELAHOY)
2. Dec 1, 1901 ROY McRAE (m. Lena FIDLER)
3. Aug 8, 1904 MAY McRAE (m. Tracy SCOVILL)
4. Apr 12, 1906 NORMAN McRAE (Barbara Ruth MINTY)
5. Nov 2, 1908 ALEXANDER WILFRED "NICKY" McRAE (m. Marion McKENZIE)
6. 1913 ANGUS MELVILLE GEORGE "DUMPY" McRAE (m. Anne KREVIAZUK)
7. Jan 16, 1916 VICTOR HOWARD McRAE (Died age 37, un-married)
8. Jan 31, 1919 SARAH MYRTLE McRAE (m. Reginald MITCHELL)