WILLIAM THOMAS FIDLER (1869-1956)
ISABELLA COOPER (1869-1947)
(Last Updated: March 13, 2016)
William Thomas FIDLER was born in Parish of St Andrews on Valentine's Day, Feb 14, 1869, the eldest son of Jane YOUNG and William FIDLER SR (1845-1929). ** MORE ABOUT WILLIAM FIDLER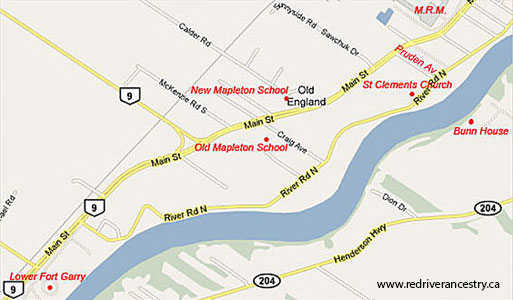 Marriage to Isabella COOPER
1891
On Dec 9, 1891 William married Isabella COOPER, the daughter of Catherine THOMAS & Jeremiah COOPER (1842-1904)of St Andrews Parish. Her family owned a large tract of land in Lockport (vicinity of the Lockport Bridge) and were considered both prosperous and influential. They settled on River Lot 94 in RM of St Clements (south of Bunn House on map above).
By 1897-98 there was much agitation for a new school to be built on the east side of the Red River. Young people from the east side were attending St Andrews, Mapleton and Selkirk schools, but this meant walking the frozen river in winter during the cold and blizzards, ferrying or boating across during the summer months and not attending school at all during the spring ice break ups or winter freeze-overs.
In 1900 when the Kitchener School was built, Thomas BUNN and William Thomas FIDLER were among the first Trustees and William was very instrumental in having the school organized. The boundary Kitchener Scholl District was the inner and outer two miles of Lots 81 to 106 inclusive, and the inner two miles of Lots 107 to 120 and that portion of the two miles not included in the Ashfield S.D.
In the Census of 1901 William's children were recorded as Lawrence (age 9), Percy (7), Henry George (age 2) and baby Charles. The Kitchener School celebrated its first opening that year with Agnes McPHERSON as its first teacher.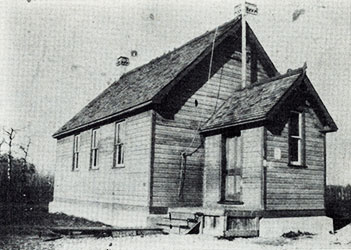 Kitchener School
In 1910 construction of the bridge and locks at Lockport was completed. It submerged the St. Andrews Rapids (a natural bridge) in order to make the Red River navigable both to and from Lake Winnipeg.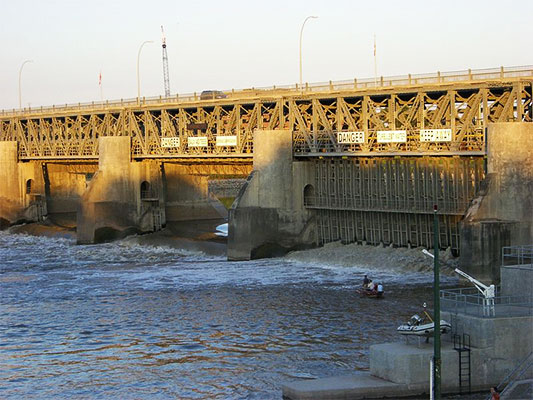 Lockport Bridge and Dam
Census of 1911 in St Clements Parish (Lot 94): William FIDLER, age 42; wife Isabella, age 42. Children: Lawrence (age 18), Percival (17), Henry (12), Charles (10), Cecil (8), Lena (6), Sidney (4) and baby Jeremiah.
William carried on a mixed farm operation that included market gardening. He also worked as a carpenter and was a municipal foreman.
World War I
1914-1918
On Aug 4, 1914 Great Britain (Canada on Aug 5) declared war on Germany and Austria-Hungary to uphold treaties with France and Belgium which were under German attack. This marked the beginning of World War I.
On Dec 14, 1915 son Percy (age 21) enlisted (Winnipeg Granadiers; 108th Battalion, CEF) at Selkirk. The next day his younger brother Henry George (age 18) enlisted. Eldest son Lawrence also served overseas with the Royal Canadian Engineers.
On Aug 15, 1917 son Henry George died a soldier in France at the age of 18. A memorial service for him was held in the Kitchener School District.
November 11,1918, Armistice Day (Remembrance Day) marked the end of the First World War.
In 1919 son Percy married Edith Mary KIRBY from England (his war-bride).
William carried on a mixed farm operation - - market gardening - - carpentry - - municipal foreman - - Trustee at Kitchener School (across river from Mapleton). For many years he was a vestryman at the St Clements Church.
Census of 1921 of St Clements East (Lot 94): Thomas FIDLER, Gardener, age 52; wife Isabella, age 52. Children: Lawrence (age 28), Charlie (20), Cecil (18), Lena (16), Sidney (14) and Victor (age 10).
In 1926 daughter Lena married Roy McRAE in Mapleton, son of Annie NORQUAY and Angus McRAE (1876-1957).
** MORE ABOUT ANGUS McRAE
In 1927 son Cecil married Christina Davidson RAE, daughter of Christine & Robert RAE (b-1862) from Perthshire, Scotland.
In 1928 son Charles married Albertina KARLENZIG in Saskatoon (SK), daughter of Lydia ENGEL and Johann Wilhelm Fredrich KARLENZIG (1873-1975) from Germany.
In 1934 son Sidney married Alena Christiana HYDE at the St Clements Church in Mapleton, daughter of Justina STEBBE and John HYDE (1883-1965) from Germany.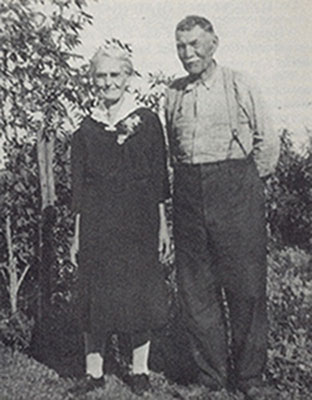 Isabella (nee Cooper) and William Thomas Fidler (From Cecil Fidler)
World War II
1939-1945
On Sept 4, 1939 Canada and Britain declared war on Germany, and almost immediately new recruits began pouring into Winnipeg to sign up with the Winnipeg Grenadiers and the Royal Rifles of Canada.
Son Sidney served overseas with the Royal Engineers.
 On May 7, 1945 Germany surrendered and the War in Europe ended; the next day, May 8, is declared VE Day.
On Jan 4, 1947 Isabella (nee COOPER) FIDLER died in Selkirk.
In 1947 daughter-in-law Christine (nee RAE) died, and in 1950 son Cecil remarried to Mary Ruth WINTER, daughter of Maria FRIESEN and Cornelius WINTER (1871-1948), a Russian Mennonite from SE of Winkler (MB).
On May 1, 1956, William Thomas FIDLER diedat the age 87. He and Isabella were both buried in the St Clements Church Cemetery in Mapleton.
Comments and queries at this link: FORUM DISCUSSING the WILLIAM THOMAS FIDLER FAMILY
============================ Family Details ============================
Children:
1. Nov 27, 1892 LAWRENCE FIDLER (never married)
2. Jan 22, 1894 PERCIVAL "PERCY" FIDLER (m. Edith Mary KIRBY)
3. 1895 MARY BELLE FIDLER (Died in infancy)
4. 1897 CATHERINE JANE FIDLER (Died in infancy)
5. Jan 29, 1898 HENRY GEORGE FIDLER (Died in France in WW I, age 18)
6. Mar 16, 1901 CHARLES "CHARLIE" FIDLER (m. Albertina "Tina" KARLENZIG)
7. May 12, 1903 CECIL FIDLER (m1. Christina Davidson RAE, m2. Mary Ruth WINTERS)
8. Mar 30, 1905 LENA FIDLER (m. Roy McRAE)
9. Dec 19, 1906 SIDNEY HAROLD FIDLER (m. Alena Christiana "Connie" HYDE)
10. Aug 3, 1910 JEREMIAH VICTOR FIDLER (never married)