NICOLAS KREVIAZUK (1880-1950)
ANNIE USKIW (1882-)
(Last Updated: February 07, 2013)
Nicolas KREVIAZUK was born around 1880 in Galicia (the Ukraine) where around 1904 he married Annie USKIW. Son John was born there in 1905 and in 1906 they immigrated to Canada.
** These are the great grandparents of Chantal KREVIAZUK, the internationally respected, Juno award-winning singer, songwriter, and musician. Chantal herself tells us all about her KREVIAZUK ancestors in the following Video:
** MORE ABOUT CHANTAL KREVIAZUK in WIKIPEDIA
Son Steve remembered Nicolas (his father) as being a physically diminutive man with a nervous laugh. He was known as "Little Gigi" to friends and family.
Nicholas was part of a wave of Eastern European immigrants who arrived in Manitoba from 1891-1920. Many were fleeing the enforced peasantry of landowners in Ukraine while others came to Canada in search of religious freedom. In an effort to settle the west, the Canadian government offered Ukrainian immigrants 160 acres of farm land in Manitoba for only ten dollars. But the overseas passage from Ukraine was difficult; many died from Typhoid fever. In Canada, life was very tough for these new citizens. Men often worked other people's farms as well as their own just to put food on the table.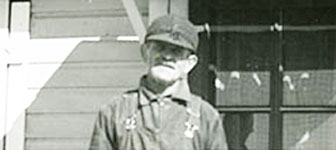 Little Gigi - Nicolas Kreviazuk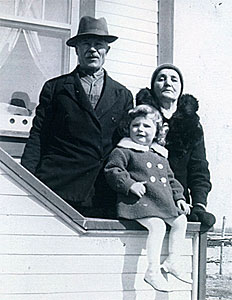 Nicolas Kreviazuk & Wife
Census of 1916; St Andrews Parish Lot 136: Nicolas KRUJCZUK (KREVIAZUK), age 36 (born 1880 in Galicia); wife Annie, age 34 (born 1882 in Galicia). The census record indicates that Annie, Nicholas and son John all immigrated to Canada in 1907). Children: John (age 11), Mike (9), Lily (4); Maggie (age 2) and baby Pete. Lot 136 is located on the east side of the Red River, directly across from Lower Fort Garry.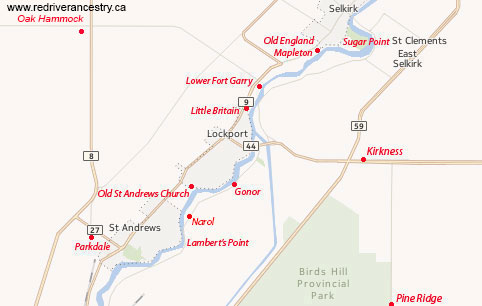 Steve also told Chantal how rampant discrimination, even as late as the 1930's, made it difficult to get work if you were Ukrainian. Ukrainian men were employed as cheap labour for dangerous jobs. Nicholas, for instance, was part of the construction crew that built the Lockport dam and bridge in Lockport, Manitoba. The Lockport dam, built to help control the flood waters of the Red River, was considered a marvel of engineering. But the work to build it was grueling and dangerous and numerous men died.

Eventually, Nicholas became a farmer with 60 acres of land along the Red River where he grew wheat, oats, barley and potatoes. Chantal visits the old KREVIAZUK homestead, where she discovered from Uncle Alvin that Nicholas was an orphan raised by a Catholic priest. She reflected on the adversity her great grandfather Nicholas faced during his lifetime. To her, he appears as a solitary figure, alone against the world. To find out even more about Nicholas's life, she goes to the community's church. The KREVIAZUK's, like many Ukrainians, left behind their orthodox faith to worship in the local Presbyterian church.
Daughter Anne married Angus "Dumpy" McRAE, son of Annie NORQUAY and Angus McRAE (1876-1957).
In 1938 son Mike married Isobel Elizabeth KOWALUK (1920-2011). I (Gary STILL) personally remember Mike KREVIAZUK and his family who lived in Mapleton. I went to school with his daughter Eleanor (same grade as me).
In the parish records, a shocking discovery is recorded – On May 17, 1950, at the age of 70 Nicholas died from a self-inflicted gunshot wound.
Please post comments & queries at this link: FORUM DISCUSSING the FAMILY OF NICHOLAS KREVIAZUK
=========================== Family Details ===========================
Children:
1. 1905 JOHN KREVIAZUK
2. 1907 MIKE KREVIAZUK (m. Isobel KOWALUK)
3. 1912 LILY KREVIAZUK
4. 1914 MAGGIE KREVIAZUK
5. 1916 PETER KREVIAZUK (m. Katherine)
** Grandparents of Chantal **
6. STEVE KREVIAZUK
7. ANNE KREVIAZUK (m. Angus Melville George "Dumpy" McRAE)