WILLIAM BIRD (1803-1885)
VENUS "BENNIE" HAY (`1801-1864)
(Last Updated: May 09, 2015)
William BIRD was born around 1802-03 at Edmonton House, son of a Swampy Cree woman named OO-MENAHOMISK, and of James Curtis BIRD (1773-1856) from England. ** MORE ABOUT JAMES CURTIS BIRD
His father, JC BIRD, after several years as Chief of the District out of Cumberland House, moved to Red River sometime after the HBC-NWC union of 1821.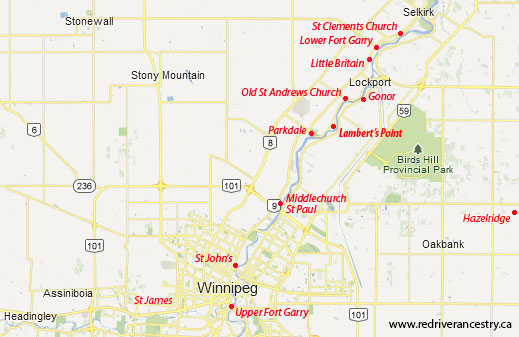 Marriage to Venus "Bennie" HAY
1822
In 1822, William was married to Half-breed Venus "Bennie" HAY, at the St John's Mission House by Reverend John WEST (1778-1845), the first HBC Chaplain in the northwest. On June 5, 1823 William was baptized at St Johns.
The origins of Venus HAY are about as mysterious as the planet that bears her name. Some sources suggest that she may have actually been Robina (hence Bennie) MONKMAN daughter of Mary & James MONKMAN (1775-18I65).
In 1824 their first child, James was born in St Paul Parish (Birds Hill).
William's older brother was "Jimmy Jock" BIRD (1798-1892), who remained in the west, and lived with the Piegan Indians in Montana and in the Rocky Mtn House area of Alberta. Another brother, George BIRD (c1797-1855) was a personal servant of Sir George SIMPSON at one time. A half-sister, Maria BIRD (c1806-1845), married James SINCLAIR (1811-1856) who led the settlers from Red River to Oregon. ** MORE ABOUT JAMES SINCLAIR
In 1835 (Sprague & Frye) William and his family were recorded on Lot 16 in St Paul Parish. There were seven persons in his household. He had two horses and 10 cattle and he had two acres under cultivation.
Around 1835 William's step-mother (Elizabeth MONTOUR) died. His father, JC, then re-married to Mary KELLY (Mrs LOWMAN). Their first child, James (William's young half-brother) was born in 1837 at Middlechurch, and became Dr. Curtis James BIRD (1837-1876. (Birds Hill and Birds Hill Park weres named after him).
At some time before 1848, eldest son James married Isabella GIBSON, daughter of Angelique CHALIFOUX and Hugh GIBSON (1790-1869) from the Orkneys of Scotland, at one time an HBC voyageur.
By 1850, Bennie and William had 12 children and were living in the Birds Hill area. 
In 1860 eldest daughter Mary married William Robert SMITH, son of Mary Ann SWAIN and William Robert SMITH SR (1797-1869) from England, a teacher at St John's and a retired HBC employee.
** MORE ABOUT WILLIAM ROBERT SMITH SR
In 1864 Venus HAY-BIRD died at High Bluff.
Around 1864 son George married Elizabeth HAYWOOD, daughter of Margaret COOK and Charles HAYWOOD (b-c1814).
Canadian Confederation
The Riel Rebellion
Manitoba becomes a Province
1867-1870
On July 1, 1867 the British colonies in North America were united under the British North American Act to become the Dominion of Canada. Sir John A MACDONALD (1815-1891) was appointed as Canada's first Prime Minister. William McDOUGALL (1822-1905) became the Minister of Public Works, and he began negotiations to acquire Rupert's Land from the HBC, sending out surveyors to prepare the way for an expected influx of settlers.
Around 1867 daughter Sarah married William SHARP of unknown origins.
On Oct 11, 1869, Louis RIEL (1844-1885) placed his foot on the surveyors' chain to tell them their work was finished! This marked the beginning of another Red River Métis Rebellion. In 1870 the Rebellion ended and Manitoba became a Province.
1870: William and his family were recorded on Lot 40 in Poplar Point Parish: Children at home were Henry (age 24) and John (age 18).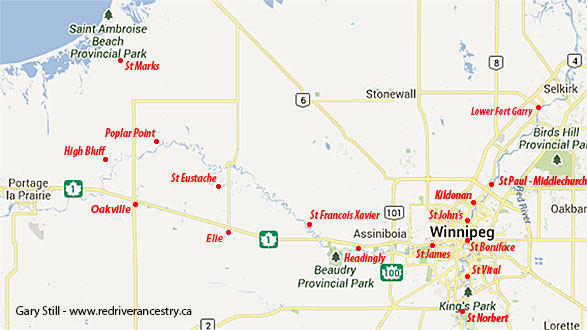 In 1874 son William Robert married Fanny SHIRT, daughter of AW-TAW-YO-KAN and Joseph SHIRT.
On Aug 17, 1875 William was living in Poplar Point/Marquette when he applied for Scrip.
Around 1875 son Nicholas married Mary HALCROW,daughter of Sophie COOK and Joseph HALCROW (1825-1906). Son Henry married his sister-in-law Jemima HALCROW. It is so far unknown when this marriage took place.
In 1883 youngest son John married Frances Elizabeth CAMPBELL of uncertain origins. There are some indications/ suggestions that Frances was a child of Catherine HALCROW and perhaps Duncan CAMPBELL (1810-1885).
On Jun 18, 1885 William BIRD died in High Bluff - Poplar Point.
Please post comments and queries at this link:  FORUM DISCUSSING WILLIAM BIRD & FAMILY
=========================== Family Details ===========================
Children:
1. 1824 JAMES BIRD (m. Isabella GIBSON)
2. Nov, 1826 WILLIAM ROBERT BIRD (m. Fanny SHIRT)
3. 1832 CHARLES BIRD
4. Mar 15, 1835 MARY BIRD (m. William Robert SMITH)
5. 1835 JEMIMA BIRD
6. 1835 ISABELLE BIRD
7. Jan 29, 1839 LETITIA BIRD
8. 1843 GEORGE BIRD (m. Elizabeth HAYWOOD)
9. c1843 HENRY BIRD (? m. Jemima HALCRO)
10. Apr 1, 1847 NICHOLAS BIRD (m. Mary HALCRO)
11. July 11, 1848 SARAH BIRD (m. William SHARP)
12. Oct 25, 1850 JOHN THOMAS "JACK" BIRD (m. Frances Elizabeth "Bessie" CAMPBELL)