HUGH GIBSON (1780-1869)
CHRISTIANA (Cree) (1788-?)
ANGELIQUE "ANN" CHALIFOUX (1800-1898)
(Last Updated: May 10, 2016)
Hugh GIBSON was born around 1780 in Rousay (Orkney Islands, Scotland).
A Voyageur with the Hudson's Bay Company
1797-1810
On July l 5, 1797: Hugh GIBSON (age 19) sailed from Stromness aboard the King George, arriving at York Factory on Aug 24 that year.
From 1797 to 1810 Hugh worked as a voyageur (laborer, canoe man) in the York Factory District.
From 1798 to 1802 John BALLENDINE (1758-1817) was the Chief Factor at York Factory.
** MORE ABOUT JOHN BALLENDINE
Arrival of Lord SELKIRK's Settlers
1811-1815
In 1811 Hugh began to work in the Edmonton District as a "Runner and Interpreter".
Bayer:  The GIBSON family came down from York Factory, even before the SELKIRK Settlers; it is said that Hughie helped guide them to their destinies at Red River. The first group arrived there in 1812.
Arrival of the First Churchill Party of Selkirk Settlers at Red River
April 13 – June 22, 1814
On April 6 Archibald McDONALD (1790-1853) left Churchill with 41 selected men and women(referred to as the Churchill Party), arriving at York Factory on April 13. On May 27 they continued onward and arrived at Red River on June 22. Peter FIDLER's journal has an entry on Aug 25 with brief comments about the arrival of "more robust" of the Churchill party.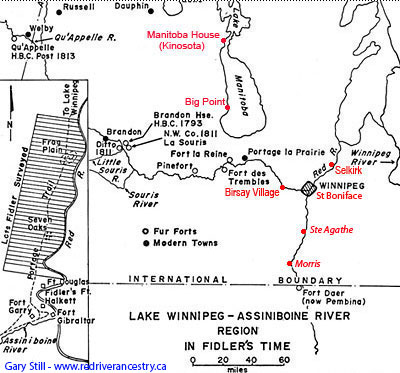 HBC Comments about Hugh GIBSON; 1814-15:  "Sober, honest and active" – "Good", 5' 3 ½" and slender – "A saucy, mischief making fellow"
Marriage to Christiana (Cree Woman)
The familial relationships of Hugh GIBSON are difficult to determine with much certainty. There is a lot of confusing and contradictory information out there, particularly with regard to the birth dates of his first children. It seems his first wife was a Cree woman named Christiana. According to the Red River Census of 1827, by that time he had three sons and three daughters (all under the age of 16) – That's six children. Even if they were all born a year apart, it would mean his first child  must have been born about 1821; more likely a few years before that. Various sources indicate these as sons James, John, and David; and daughters Barbara, Anne and Elizabeth. Most  of these seem to have either died in infancy or at a young age and were either unmarried or left no descendants, so are hardly worth debating. Even the HBC Bio is laced with uncertainties.
Union of the North West Company with the Hudson's Bay Company
1821
In 1821 the union of the North West Company (NWC) and the Hudson's Bay Company (HBC) occurred, ending years of bitter rivalry for dominance of the fur trade in Western Canada. After the merger, almost 1,300 employees lost their jobs since the single HBC organization that emerged had no need for most of the voyageurs and retired fur traders. George SIMPSON (1786-1860) became the Governor of Rupert's Land.

Also at the time of the Union, Reverend John WEST (1778-1845) arrived from England as the first Chaplain in the northwest. He was sponsored by the Church Missionary Society (CMS) and the HBC.
** MORE ABOUT THE FIRST RED RIVER CHURCHES AND SCHOOLS
In the summer of 1823 Reverend WEST departed Red River for York Factory; on the way there he met his replacement, Reverend David JONES (1796-1844).
Red River
Hugh GIBSON and Angelique (Ann) CHALIFOUX
1823
HBCA: 1823-24: Hugh GIBSON is listed under "Colonists, Freeman, etc".  It was probably around this time that Hugh began a connubial relationship with Angelique (Ann) CHALIFOUX, daughter of Elizabeth COLLIN and Michel CHALIFOUX (1755-1833), a voyageur with the North West Company (later with HBC).
By 1827 Hufh and his family had settled in Red river.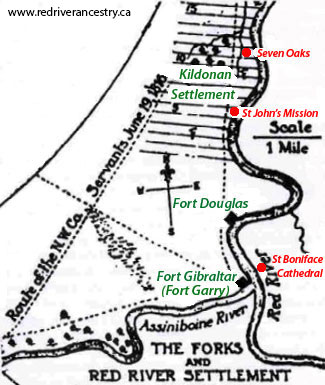 In 1835 Hugh was recorded on Lot 9, St Andrews Parish. There were six persons in the household. He had three horses and 17 cattle; three farm implements and a cart. He had 14 acres under cultivation.
Around 1840 daughter Elizabeth married William COCHRANE, son of Harriet & James Asham COCHRANE (b-1790) of uncertain origins.
In 1847 daughter Isabella married James BIRD, son of Venus Rubina "Bennie" HAY & William BIRD (1803-1885).
** MORE ABOUT WILLIAM BIRD
Around 1855 daughter Margaret married Malcolm CUMMINGS, daughter of Suzette MACKIE and Cuthbert CUMMINGS (1786-1870) from Scotland.
Son William may have married a Margaret SINCLAIR of uncertain origins ** More information would be appreciated.
In 1858 daughter Jane married John Henry HARPER in St Paul, Assiniboia, son of Maria KNIGHT & John HARPER, an HBC tinsmith who was born in the Orkneys of Scotland.
In 1864 daughter Frances married Edward Henry George Gunter HAY (1837-1918), an earnest young adventurer from Yorkshire who worked for the HBC as a machinist.
Around 1868 youngest daughter Barbara married John TULLOCH, an HBC laborer who was born about 1831 in the Orkneys of Scotland.
On Oct 6, 1869 Hugh GIBSON died in St Andrews at the age of 88.
In the 1870 Census Widow Ann GIBSON (age 60) was recorded on Lot 16 in St Andrews Parish with son Francois (age 36) and daughter Elizabeth (age 18).
Census of 1881: Widow Ann GIBSON (age 70) with her son Frank in St Andrews Parish. At that time son Frank was married to a French lady named Christina. ** Ann's age as 70 here looks erratic – more likely should be 80.
Census of 1891: Widow Ann GIBSON (age 90), still with her son Frank in St Andrews Parish (Matlock area).
On Dec 18, 1898 Angelique (nee CHALIFOUX) GIBSON died in St Andrews at the age of 99.
Comments and queries at this link: FORUM DISCUSSING the HUGH GIBSON FAMILY
============================= Family Details =============================
Children with Angelique CHALIFOUX:
1. 1826 ELIZABETH GIBSON (m. William COCHRANE)
2. July, 1829 ISABELLA GIBSON (m. James BIRD)
3. 1832 WILLIAM GIBSON (m. Margaret SINCLAIR)
4. 1834 FRANCIS (FRANK) GIBSON (m. Christina)
5. 1833 MARGARET GIBSON (m. Malcolm CUMMINGS)
6. 1837 FRANCES GIBSON (m. Edward Henry George Gunter HAY)
7. Oct 7, 1840 JANE GIBSON (m1. John HARPER, m2. Frederick FULSHER)
8. 1843 BARBARA GIBSON (m. John TULLOCH)