WILLIAM SUTHERLAND (1806-1879)
ELIZABETH LOGAN (1810-1889)

(Last Updated: June 06, 2016)
William SUTHERLANDwas born Apr 23, 1806 in the Northwest, son of Sarah (Indian) and James SUTHERLAND (1777-1844) from the Orkneys of Scotland. ** MORE ABOUT JAMES SUTHERLAND
Marriage to Elizabeth LOGAN
1831
William married Dec 31, 1831 to Elizabeth LOGAN, daughter of Mary (Indian) and Robert LOGAN (1775-1866), fur-trader, merchant, and Councilor of Assiniboia.** MORE ABOUT ROBERT LOGAN in DCBO

William and Elizabeth raised a family of nine children in the Parish of St Paul, Red River.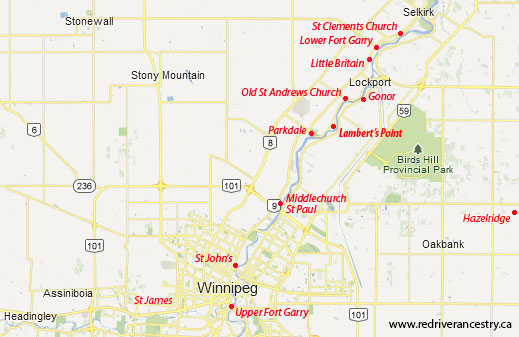 By 1860 daughter Mary was married to Frederick WATT/ WATTS who was born 1827 in England, son of Timothy WATT.
Canadian Confederation
A Red River Rebellion
Manitoba becomes a Province
1867-1870
On July 1, 1867 the British colonies in North America were united under the British North American Act to become the Dominion of Canada.  Sir John A MACDONALD (1815-1891) was appointed as Canada's first Prime Minister. William McDOUGALL (1822-1905) became the Minister of Public Works, and he began negotiations to acquire Rupert's Land from the HBC; surveyors were sent to Red River to prepare the way for an expected influx of settlers.
On Oct 11, 1869, Louis RIEL (1844-1885) placed his foot on the surveyors' chain to tell them their work was finished! This marked the beginning of the historic Red River Métis Rebellion.
On July 15, 1870 the Rebellion ended when RIEL's Provisional Government accepted the terms of the Manitoba Act and Manitoba became the fifth province of Canada.
Census of 1870 in St Paul Parish: William SUTHERLAND, age 65; wife Elizabeth, age 62. Children: William (age 31), John (29), Roderick (26), Ann ((23) and Alex (age 21).
In 1874 son Roderick married Isabelle Flora FLETT in St Paul, daughter of Euphemia HALCROW and Peter FLETT (1812-1905). ** MORE ABOUT PETER FLETT

In 1876 daughter Ann married John NORRIS (b-1954) at Winnipeg, son of Mary (Cree) and John NORRIS SR, a Scot.
On Jan 31, 1879 William SUTHERLAND died in St Paul (Middlechurch). 
Around 1881 son Alexander married Lydia SETTEE, daughter of Sarah COOK and Reverend James SETTEE (1809-1902). ** MORE ABOUT REVEREND JAMES SETTEE
On Nov 18, 1889 Elizabeth (nee LOGAN) SUTHERLAND died in Winnipeg.
Comments and queries at this link: FORUM DISCUSSING THE FAMILY OF WILLIAM SUTHERLAND
============================== Family Details ==============================
Children:
1. Aug 10, 1836 MARY SUTHERLAND (m. Fredrick WATTS)
2. Sep 2, 1838 WILLIAM THOMAS SUTHERLAND
3. Jun 14, 1840 JOHN SUTHERLAND
4. Jun 10, 1842 RODERICK KENNETH SUTHERLAND (m. Isabelle Flora FLETT)
5. Oct 6, 1844 JANE SARAH ANN SUTHERLAND (Died in infancy, age 1)
6. Sep 27, 1846 ANN SUTHERLAND (m. John NORRIS)
7. Nov 23, 1848 ALEXANDER SUTHERLAND (m. Lydia SETTEE)
8. Dec 24, 1850 NATHANIEL LOGAN SUTHERLAND
9. Dec 27, 1851 ELIZABETH SUTHERLAND