JOHN McDONALD (1823-1912)
CHARLOTTE INKSTER (1839-1905)
(Last Updated: October 01, 2015)
John McDONALD was born July 4, 1823 in Manitoba (from Census 1901). At this time his origins are uncertain. In the HBC Archives he is simply described as a 'Native'. In the Sprague & Frye Genealogy tables he is described as a Métis born 1812 (?) in Red River.
Reverend John WEST (1778-1845), the first HBC clergyman in the Northwest (Rupert's Land) was in Red River from 1820 to 1823during which he established the St John's Mission and School. In 1823 WEST was replaced by Reverend David JONES (1794-1844).
In 1831 Reverend William COCKRAN (1798-1865) and his wife moved to "The Rapids" (now St Andrews) where he built the first Anglican Church (a log structure). On May 1, 1832, the Church was opened and dedicated, and Reverend JONES promoted the establishment of a boarding school near the church, "to educate the sons of the gentlemen of the fur trade". It was decided that girls could attend as well.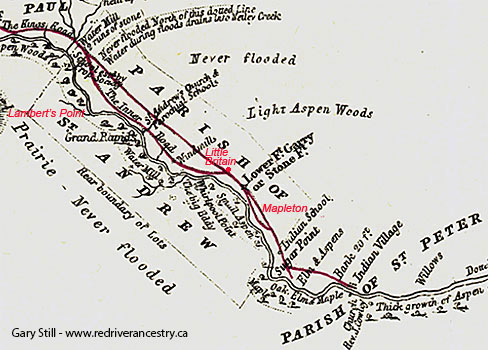 St Andrews Parish from Hind's Map of 1857
In the summer of 1833 construction of the boarding school (Red River Academy) was completed. This was the first English-speaking high school in the northwest. John MACALLUM (1806-1849) arrived as a schoolteacher for the boys section.
John begins his HBC career
1849
In 1849 John would have been about 26 years old when he began his career with the Hudson's Bay Company (HBC) in the Lac La Pluie District as a Carpenter. He was a Post Master at White Dog Post in 1856-57, White Fish Lake 1857-60 and Eagle's Nest Post from 1860 to 1866 (near Rat Portage as shown on the map below; modern day Kenora).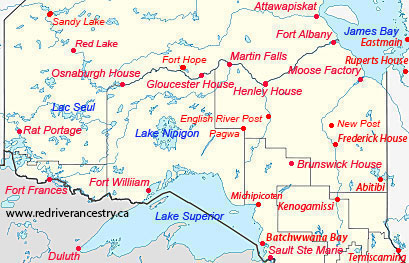 Marriage to Charlotte INKSTER
1862
Around 1862 John married Charlotte INKSTER, daughter of Isabella SANDERSON and John INKSTER (1806-1864). On Oct 19, 1862, son Donald was born in Eagle's Nest, Winnipeg River. ** MORE ABOUT JOHN INKSTER
From 1866 to 1868 John was a Clerk at Trout Lake Post in the York District.
Canadian Confederation
1867
On May 4, 1867 daughter Rosalie was born at Trout Lake Post.
On July 1, 1867 the British colonies in North America were united under the British North American Act to become the Dominion of Canada.  Sir John A MACDONALD (1815-1891) was appointed as Canada's first Prime Minister; a month later he won the first federal election.William McDOUGALL (1822-1905) became the Minister of Public Works, and he began negotiations to acquire Rupert's Land from the HBC.
Moose Lake Post, Cumberland District
1869-1889
In 1869 to 1889 John was a Clerk at Moose Lake Post, Cumberland District.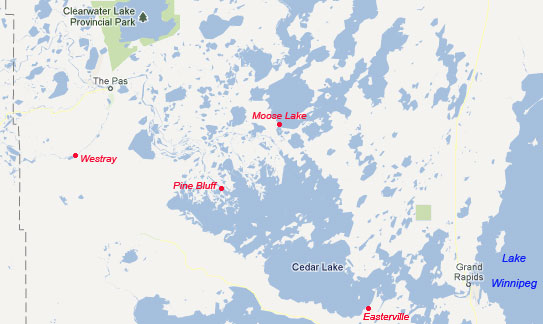 John settles in St Andrews Parish
In 1870 John's family was recorded on Lot 22 in St Andrews Parish (just south of Lambert's Point). Children were Donald (age 7) and Rosalie (age 3).
Both of John's children (Donald & Rosalie) received an education at St John's (Winnipeg) under Reverend John McLEAN (1828-1886) and Archbishop Robert MACHRAY (1831-1904) who had revived the old St John's College in Winnipeg as a theological seminary and higher school. ** MORE ABOUT REVEREND JOHN McLEAN in DCBO
In 1877 John claimed Half-breed Scrip for his two children (Donald & Rosalie).
     
In 1888 son Donald married Margaret TURNER, daughter of Harriet ANDERSON & Philip TURNER (1839-1919).
In 1890 daughter Rosalie married Arthur Cummings CLARE, son of Margaret SINCLAIR and James Robert CLARE (1827-1867), an HBC Chief Factor. Rosalie and Arthur both attended St John's College. Arthur had been a member of the North West Mounted Police during the Rebellion of 1885.

On Oct 19, 1905 Charlotte McDONALD died. John then moved in with his daughter and son-in-law Arthur CLARE.

On May 29, 1912 John McDONALD died.
Please post comments & queries at this link: FORUM DISCUSSING the JOHN McDONALD FAMILY
=========================== Family Details ===========================
Children:
1. Oct 19, 1862 DONALD McDONALD (m. Margaret TURNER)
** MORE ABOUT DONALD McDONALD
2. May 4, 1867 ROSALIE McDONALD (m. Arthur Cummings CLARE)