REVEREND DONALD McDONALD (1863-1948)
MARGARET TURNER (1874-1943)
(Last Updated: May 30, 2016)
Donald McDONALD was born Oct 19, 1862 at the Eagle's Nest Post on the Winnipeg River (near Rat Portage, modern day Kenora, Ontario). He was the only son of Charlotte INKSTER & Half-breed John McDONALD (1823-1912), a Hudson's Bay Company (HBC) Clerk at the time. ** MORE ABOUT JOHN McDONALD (1823-1912)
** Donald McDONALD was the great grandfather of Margaret BRICK who provided much of the information and inspiration for the creation of this narrative.
Canadian Confederation
A Métis Rebellion
Manitoba becomes a Province
1867-1870
On May 4, 1867 Donald's sister, Rosalie, was born at Fort Alexander (MB), further down river, near where the Winnipeg River empties into Lake Winnipeg.
On July 1, 1867 the British colonies in North America were united under the British North American Act to become the Dominion of Canada.  Sir John A MACDONALD (1815-1891) was appointed as Canada's first Prime Minister. William McDOUGALL (1822-1905) was appointed as the Lieutenant Governor Designate of the North-West Territories (Rupert's Land). McDOUGALL sent surveyors to Red River in anticipation of an influx of settlers.On Oct 11, 1869, Louis RIEL (1844-1885) placed his foot on the surveyors' chain to tell them their work was finished. This led to the historic Red River Rebellion.
In 1869 the McDONALD family was relocated to Moose Lake Post in the Cumberland District (See map below).
On July 15,1870, the Rebellion was essentially over, and Manitoba became the fifth province of Canada, the Canadian Government having acquired the territory previously governed by the HBC.
By 1870 the McDONALD family had settled in Red River. That year they were recorded on River Lot 22 in St Andrews Parish, just south of Lambert's Point. Children were recorded as Donald (age 7) and his sister Rosalie (age 3).
There is evidence that as youngsters, both Donald and his sister Rosalie attended St John's School in Winnipeg, run by Reverend John McLEAN (1828-1886) and Archbishop Robert MACHRAY (1831-1904) who had revived the old St John's College in Winnipeg as a theological seminary and higher school.
** MORE ABOUT REVEREND JOHN McLEAN in DCBO
Prince Albert Settlement
1874-76
On 3 May 1874 the Archbishop of Canterbury consecrated Reverend John McLEAN as the first bishop of Saskatchewan. In February of 1875, McLEAN arrived at the Prince Albert settlement by dog-train. He made arrangements for the building of the log church of St Mary (west of the present city), and there, on Jan 9, 1876, he held his first ordination. ** It would be interesting to know who he ordained at that time.
It seems that in his early teens, Donald McDONALD must have joined Bishop McLEAN in Prince Albert to continue his education.
Treaty Number Six
1876
In 1876 James SMITH (1843-1902), as Chief of his people (James Smith Reserve) signed Treaty Number Six at Fort Carlton, Saskatchewan.
In the 1881 census of Prince Albert we discover students Donald McDONALD (age 18) and William C FIDLER (age 21), enumerated with Professor James FLETT (age 25). They are in close proximity to Bishop John McLEAN (age 52) and his family as well as Indian Servant: George SETTEE (age 40). ** Mentioned in that 1881 census at PA are William FIDLER (1858-1959), son of Sophia SPENCE & Henry FIDLER (1831-1908); George SETTEE (1838-1926) was the son of Sarah COOK & Reverend James SETTEE (1809-1902). The James FLETT mentioned is James Clouston FLETT b-1857 who married Bishop McLEAN's daughter Frances McLEAN. He was the son of Margaret BIRSTON & James FLETT (1829-1912).
Northwest Rebellion - Battle of Batoche
1885
On May 12, 1885 the Métis were defeated at the historic Battle of Batoche. The Métis leader, Louis RIEL (1844-1885) surrendered (after a trial, RIEL was convicted of murder (of Thomas SCOTT) and hung at Regina on Nov 16 that year).
An excerpt regarding the Northcote from the book Prairie Warships by Gordon E Tolton: Sheets and Segers boasted a crew of 35 hands, including engineers Arthur L'HEUREUX, assistant engineer Daniel HURST, clerk Rennie TALBOT, and assistant clerk Donald McDONALD, a 22 year old Metis with deep family roots in service of the HBC.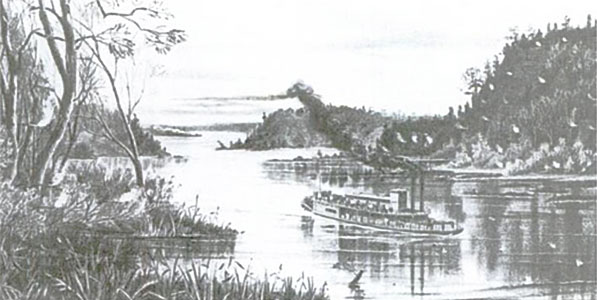 Artist's conception of the Northcote's running of the gauntlet at Batoche, May, 9, 1885
(The Canadian Pictorial & Illustrated War News)
Ken Lang: Donald's Obit suggests that he served as a volunteer on the S.S Northcote during the rebellion of 1885. I think the S.S Northcote left Swift Current 22 Apr 1885 and reached Clarke's Crossing 5 May 1885. It was set up as a gunship to transport Middleton's troops on 9 May 1885, secretly behind Batoche but the distraction plans failed to materialize and the Metis used a ferry cable to shear off the rigging and expose the troops and taking the paddlewheeler out of the battle. After the Battle of Batoche (9 to 15 May), SS Northcote was used to transport the injured back to Swift Current.
In 1890 Donald's sister Rosalie married Arthur Cummings CLAIR (1865-1936) who had participated in the Northwest Rebellion as a member of the North West Mounted Police (NWMP).
Donald & Margaret TURNER
Fort a la Corne – James Smith Reserve
1891
I don't know when or where Donald was ordained as a Minister or when he married? However, in the 1891 census he was recorded as a Teacher and Minister at Fort a la Corne (James Smith Indian Reserve) and his wife was  Margaret TURNER (also a Teacher), daughter of Harriet ANDERSON & Philip TURNER (1839-1919).** MORE ABOUT PHILIP TURNER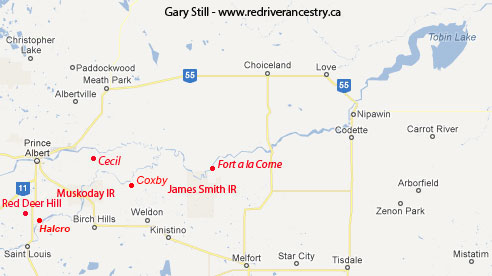 On Jan 15, 1895 their first child, Harriet Catherine "Katie" was born at Fort a la Corne. The 1901 Census at La Corne recorded their children as Harriet (age 6), John Alex (6) Sarah Irene (2) and Arthur Allan (age 1).
An ICC Report in 1901: There is an Anglican day school on the reserve (James Smith Reserve), Mr. Donald McDONALD being teacher. Average attendance: 5.5. Progress is not as good as it should be, "owing no doubt to the erratic mode of living of Indians." A number of children are at Battleford Industrial School. - - The ICC Report for the period ending in June of 1904 listed Donald's annual salary at $300.
Battleford
1905
Around 1905 Donald moved to Battleford where in the Census of 1906 he is recorded as a Missionary (age 44) at the Battleford School; wife Margaret (age 30) and children as Harriet (age 12), John Alex (10), Sarah (8) and Mary Eve (age 1).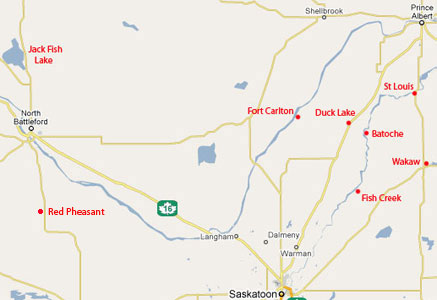 Both Margaret and Donald taught school at the Red Pheasant Reserve south of Battleford Saskatchewan (See map above). In 1911 the family was again recorded in the Battleford District.

The Census of 1916 records Donald (age 52) and his wife Margaret (age 41). Their family is complete now, with children as John Alexander (age 20), Sarah Irene (18), Mary (11), Edward (8), Winifred (6) and Peter (age 3).
In 1941 Donald's only sibling, his sister Rosalie (nee McDONALD) CLARE, widow of Arthur Cummings CLARE, died in Ottawa. Her brother, Donald McDONALD of North Battleford is mentioned as a survivor in her Obituary.
In 1943 Margaret TURNER-McDONALD died of a stroke in Battleford. Reverend Donald McDONALD died there in 1948.
Please post comments & queries at this link: FORUM DISCUSSING the DONALD McDONALD FAMILY
=========================== Family Details ===========================
Children:
1. Jan 15, 1895 HARRIET CATHERINE (KATIE) McDONALD
2. Sep 29, 1896 JOHN ALEXANDER McDONALD
3. Jul 8, 1898 SARAH IRENE McDONALD (Died in infancy?)
4. Apr 1, 1900 ARTHUR ALLAN McDONALD (Died in infancy?)
5. 1905 MARY EVE McDONALD
6. 1907 EDWARD McDONALD
7. 1910 WINNIFRED WINNIE McDONALD
8. 1913 PETER McDONALD