PHILIP TURNER (1839-1919)
HARRIET ANDERSON (1849-1886)
MARY ANN HOURIE (1879-1961)
(Last Updated: June 01, 2016)
Philip TURNER was born on Nov 9, 1839 at Cumberland House, son of Sarah HUMPHREYVILLE & Joseph TURNER (1816-1885). Philip's father was a voyageur with the Hudson's Bay Company (HBC).
Harriet ANDERSON was born about 1849 in what is now Winnipeg, daughter of Marie DESMARAIS & John ANDERSON (1804-1884), both half-breeds. The ANDERSON family settled in St Andrews Parish, south of Lambert's Point and the old St Andrews Church, just north of the boundary of St Paul's Parish. ** MORE ABOUT JOHN ANDERSON
In 1852 Philip's father left the employ of the HBC at Cumberland and went to Red River where he became a servant of the CMS (Church Missionary Society). He probably enrolled in the missionary classes at that time. Philip was about 13 years old then. Both Philip and his father therefore probably received some education and training from Reverend William COCKRAN (1798-1865).
In 1853, with the groundwork laid for a church at St Peters in the Indian Settlement, Reverend COCKRAN left with his family to start a mission at Portage la Prairie. At the same time about 12 other families from Middlechurch and St Andrews settled in Portage as members of the first St Mary's congregation. These included the families of John and Thomas ANDERSON (Harriet's father and Uncle).
By 1853 Philip's father (Joseph) had returned to the Nipawin - Fort a la Corne area as an assistant to Reverend Henry BUDD (1814-1875), the renowned Cree Missionary. Joseph proved to be a valuable asset to the native proselytizer for he was well acquainted with the Indians who frequented the area. He acted as an Interpreter, did carpentry work and hunted as well.
Marriage to Harriet ANDERSON
1864
On Apr 25, 1864 Philip TURNER & Harriet ANDERSON were married at Fort a la Corne. Philip was about 25 years old then, Harriet a mere teenager (about 15 years old). It was not uncommon at all in those days for half-breed women to marry at such a young age. Their first child was Mary, born on Dec 18, 1866.
Canadian Confederation
1867
On July 1, 1867 the British colonies in North America were united under the British North American Act to become the Dominion of Canada.  Sir John A MACDONALD (1815-1891) was appointed as Canada's first Prime Minister; a month later he won the first federal election.
Philip becomes an employee of the Hudson's Bay Company
1869
Around 1869 Philip became a Postmaster for the HBC in the Cumberland District (later called the Saskatchewan District). He doesn't appear to have been assigned a particular post until 1875-1882 when he was a regular Clerk at the Prince Albert Post.
In 1882-83 he became a Clerk in Charge at Prince Albert; then South Branch in 1883-84; at Fort a la Corne during 1886-87.
Treaty Number Six
1876
In 1876 James SMITH (1830-1902) as Chief of his people signed Treaty Number Six at Fort Carlton, Saskatchewan.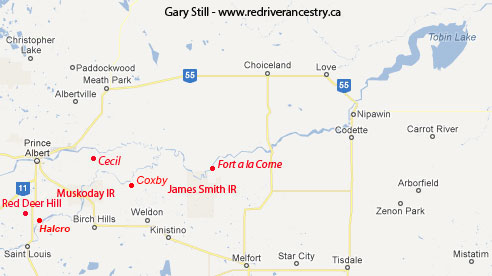 Until the 1970's, Muskoday First Nation was known as the John Smith Reserve
John Smith's brother, James, founded the James Smith First Nation
In the 1881 census Philip was recorded as a 42 year old Clerk (Prince Albert District); wife Harriet (age 32); their nine living children as Mary (age 15), Sarah (I13), John (10), Margaret (7), Frank Henry (6), Colin George (3), Philip (1) and baby Catherine Jane. Two of their children, Peter and Elizabeth had died in infancy.
In 1882 Philip's mother (Sarah) died at Fort a la Corne.
In 1883 son Alexander James Stewart was born.
Around 1884-85 daughter Mary married William STEVENS, son of Mary Ann FOULDS & William Richard STEVENS (1829-1918).
The Northwest Rebellion - Battle of Batoche
Philip Widowed - Harriet Dies in Childbirth
1885
On May 12, 1885 the Métis were defeated at the historic Battle of Batoche. The Métis leader, Louis RIEL surrendered (after a trial, RIEL was convicted and hung at Regina on Nov 16 that year).
In 1885 at Fort a la Corne, Harriet and Philip claimed Half-breed Scrip for themselves and for all of their children. At that time Philip also claimed Scrip on behalf of the heirs of his deceased mother (Sarah).
On Oct 2, 1885, Harriet died after giving birth to son Charles Thomas.

Around 1891 son John married a lady named Susan Agnes DESCHAMBEAULT, daughter of Nancy THOMAS and Louis DESCHAMBEAULT (1844-1920), the HBC Chief Trader at Fort a la Corne.
By about 1894 daughter Margaret was married to Donald McDONALD, a School Teacher at Fort a la Corne; son of Charlotte INKSTER and John McDONALD (1823-1912).
Around 1899 son Frank married Maud BALLENDINE, born Sep 17, 1879 in The Pas, daughter of Flora BUDD and Robert BALLENDINE b-1839, HBC voyageur.
In 1890 Philip retired from HBC service.
In the Census of 1891 (at Fort a la Corne) Philip was recorded as a widowed farmer, age 51 with the following children: John (age 19), Agnes (16), Frank H (15), George (13), Philip (11), Catherine Jane (10), James Stewart  (8) and Charles Thomas (age 6).
Marriage to Mary Ann HOURIE
1896
In 1896 Philip married a second time to Mary Ann HOURIE, daughter of Agnes BIRD and Thomas HOURIE (b-1844). Philip was about 57 years old when this union occurred; Mary Ann was only 17 years old. They would live the rest of their lives on Section 12-48-23-W2 (Fort a la Corne).
In 1917 son Wilfred Lawrence enlisted for service during World War I.
In 1919 Philip TURNER died. He would have been about 80 years old.
On Feb 22, 1961 Mary Ann HOURIE died at the age of 81.
Please post comments & queries at this link: FORUM DISCUSSING PHILIP TURNER & FAMILY
=========================== Family Details ===========================
Children by Harriet ANDERSON:
1. Dec 18, 1866 MARY TURNER (m. William STEVENS)
2. Sep 15, 1868 SARAH TURNER
3. Nov 6, 1871 JOHN TURNER (m. Susan Agnes DESCHAMBEAULT)
4. Mar 1, 1873 PETER TURNER (Died in infancy)
5. Jul 1, 1874 MARGARET TURNER (m. Donald MACDONALD)
** MORE ABOUT DONALD McDONALD
6. Dec 5, 1875 FRANK TURNER (m. Maud BALLENDINE)
7. July 9, 1877 ELIZABETH HARRIET TURNER (Died in infancy)
8. Nov 12, 1878 GEORGE TURNER (m. Lena McKAY)
9. Jan 20, 1880 PHILIP TURNER
10. Jun 10, 1881 CATHERINE JANE TURNER
11. May 22, 1883 ALEXANDER JAMES STEWART TURNER
12. Oct 2, 1885 CHARLES "THOMAS" TURNER
Children by Mary HOURIE:
1. 1898 WILFRED LAWRENCE TURNER
2. 1903 EVA TURNER
3. Jul 5, 1907 FLORENCE TURNER
4. Apr 23, 1913 GRACE TURNER