JOSEPH TURNER (1816-1885)
SARAH HUMPHREYVILLE (1822-1882)
(Last Updated: May 17, 2014)
Joseph TURNER was born around 1816 in the Moose Factory District, son of Emma & Joseph TURNER SR (1783-1865), both half-breeds. ** MORE ABOUT JOSEPH TURNER SR
Joseph's father (Joseph Sr.) was a Trader, Interpreter and Voyageur for the Hudson's Bay Company (HBC). His grandparents were Elizabeth BEAR & Philip TURNOR (1752-1799), a renowned HBC Surveyor born in England.
Joseph's Career with the Hudson's Bay Company
1829
In 1829 Joseph began his career with the HBC as a teenage Apprentice in the Island Lake District to the south of Oxford House (as shown on the above map). A summary of his career at this link: HBCA Bio OF JOSEPH TURNER JR
The above HBCA biography was compiled by Pearl WESTON. She submitted it to the Archives in 1987. Pearl was a great granddaughter of Emma TURNER & John THOMPSON (1832-1869), himself an HBC Voyageur from the Orkneys of Scotland who spent his entire career in the Cumberland District of Saskatchewan.
** MORE ABOUT JOHN THOMPSON in HBCA
For Pearl, Genealogy and tracing her family tree became a passion. She compiled the family history of the TURNER, THOMPSON and CAMPBELL families in "Across the River" - a 339 page, 10-Generation history, beginning in 1778 with her great-great-great-great grandfather, Philip TURNOR.

During the outfit year 1836-37 Joseph TURNER was a Labourer in the York Factory District.
Marriage to Sarah HUMPHREYVILLE
Cumberland House
1838-1851
On Apr 1, 1838 Joseph married at Cumberland House to Sarah HUMPHREYVILLE, daughter of Hannah TURNER & Thomas HUMPHREYVILLE (b-c1779). Sarah was actually Joseph's niece (his sister Hannah's daughter).
** MORE ABOUT THOMAS HUMPHREYVILLE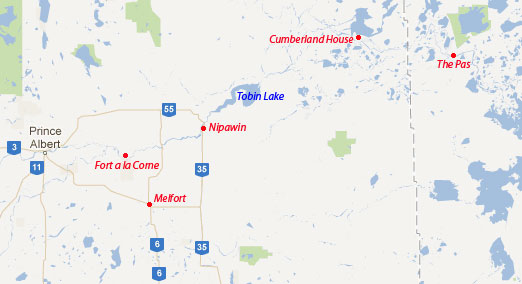 Between 1839 and 1851 Joseph's first five children were born at Cumberland House (Philip, Emma, Charlotte, Sarah and John).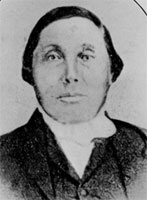 Reverend Henry Budd
In the summer of 1840 Henry BUDD (1814-1875) a Cree turned missionary was sent to Cumberland House to establish a new mission there, which shortly after was permanently located at The Pas, dome distance down the river to the east. 
** MORE ABOUT HENRY BUDD in DCBO
Dec 22, 1850 has recently become a date of greater significance to the Anglican Church in Canada than it originally was.  It has long been an important one because on it Bishop David ANDERSON (1814-1885) of Rupert's Land ordained Henry BUDD Deacon in the old St Andrews Church on the Red River, and this was the first time a native Indian was admitted to the ministry of the Church in Western Canada.  Recent research has now shown that he was the first native Indian to be ordained in the Anglican Communion on the North American Continent.
Pearl: At the end of May, 1852, when Joseph terminated his work with the HBC, he went to the Red River Settlement. It is known that Joseph became a servant of the CMS (Church Missionary Society), so possibly he enrolled in the missionary classes at that time.
Nipawin - Fort a la Corne
1853
By 1853 Joseph had returned to the Nipawin - Fort a la Corne area as an assistant to Rev. BUDD  He proved to be a valuable asset to the native proselytizer for he was well acquainted with the Indians who frequented the area. He did carpentry work and hunted as well.
In 1863 the HBC supply boat brought news that Joseph would be employed as interpreter. His three sons were also employed. In journals Joseph was now referred to as "Old Joe". Joseph engaged in various tasks such as planing boards, making oars, making grease from fat, bringing home meat supplies, ploughing fields building fences and windows etc.
On Apr 25, 1864 son Philip married Harriet ANDERSON at Fort a la Corne, daughter of Mary Anne DESMARAIS and John ANDERSON (1804-1884). ** MORE ABOUT JOHN ANDERSON
Canadian Confederation
1867
On July 1, 1867 the British colonies in North America were united under the British North American Act to become the Dominion of Canada.  Sir John A MACDONALD (1815-1891) was appointed as Canada's first Prime Minister; a month later he won the first federal election.
In 1871, the HBC announced that two steamers had been ordered for use on Lake Winnipeg and the Saskatchewan River. It was quite an event and it was reported that sons John and Peter cut 60 cords of wood for the steamer. The steamer was called the Northcote, and it arrived in 1874.
Census 1881: Prince Albert: Joseph TURNER, age 66; wife Sarah, age 60.
On July 15, 1882 Sarah died.
On Apr 21, 1885 Joseph TURNER died.
We look forward to comments & queries at this Link: FORUM DISCUSSING this JOSEPH TURNER FAMILY
=========================== Family Details ===========================
Children:
1. Nov 9, 1839 PHILIP TURNER (m1. Harriet ANDERSON, m2. Mary HOURIE)
** MORE ABOUT PHILIP TURNER
2. Sep 27, 1841 EMMA TURNER (m. John THOMPSON)
** ANCESTORS of PEARL WESTON
3. Aug 27, 1843 ELIZABETH TURNER (Died in infancy)
4. Sep 14, 1844 CHARLOTTE TURNER (Died age 9)
5. Sep 18, 1846 JOSEPH TURNER (Died in infancy)
6. Sep 18, 1847 SARAH TURNER (m. George GOODFELLOW)
** MORE ABOUT GEORGE GOODFELLOW
7. Nov 20, 1849 NANCY TURNER (m. John Alexander McDONALD)
8. 1851 JOHN TURNER (m. Margaret McKAY)
9. 1853 PETER TURNER (m. Mary Ann BEADS)
10. Jul 28, 1855 MARY TURNER (m. James GOODLAD)
** MORE ABOUT JAMES GOODLAD
11. Dec 7, 1857 JANE TURNER (Died in infancy)
12. Dec 4, 1860 HANNAH TURNER (m. William Henry BARTLETT)
13. Aug 26, 1863 ELIZA TURNER (Died in infancy)
14. Oct 28, 1865 FANNY MATILDA TURNER (m. Charles WOODMAN)
15. Sep 5, 1870 HARRIET TURNER (m. Thomas Exley PARKER)