JAMES THOMAS SINCLAIR GOODLAD (1850-1900)
MARY TURNER (1855-1931)
(Last Updated: November 05, 2013)
James Thomas Sinclair GOODLAD was born on Jan 23, 1848 in Sandsting, Shetland Islands of Scotland, son of Elizabeth SINCLAIR and Erasmus GOODLAD (1801-1871).
** Many thanks to Marlene (username: etomamigardener) who helped correct some of the details for this family. See her comments on the Forum.
On Feb 23, 1869 James entered the service of the Hudson's Bay Company (HBC). During his first year he worked as a Labourer with "General Charges" (no particular post) in the York District (based at York Factory on Hudson Bay).
From 1871 to 1874 James worked in the Cumberland District as a Labourer and Officer's Servant until he became a "Freeman" in 1875.
Marriage to Mary TURNER
1876
On July 10, 1876 James married Mary TURNER, daughter of Sarah HUMPHREYVILLE & Joseph TURNER (1816-1885). ** MORE ABOUT JOSEPH TURNER
On Nov 7, 1877 their first child, Sarah was born at Glen Mary (west of Fort a la Corne).
The Northwest Rebellion – The Battle at Batoche
1885
1885 was the year of the historic Northwest Rebellion, when Louis RIEL (1844-1885) and his Métis followers were defeated in the Battle at Batoche. ** MORE ABOUT the NORTH-WEST REBELLION in WIKIPEDIA
In 1885 Mary GOODLAD applied for her Half-breed Scrip as James' wife.
In 1887 James received a Land Grant for NE-11-48-21-W2 (NW of the James Smith Reserve). An undated Land Grant was issued to Mary GOODLAD for NW-10-47-19-W2 (Fort a la Corne).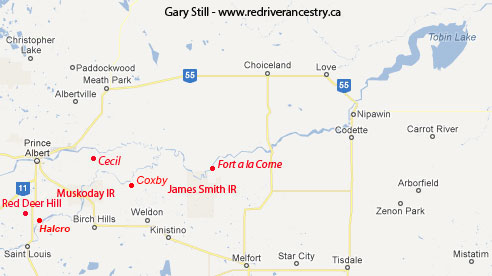 In the 1891 Census of the Fort a la Corne district recorded James GOODLAD (age 41), wife Mary (age 35) and children as Sarah (age 14), Ralph (11), Bella (10) and Barbara (age 3).
On March 7, 1900 James GOODLAD died and was buried in the Glen Mary Cemetery.

In the 1901 census, Widow Mrs. GOODLAD (Mary), age 45, was recorded in La Corne with children as Sarah (age 23), Ralph (21), Ann Anabella (20), Barbara Ellen (11) and Scottie (age 7).
In the 1906 Census we find Widow Mary GOODLAD recorded twice. First with her son Ralph in La Corne (This record looks erratic); also in Glen Mary (age 57) with these children: Sarah (age 28), Ralph (26), Bella (25) and Scottie(age 12).
In the 1911 Census Widow Mary GOODLAD was recorded in La Corne as 71 years old (an obvious error). Children with her were Scottie (age 24; obvious error), Bella (18) and Mary (age 14).
** Marlene's comments:The 1911 Census seems off...wrong age for Mary and Scottie - he would have only been 16 or 17. This Bella and Mary were not from this family. Ralph ran the farm after James' death....he died of typhoid fever in 1909, and around this time Mary lost her sight. She lived with her children following this - mostly her daughters Sarah and Bella.
World War I
1914-1919
On Aug 4, 1914 Great Britain (Canada on Aug 5) declared war on Germany and Austria-Hungary to uphold treaties with France and Belgium which were under German attack. This marked the beginning of World War I.
It was around 1914 that daughter Sarah married Alexander SUTHERLAND, son of Margaret MATHESON and George SUTHERLAND (1841-1906).  ** MORE ABOUT GEORGE SUTHERLAND
** Cannot find a 1916 Census record for the GOODLAD family.
At some time after 1916 daughter Bella married John ALCORN, son of Florence BARBOUR and James ALCORN (1860-1937) from New Brunswick.
In 1917 when son Scott GOODLAD enlisted at Prince Albert, he stated his next of kin as his mother (Mary) of Cecil, SK.
November 11, 1919, Armistice Day (Remembrance Day) marked the end of the First World War.
In the 1921 Census we find Widow Mary GOODLAD (age 65) with her daughter and son-in-law, Sarah and Alexander SUTHERLAND on 28-48-24-W2 (East of PA; north of the Muskoday Reserve).
On Nov 15, 1943 Mary GOODLAD died and was buried in the Glen Mary Cemetery.
Please post comments and queries at this link: FORUM DISCUSSING the JAMES GOODLAD FAMILY
=========================== Family Details ===========================
Children:
1. Nov 7, 1877 SARAH GOODLAD (m. Alexander SUTHERLAND)
2. Jul 25, 1879 RALPH GOODLAD
3. Nov 22, 1880 ANNABELLA (BELLA) GOODLAD (m. John ALCORN)
4. Oct 13, 1882 JOHN SCOTT GOODLAD (Died in infancy)
5. Nov 7, 1883 JAMES SINCLAIR GOODLAD (Died in infancy)
6. Sep 7, 1885 WILLIAM GOODLAD (Died in infancy)
7. Nov 15, 1889 BARBARA ELLEN GOODLAD
8. Dec 3, 1890 JAMES FRANCIS GOODLAD (Died in infancy)
9. Sep 1892 LAURA LOUISE GOODLAD (Died in infancy)
10. Mar 16, 1894 THOMAS SCOTT "SCOTTIE" GOODLAD (m. Alice STRANDBERG)