GEORGE SUTHERLAND (1841-1906)
MARGARET MATHESON (1844-1913)
(Last Updated: August 21, 2013)
George SUTHERLAND was born on Jun 10, 1841 in Kildonan Parish (Red River), son of Christina McBEATH and Alexander SUTHERLAND (1808-1885) from a Parish of the same name in Sutherlandshire, Scotland.
** MORE ABOUT ALEXANDER SUTHERLAND
Marriage to Margaret MATHESON
1864
Around 1864 George married Margaret MATHESON, daughter of Catherine PRITCHARD and John "Old Bushy" MATHESON (1814-1898). In the spring of 1865 their first child, Christina was born.
Canadian Confederation
Red River Métis Rebellion
Manitoba becomes a Province
1867-1870
On July 1, 1867 the British colonies in North America were united under the British North American Act to become the Dominion of Canada. Sir John A MACDONALD (1815-1891) was appointed as Canada's first Prime Minister. William McDOUGALL (1822-1905) became the Minister of Public Works, and he begannegotiations to acquire Rupert's Land from the HBC, sending out surveyors to prepare the way for an expected influx of settlers.
On Oct 11, 1869, Louis RIEL (1844-1885) placed his foot on the surveyors' chain to tell them their work was finished! This marked the historic Red River Métis Rebellion. When it was all over, RIEL's Provisional Government accepted the terms of the Manitoba Act and on July 15,1870 Manitoba became the fifth province of Canada, the Canadian Government having acquired the territory previously governed by the HBC.
In 1870 census records for Kildonan Parish recorded George's children as Christie (age 6), John (4), Alexander (3) and Catherine (age 1).
On June 20, 1877, both George and Margaret claimed Scrip as children of "original white settlers".
The Family moves to the Prince Albert District of Saskatchewan
1881
By 1881 the SUTHERLAND family had moved to the Prince Albert District of Saskatchewan. They settled near Colleston, east of Prince Albert and north of the Muskoday Indian Reserve. In the census that year they were recorded as George (age 40), his wife Margaret (age 36), and their children as Christie (age 15), Alex (13), Catherine (11), John (10), Anne May (8), Samuel (6), Bella (4) and Ellen (age 2).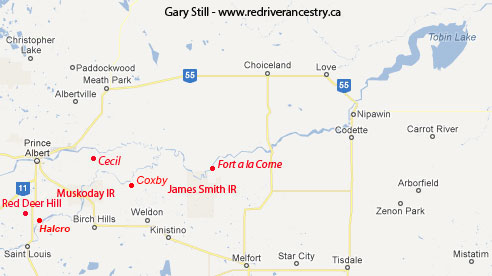 In 1882 daughter Ida was born, followed by Herbert in 1883.
The Northwest Rebellion – The Battle at Batoche
1885
1885 was the year of the historic Northwest Rebellion, when Louis RIEL (1844-1885) and his Métis followers were defeated in the Battle at Batoche.
George's last child was Austin, born in 1886.
In the census of 1901 George (age 59) and Margaret (age 57) were enumerated near Colleston. Children with them at that time were Alex (age 31), Kate (30), Samuel (24), Isabella (22), Ida (19), Bertie (18) and Aurstin (age 15).
In 1906 George SUTHERLAND died.

The Canadian Northern Railway Bridge, spanning the
North Saskatchewan River at Prince Albert, was built between 1907 and 1909
(Canada's largest railway bridge)
In 1911 Widow Margaret (age 67) and her two youngest sons, Bert (age 28) and Austin (age 25) were recorded in near Leask (SK), south of Shellbrook. The rest of the children cannot be found in the census records for 1911. Where were they?
In 1913 Widow Margaret SUTHERLAND died.
Around 1914 son Alex married Sarah GOODLAD, the daughter of Mary TURNER and James GOODLAD (1850-1900) from the Orkneys of Scotland. ** MORE ABOUT JAMES GOODLAD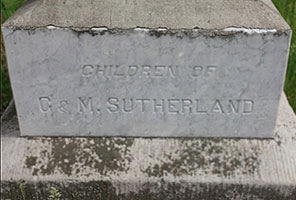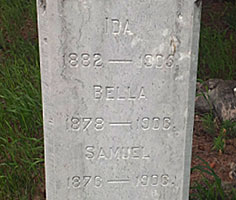 Tombstone of Children of G & M Sutherland at Colleston United Church Cemetery
Ida (1882-1905), Bella (1878-1906) and Samuel (1876-1906)
(From Pat Weir)
Except for son Alex's marriage to Sarah GOODLAD, we have no information regarding any other marriages in the George SUTHERLAND family. If anyone has more information we would love to hear from you.
Please post comments and queries at this link: FORUM DISCUSSING the GEORGE SUTHERLAND FAMILY
=========================== Family Details ===========================
Children:
1. Spring, 1865 CHRISTINA SUTHERLAND
2. May 14, 1867 JOHN SUTHERLAND
3. Oct 29, 1869 ALEXANDER SUTHERLAND (m. Sarah GOODLAD)
4. Apr 6, 1870 CATHERINE "KATE" SUHERLAND
5. 1873 ANNE MAY SUTHERLAND
6. Jan 1, 1877 SAMUEL SUTHERLAND
7. Feb 9, 1879 ISABELLA "BELLA" SUTHERLAND
8. May 9, 1881 ELLEN "NELLY" SUTHERLAND
9. Oct 29, 1882 IDA SUTHERLAND
10. Dec 23, 1883 HERBERT "BERTIE" SUTHERLAND
11. Nov 7, 1886 AUSTIN SUTHERLAND