ALEXANDER SUTHERLAND (1808-c1885)
CHRISTIE McBEATH (1816-c1880)
(Last Updated: January 24, 2015)
Alexander SUTHERLAND was born in April of 1808 in Kildonan Parish, Sutherlandshire, Scotland. This is based on his Scrip Affidavit filed in 1877 indicating that he was born on that date and that he was the son of Christina McBEATH & John SUTHERLAND (1768-1863).
The birth dates and origins of Christina McBEATH & John SUTHERLAND are very difficult to determine or verify with a certainty. To add to the confusion, several family trees on Ancestry.com indicate that Alex's parents were Catherine GRANT and John SUTHERLAND (1763-1813). ** If anyone can enlighten us, please do so, on the Forum at the link provided at the bottom of this narrative.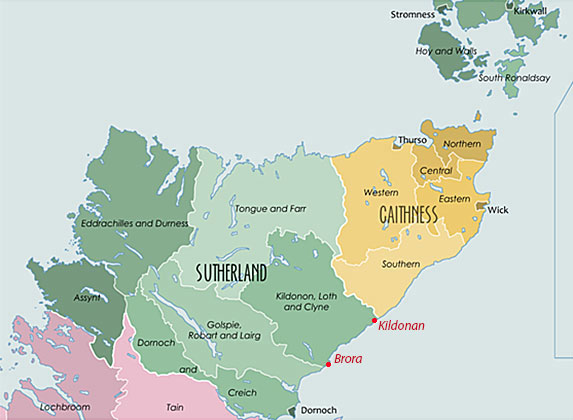 To Red River
1823-26
In 1823 or 1826 Alex became a settler in Red River. The 1826 arrival date comes from his Scrip Affidavit; the 1823 arrival date is derived from other sources. By this time there were numerous other SUTHELAND families who had been at Red River for over a decade, descendants of Selkirk Settlers who arrived around 1813-15, often referred to as the Sutherland Settlers. It seems very likely that some of them were close relatives of our Alex, but due to the complexities described above we cannot be certain.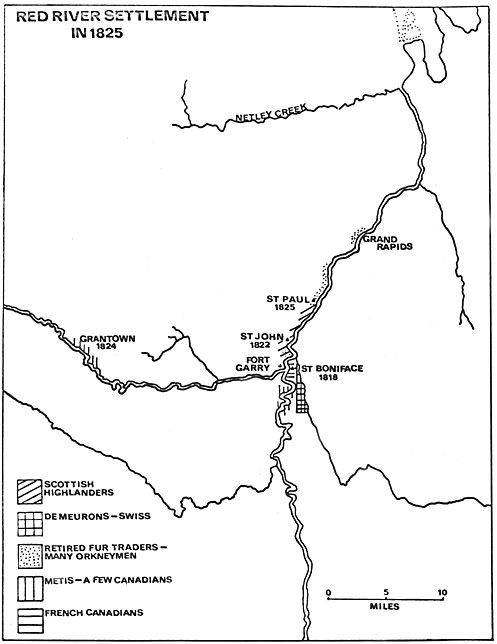 Almost all of the early Sutherland Settlers had their homes in Kildonan Parish in 1825
(Just south of St John as shown on this map; Scottish Highlanders)
One of Alex's first experiences would have been the Great Red River Flood of 1826, the worst ever flood experienced by the settlers of that time. On May 1l that year, Reverend David JONES (1796-1844) wrote in his journal that the year-old St. Paul's Middlechurch at Image Plain was completely destroyed by the flood. Meanwhile, St. John's (Upper Church) was left relatively unscathed.
In 1832, construction of Lower Ft GARRY was begun under the supervision of Alexander CHRISTIE (1792-1872). In the summer of 1833 construction of the boarding school (Red River Academy) was completed. This was the first English-speaking high school in the northwest.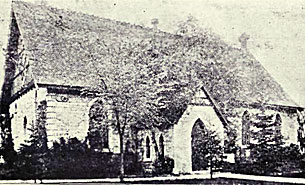 St John's Church Dedicated Nov 26, 1834
The appearance of hundreds of newcomers led the HBC to make a general survey of land fronting along the Red River, dividing it into long narrow lots, each measuring about 400 feet wide and two miles deep. This was in 1835. These lots became the basis of the HBC Land Grants.
Marriage to Christie McBEATH
1836
On Dec 9, 1836 Alex married Christina "Christie" McBEATH, daughter of Helen MATHESON & John McBEATH (1792-1878). Christina was a granddaughter of Christina GUNN and Alexander McBEATH (1760-1848).
** MORE ABOUT ALEXANDER McBEATH
On Dec 23, 1837 their first child, John was born in Kildonan, followed by George in 1839, Ellen in 1841 and Alexander Junior in 1848.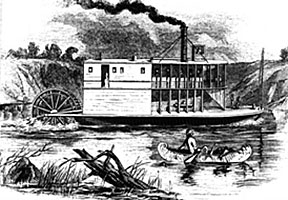 In June of 1859 the first riverboat in Manitoba, the Anson Northup, arrived at the Forks
of the Red River from St. Paul, Minnesota.
In 1862 eldest son John married Flora POLSON, daughter of Janet & Hugh POLSON from Scotland who arrived at Red River in 1815.
Around 1864 son George married Margaret MATHESON, daughter of Catherine PRITCHARD and John "Old Bushy" MATHESON (1814-1898).
Canadian Confederation
A Métis Rebellion
Manitoba becomes a Province
1867-1870
On July 1, 1867 the British colonies in North America were united under the British North American Act (BNA) to become the Dominion of Canada. Sir John A MacDONALD (1815-1891) was appointed as Canada's first Prime Minister. William McDOUGALL (1822-1905) became the Minister of Public Works, and he began negotiations to acquire Rupert's Land from the HBC. Surveyors were sent to Red River to prepare the way for an expected influx of settlers.
Around 1867 daughter Ellen married Robert STALKER, an HBC Harness Maker and Sadler from Scotland.
In 1868 son Alex conceived a child with Catherine PRITCHARD, daughter of Janet MATHESON and John PRITCHARD (b-1815).
That same year son Hugh was united with Barbara FRASER, daughter of Jane MATHESON and John Gunn FRASER (1819-1887).
On Oct 11, 1869, Louis RIEL (1844-1885) placed his foot on the surveyors' chain to tell them their work was finished. This marked the beginning of the historic Red River Métis Rebellion.
With the Rebellion essentially quelled, on July 15,1870 Manitoba became the fifth province of Canada, the Canadian Government having acquired the territory previously governed by the HBC.
It is uncertain when Alex's wife Christie died; it was at some date prior to 1881.
In the 1881 Census, Alexander SUTHERLAND (age 72 and widowed) was enumerated with his son John in Kildonan.
It is said that Alexander SUTHERLAND died around 1885.
Please post comments and queries at this link: FORUM DISCUSSING the FAMILY OF ALEXANDER SUTHERLAND
======================= Family Details ======================
Children:
1. Dec 23, 1837 JOHN SUTHERLAND (m. Flora POLSON)
2. Jul 10, 1839 GEORGE SUTHERLAND (m. Margaret MATHESON)
** MORE ABOUT GEORGE SUTHERLAND
3. c1841 ELLEN SUTHERLAND (m. Robert STALKER)
4. 1848 ALEXANDER SUTHERLAND (m. Catherine PRITCHARD)
5. c1848 HUGH SUTHERLAND (m. Barbara FRASER)