JOHN TURNER (1871-1916+)
SUSAN AGNES DESCHAMBEAULT (1876-1948)
(Last Updated: January 05, 2015)
On Nov 6, 1871 John TURNER was born in the Cumberland District of Saskatchewan, son of Harriet ANDERSON and Philip TURNER (1839-1919), a clerk with the Hudson's Bay Company (HBC). ** MORE ABOUT PHILIP TURNER
In 1885 Half-breed Scrip for John (age 14) was claimed by his mother (Harriet) when the family was living at Fort a la Corne. In October that same year, his mother died in childbirth.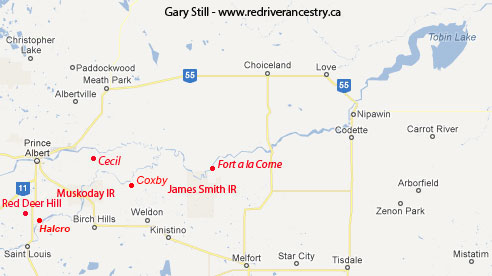 Marriage to Susan Agnes DESCHAMBEAUILT
1891
The census of 1891 shows John TURNER (age 19) living with his widowed father (Philip) in Fort a la Corne. That same year John was united with Susan Agnes DESCHAMBEAULT, daughter of Nancy THOMAS and Louis DESCHAMBEAULT (1844-1920), the HBC Chief Trader at Fort a la Corne. On Feb 25, 1892 their first child, George, was born.
In 1896 John's widowed father (Philip) remarried to Mary Ann HOURIE, daughter of Agnes BIRD and Thomas HOURIE (b-1844).
Census of 1901 in Township 48-25-W2 (SE of Prince Albert): John TURNER, age 29; wife Susan Agnes, age 25. Children: George (age 9), Philip (6), Sarah Nancy (4), Thomas (2) and baby John Arthur.
In 1903 daughter Catherine was born, and in 1906 son Donald was born.
Around 1915 eldest son George married Maud Eveline SAYESE/ SAYIS, probably the daughter of Elizabeth and William SAYESE/ SAYIS (b-1869).
Also around 1915 son Philip married a lady named Margaret of uncertain origins.
After 1916 and before 1921 John TURNER died. In the 1916 census Widow Agnes (age 40) was recorded in Weldon RM and children at home were Nellie (age 20), Thomas (18), Arthur (16), Kate (13), Donald (10), Lawrence (6), Edith (4) and baby Jessie.
About 1917 daughter Sarah (Nellie) married Frank ALMER who was born in Syria (immigrated to Canada around 1903-04).
Census of 1921 in RM of Weldon: Widow Agnes TURNER, age 48. Children: Thomas (age 22), Arthur (20), Katie (17), Donald (15), Lawrence (11) and Edith (age 10).
In 1935 daughter Edith married John Leonard ATKINSON, son of Edith Sarah STANLEY and William Kennedy ATKINSON (1876-1959).
Son Lawrence married Jennie Caroline HYGGEN, daughter of Lana Henrietta DAHL and Martin HYGGEN (1888-1980) who was born in Norway (immigrated 1909).
Around 1948 Susan Agnes (nee DESCHAMBEAULT) TURNER died.
Comments and queries at this link: FORUM DISCUSSING the JOHN TURNER FAMILY
========================== Family Details ==========================
Children:
1. Feb 25, 1892 GEORGE FRANCIS TURNER (m. Maud Eveline SAYESE)
2. Apr 15, 1894 PHILIP TURNER (m. Margaret)
3. Jun 22, 1896 SARAH NANCY (NELLIE) TURNER (m. Frank ALMER)
4. Jan 30, 1899 THOMAS HEARD TURNER
5. Feb 22, 1901 JOHN ARTHUR TURNER
6. 1903 CATHERINE (KATE) TURNER
7. 1906 DONALD TURNER
8. Jan 22, 1910 LAWRENCE TURNER (m. Jennie Caroline HYGGEN)
9. Jan 19, 1912 EDITH TURNER (m. John Leonard ATKINSON)
10. 1916 JESSIE TURNER