HENRY HOWSE (1797-1891)
JANE (JANET) SPENCE (1808-1902)

(Last Updated: June 28, 2016)
Henry HOWSE was born around 1797 at Red Deer River in the Northwest, son of Mary (Indian) and Joseph HOWSE (1774-1852), a Hudson's Bay Company (HBC) fur trader from England.
** MORE ABOUT JOSEPH HOWSE in DCBO
Marriage to Jane SPENCE
1830
On Nov 1, 1830, Henry married Janet SPENCE at St Johns Anglican Church in the Red River Settlement (Rev T JONES officiating, in the presence of Peter CORRIGAL & William TAIT). Janet was the daughter of Christiana (Cree) and Magnus SPENCE (1765-1845). ** MORE ABOUT MAGNUS SPENCE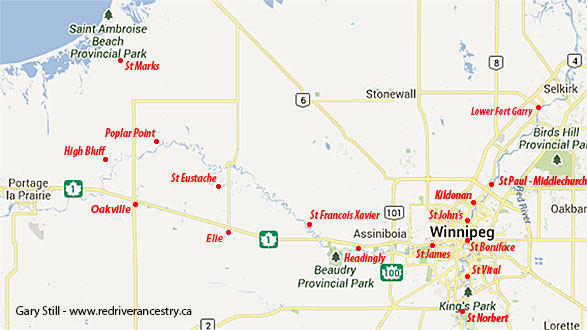 In 1853 son Henry Jr. married Nellie INKSTER at St Johns, daughter of Isabelle SANDERSON & John INKSTER (1806-1864). ** MORE ABOUT JOHN INKSTER
In 1858 son Joseph married Elizabeth ANDERSON in Portage la Prairie, daughter of Catherine LANDRY and Thomas ANDERSON (b-1806).
Henry was disturbed by the influx of white migrants and government surveyors who threatened title to his property. His sense of loyalty to the HBC deterred him from joining forces with the disgruntled French Métis that were in a state of rebellion.
Fort Victoria
1864
In 1864, choosing not to take sides, he decided to move his family to a safer location, that being Fort Victoria (Victoria Settlement).

Not wanting to take sides in the 'Rebellion', the HOWSE family set out for Fort Victoria.
In 1865 daughter Jane Mary married at Pakan to Samuel Henry Harkwood LIVINGSTON (1831-1897) from Ireland.
** MORE ABOUT SAMUEL LIVINGSTON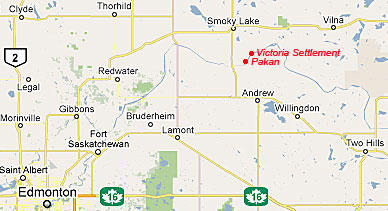 Canadian Confederation
1867
On July 1, 1867 the British colonies in North America were united under the British North American Act to become the Dominion of Canada.  Sir John A MACDONALD (1815-1891) was appointed as Canada's first Prime Minister. William McDOUGALL (1822-1905) became the Minister of Public Works, and he began negotiations to acquire Rupert's Land from the HBC; surveyors were sent to Red River to prepare the way for an expected influx of settlers.
In 1867 son Andrew married Susanne HOPE at Lac La Biche, daughter of Judith DESJARLAIS and James HOPE (b-1818)
.
In 1868 son Adam was married to Margaret FAVEL in Victoria, daughter of Margaret MORISSETTE & Joseph FAVEL b-1828. 
In 1869 son James married Isabelle CALDER in Edmonton, daughter of Isabella LUCIER and Peter CALDER (1802-1852), an HBC voyageur.
In 1872 daughter Nellie married Joseph FAVEL in Pakan, son of Margaret MORISSETTE & JOSEPH FAVEL (b-1828).
Around 1873 son Charles married Emelie BRUNEAU, daughter of Marie LADOUCEUR and Michel BRUNEAU (1806-1878).
In 1878 daughter Margaret married Albert ANDERSON in Prince Albert, SK, the son of Christiana WHITFORD and John ANDERSON (1831-1879).
In 1882 son Thomas married Susanne (nee HOPE) HOWSE in Pakan, daughter of Judith DESJARLAIS and James HOPE.  Susanne was the widow of Tom's brother, Andrew HOWSE.
Northwest Rebellion
1885
1885 was the year of the Northwest Rebellion in Saskatchewan.
** MORE ABOUT THE NORTHWEST REBELLION in WIKIPEDIA
In the summer of 1885 Henry HOWSE of Victoria Settlement claimed Half-breed Scrip for himself  and for his children with Jane SPENCE which were listed as follows: Children living, eight: Joseph (age 55), Henry (53), James (51), Jane Mary (41), Adam (39), Thomas (37), Elizabeth (35) and Marguerite (age 33). Children deceased, five: John (1836-39), Helen (1840-42), Andrew (1842-1870), Magnus (1845-1870) and Eliza (1850-1872).
On Feb 9, 1891 Henry HOWSE died in Fort Victoria.
Census of 1891: Jane HOWSE, age 75, seemingly in the household of son Joseph in the Edmonton/ Lac La Biche District.
On June 15, 1902 Jane (nee SPENCE) HOWSE died at Pakan, Alberta.
Comments and queries at this link: FORUM DISCUSSING THE FAMILY OF HENRY HOUSE
============================= Family Details =============================
Children:  
1. Mar 30, 1829 JOSEPH HOWSE (m. Elizabeth ANDERSON)
2. May 13, 1833 HENRY HOWSE (m. Elizabeth Nellie INKSTER)
3. Nov 9, 1835 JOHN HOWSE (Died age 4)
4. June, 1837 JAMES HOWSE (m. Isabelle CALDER)
5. Jun 1, 1839 MAGNUS HOWSE
6. Nov 23, 1841 HELEN HOWSE (Died in infancy)
7. Feb 8, 1844 ANDREW HOWSE (m. Susanne HOPE)
8. 1846 ADAM HOWSE (m1. Margaret FAVEL, m2. Rosalie ERMINESKIN)
9. Jul 28, 1848 JANE MARY HOWSE (m. Samuel Henry Harkwood LIVINGSTON)
** MORE ABOUT SAMUEL LIVINGSTON
10. 1851 CHARLES HOWSE (m. Emelie BRUNEAU)
11. Feb 16, 1851 THOMAS HOWSE (m. Susanne HOPE) 
12. Apr 2, 1854 ELISABETH NELLIE HOWSE (m. Joseph FAVEL)
13. 1856 MARIAH MARARET HOWSE (m. Albert ANDERSON)
14. Apr 14, 1864 ELIZA HOWSE (Died age 8)