SAMUEL HENRY HARKWOOD LIVINGSTON (1831-1897)
JANE MARY HOWSE (1848-1919)

(Last Updated: November 22, 2017)
Samuel Henry Harkwood LIVINGSTON(E) was born Feb 4, 1831 in Avoca (Ovaca, Republic of Ireland), son of Mary Ann FITZSIMMONS and Hugh LEVISTON (1783-1862).
In 1865 Sam married Jane Mary HOWSE in Pakan, Alberta, daughter of Jane SPENCE and Henry HOWSE (1797-1891).
The main purpose of this narrative is to establish a brief timeline of events in the lives of Jane HOWSE and Sam LIVINGSTON and to provide a basis for tracing their descendants. Following are some links for more details about their life stories:
** MORE ABOUT SAMUEL LIVINGSTON in DCBO by Sheilagh S Jamieson

** MORE ABOUT SAMUEL LIVINGSTON in WIKIPEDIA

** MORE ABOUT SAMUEL LIVINGSTON in WIKI TREE
Canadian Confederation
1867
On July 1, 1867 the British colonies in North America were united under the British North American Act to become the Dominion of Canada.  Sir John A MACDONALD (1815-1891) was appointed as Canada's first Prime Minister. William McDOUGALL (1822-1905) became the Minister of Public Works, and he began negotiations to acquire Rupert's Land from the HBC; surveyors were sent to Red River to prepare the way for an expected influx of settlers.
John GLENN (1833-1886) from Ireland was the first documented European settler in the Calgary area in 1873. He and his wife, Adelaide (nee BELCOURT), built a small log cabin there that year near the confluence of Fish Creek and Bow River – today's Fish Creek Provincial Park.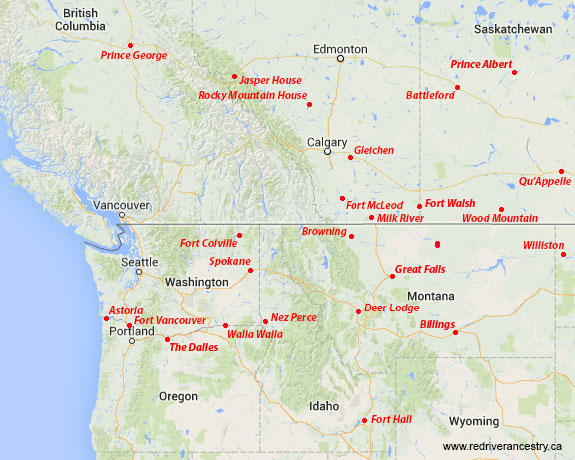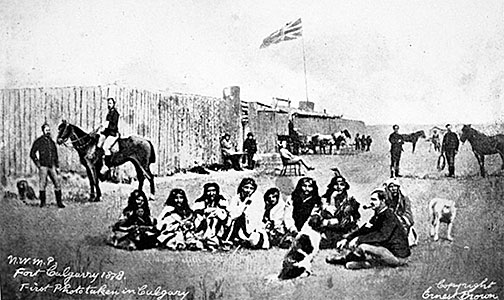 North-West Mounted Police, Fort Calgary, Alberta, 1878 (Library of Archives Canada)
In 1875 Fort Calgary was established by the North-West Mounted Police at the confluence of the Bow and Elbow rivers in what is now Calgary.
Sam was going to settle near the confluence of the Bow and Elbow Rivers in 1875 but, when the North-West Mounted Police arrived and established Fort Calgary, Livingston and his family moved further up the Elbow River to the current location of the Glenmore Reservoir (Southwest Calgary).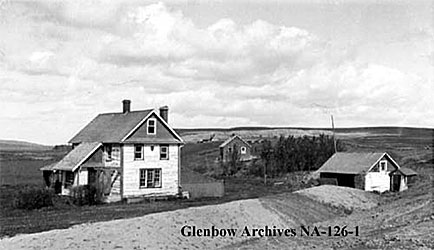 Sam Livingston's House. Remarks: Taken when work was being done on the Glenmore Dam.
One of the dykes is shown in the foreground. At the right is the smaller earlier Livingston house.
Census of 1881 in Bow River (later Calgary. Alberta): Samuel H LIVINGSTONE, age 49; wife Jane M, age 34. Children: Jane (age 14), Ellen (12), George H (11), Hugh (9), John (8), Martha (5), William (3) and Eliza (age 1).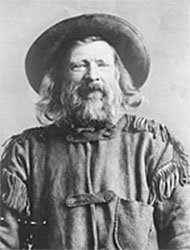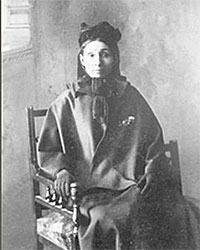 Samuel and Jane (nee Howse) Livingston
In 1883 daughter Ellen married David Morris HAMILTON who was born 1847 in Ireland
In 1883 the Canadian Pacific Railway reached Calgary and a rail station was constructed. In 1884 Calgary was officially incorporated as a town.
Census of 1891 in Calgary: Sam LIVINGSTON, age 62; wife Jane, age 45. Children: Hugh (age 18), John (16), Martha (14), William (12), Eliza (10), Margaret (8), Mary Ann (6), Thomas (4) and baby Joe (age 4 months).
On Oct 4, 1897 Samuel LIVINGSTON died in Calgary.
Census of 1901 in Calgary: Widow Mary J LIVINGSTON, age 50. Children: William (age 22), Maggie (18), Thomas (14), Joseph (10), Samuel (8) and Robert (age 6). Grandson Samuel ARNOLD, age 17 (born Nov 9, 1884 in AB). Lodger: Robert CARSKIN, age 21 (born Mar 6, 1880 in AB).
In 1903 son Hugh married Lucy Adeline BONNEY in Mission City, BC. She was born Dec 20, 1882 in Oregon.
On Aug 16, 1904 daughter Margaret married James Williamson MILES at Pincher Creek, AB, son of Mary MINESINGER and Joseph Alfred MILES (1863-1923).
Also in 1904 daughter Mary Ann married Leno Leo George DOWLER in Calgary, son of Henrietta Augusta LEADER and Richard Armstrong DOWLER (1831-1903).
On Sep 1, 1905 Alberta became a Province.
Son Thomas married Edith Trya JOHNSON, daughter of Mary Holda NELSON and Holgar Christian JOHNSON (1867-1940).
Census of 1911 in Calgary: Widow Mary J LIVINGSTON, age 59. Children: Joseph G (age 20) and Robert H (age 14).
Census of 1916 in Calgary (916-3rd Ave NW): Widow Jane LIVINGSTONE, Indian, age 60; son Robert, age 30.
On Oct 15, 1919 Jane Mary (nee HOWSE) LIVINGSTON died in Calgary.
Comments and queries at this link: FORUM DISCUSSING THE FAMILY OF SAMUEL LIVINGSTON
========================== Family Details ==========================
Children:
1. 1867 JANE LIVINGSTON
2. Feb 14, 1868 ELLEN NELLIE LIVINGSTON (m. David Morris HAMILTON)
3. 1870 GEORGE H LIVINGSTON
4. Nov 28, 1872 LEE HUGH LIVINGSTON (m. Lucy Adeline BONNEY)
5. 1875 JOHN LIVINGSTON
6. 1877 MARTHA LIVINGSTON
7. Nov 30, 1878 WILLIAM LIVINGSTON
8. Sep 22, 1881 ELIZA LIVINGSTON
9. Nov 16, 1882 MARGARET (MAGGIE) LIVINGSTON (m. James Williamson MILES)
10. Feb 16, 1885 MARY ANN LIVINGSTON (m. Leno George DOWLER)
11. Mar 17, 1887 THOMAS LIVINGSTON (m. Edith Trya JOHNSON)
12. Dec 19, 1890 JOSEPH GILES LIVINGSTON
13. Nov 9, 1894 ROBERT H LIVINGSTON