JOSEPH RICHARD GRANT (1847-1925)
LAURA DELORES LAVATTA (1853-1885)
(Last Updated: November 23, 2014)
 Joseph Richard GRANT was born on Sep 7, 1847 in Idaho, most likely Fort Hall as that was his parents' destination when they left Trois-Rivieres in the spring of 1847. He was the son of Emilie Christine LAVREAULT aka L'ANGIE and Stanislaus Richard GRANT (1822-1852). At that time his grandfather, Richard GRANT (1794-1862), was HBC Chief Trader at FortHall.  ** MORE ABOUT GRANDFATHER RICHARD GRANT (1794-1862)
Anita Steele has done excellent research about the Canadian Grant families and is frequently referred to on this website. For more detailed information about Richard GRANT, see her website at the following link:
** MORE ABOUT JOSEPH RICHARD GRANT in the WEBSITE WILLIAM GRANT of TROIS-RIVIERES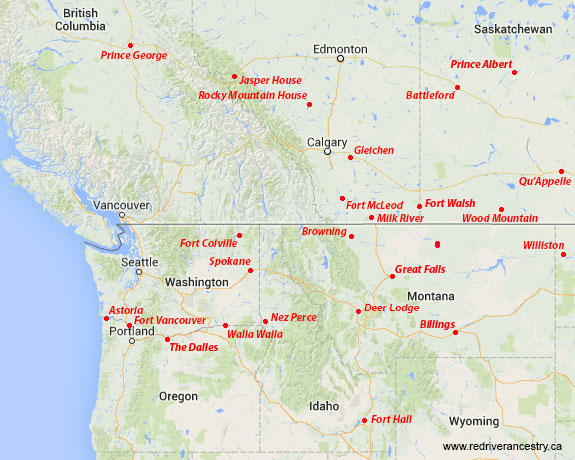 In 1852 when his father died, Richard was only about five years old. It is presumed that Richard eventually went to P.E.I. with his mother (Emilie) where he attended St Dunsan's College of Charlottetown from 1861 to 1866.
It was in 1866 that Richard's Uncle, John Francis "Johnny" GRANT (1833-1907) sold his ranch near Deer Lodge (Idaho) to a cattle baron, Conrad KOHRS for $19,200. Then he returned to Canada.
* MORE ABOUT JOHN FRANCIS GRANT and the GRANT-KOHRS RANCH in WIKIPEDIA
Canadian Confederation
A Red River Rebellion
Manitoba becomes a Province
On July 1, 1867 the British colonies in North America were united under the British North American Act to become the Dominion of Canada.  Sir John A MACDONALD (1815-1891) was appointed as Canada's first Prime Minister. William McDOUGALL (1822-1905) became the Minister of Public Works, and he began negotiations to acquire Rupert's Land from the HBC; surveyors were sent to Red River to prepare the way for an expected influx of settlers.
It was in 1867, that Richard came from Montreal to join his Uncle Johnny GRANT in Manitoba.
On Oct 11, 1869, Louis RIEL (1844-1885) placed his foot on the surveyors' chain to tell them their work was finished! This marked the beginning of the historic Red River Métis Rebellion.
On July 15, 1870 the Rebellion ended when RIEL's Provisional Government accepted the terms of the Manitoba Act and Manitoba became the fifth province of Canada.
Census of 1870 in St Charles (MB): Richard GRANT (age 23) with his adoptive father, Uncle, John Francis GRANT (1833-1907).
Anita Steele: By being an adopted son of Johnny GRANT and a resident at his home at Manitoba by July 15, 1870, Richard's scrip entitlement to 240 acres was greater than the 160 acre entitlement he could have claimed as a 'head of household'.
Marriage to Larue Delores LAVATTA
1872-1885
On June 18, 1872 Richard was married to Laura Delores LAVATTA in St Boniface, daughter of Angelique SERPANTE and Thomas LAVATTA (1825-1896).. (See: Biographies: Grant nee LaVatta, Laura Delores and LaVatta, Edward)
Employed by the Hudson's Bay Company
James Bay District
1878-1915
In 1878 Richard was hired by the Hudson's Bay Company as a laborer. He spent the rest of his HBC career in the Rupert's River and James Bay Districts. ** MORE ABOUT JOEPH RICHARD GRAND in the HBC ARCHIVES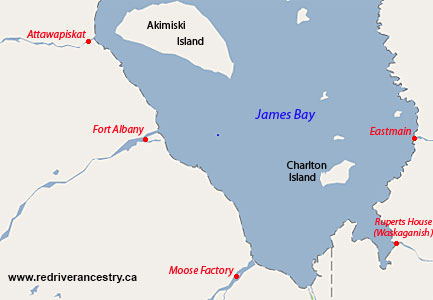 Carman, Manitoba
Laura Delores Dies
1879-1885
Anita Steele: On February 5, 1879, Richard was granted the south-east quarter of section sixteen and the north half of the north east quarter of of section nine, of township 3 in the Parish of St. Charles, Manitoba. His wife and her brother also received scrip.
On May 27, 1885, Laura Delores died of unknown cause at the age of 31 on their homestead north of Carman (MB). At that time her surviving children were William Richard (age 11), Mary Ellen (10), Julia (9), John Nelson (7), Francis Henry (5), Alfred Edward (3) and Laura Jane (age 1).
  
Winnipeg
By 1901 the family had moved to Winnipeg where Richard would spend the rest of his days widowed. In the census that year he was recorded as a packer in a dry goods store. His children were enumerated as William (age 21), Helen (20), Julia (18), Nelson (17), Frank (15), Alfred (14) and Laura (age 12).
In the 1906 census Richard and his family were recorded at 115 Inkster, and in 1911 at 58 McDonald.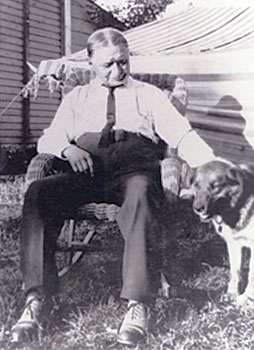 Joseph Richard Grant & his dog, Tiggs
From Margaret Verrier nee Grant
In 1913 son John married in Regina (SK) to Frances Molly NORTON of uncertain origins.
In 1914 son Alfred Edward married Isabella ORVIS in Winnipeg, daughter of Isabella IRVINE and John Benson ORVIS (1844-1930). ** MORE ABOUT JOHN BENSON ORVIS
In 1915 eldest son William married Norma Gertrude LOCKSTEAD in Winnipeg. .In the 1916 census they were recorded with William's father at 48 Juno Street.
On Sep 10, 1917 daughter-n-law Norma Gertrude died in Winnipeg, and in 1922 widowed son William re-married to his sister-in-law Caroline ORVIS, the daughter of Isabella IRVINE and John Benson ORVIS (1844-1930).
On Jan 20, 1925 Joseph Richard GRANT died.
Around 1925 son Frank was married to Lily BALL of uncertain origins.
Comments and queries at this link: FORUM DISCUSSING the JOSEPH RICHARD GRANT FAMILY
========================== Family Details ==========================
Children:
1. Mar 19, 1873 HELENE GRANT (Died in infancy)
2. Apr 3, 1874 WILLIAM RICHARD GRANT (m1. Norma LOCKSTEAD; m2. Caroline ORVIS)
3. Oct 11, 1875 MARY ELLEN (HELEN) GRANT
4. Jan 9, 1876 JULIA GRANT
5. Oct 20, 1878 JOHN NELSON GRANT (m. Frances Molly NORTON)
6. Jun 25, 1880 FRANCIS HENRY (FRANK) GRANT (m. Lily BALL)
7. Sep 27, 1882 ALFRED EDWARD GRANT (m. Isabella ORVIS)
8. Apr 16, 1884 LAURA JANE GRANT