JAMES KNIGHT (1818-1897)
ELIZABETH HEYWOOD (1820-1897)
(Last Updated: July 18, 2014)
James KNIGHT was born around 1818, son of Sophia HALLETT & James KNIGHT SR (1783-1854), an HBC voyageur from Scotland who was in Edmonton around the time James Jr. was born and he retired to settle in Red River.
Marriage to Elizabeth HEYWOOD
1838
On Dec 6, 1838 James married Elizabeth HEYWOOD in the old St Andrews Church on the Red River, daughter of Jane ASHAM and Joseph HEYWOOD (1783-1825), and HBC voyageur from England.
Canadian Confederation
Red River Rebellion
Manitoba becomes a Province
1867-1870
On July 1, 1867 the British colonies in North America were united under the British North American Act to become the Dominion of Canada.  Sir John A MACDONALD (1815-1891) was appointed as Canada's first Prime Minister. William McDOUGALL (1822-1905) became the Minister of Public Works, and he began negotiations to acquire Rupert's Land from the HBC, sending out surveyors to prepare the way for an expected influx of settlers.
On Oct 11, 1869, Louis RIEL (1844-1885) placed his foot on the surveyors' chain to tell them their work was finished. This marked the beginning of a Red River Metis Rebellion. In early November that year he took possession of Upper Fort Garry with armed forces, taking prisoners in the process. A list of men from who mustered to their rescue included numerous members of various CORRIGAL families from St Andrews Parish.
** MORE ABOUT THE RED RIVER REBELLION in WIKIPEDIA
On July 15,1870 Manitoba became the fifth province of Canada, the Canadian Government having acquired the territory previously governed by the HBC.The Rebellion was essentially over.
Census of 1870 in St Paul Parish: James KNIGHT and his wife Elizabeth (both age 52. Children: William (age 31), James (20), Sophia A (14) and John (age 5).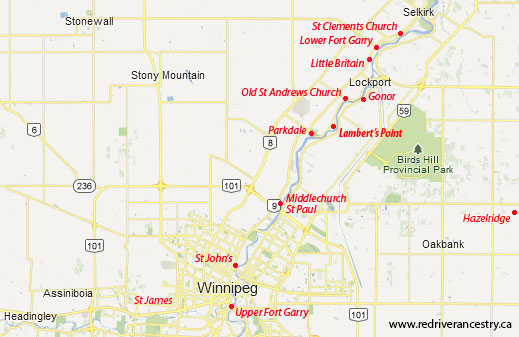 Western Land Grant dated Sep 28, 1877: James KNIGHT: HB Allotment for SW and W ½ of Section 2-12-6-Epm in St Paul Parish. This location is along Cooks Creek east of Oakbank and near Hazelridge as shown of above map.
In 1877 daughter Sophia married Samuel SLATER in St Paul, son of Elizabeth DENNETT and John SLATER (1799-1873) from the Orkneys of Scotland.
In 1879 eldest son William married Frances LAMBERT in St Andrews, daughter of Margaret FAVEL and Michel LAMBERT (1792-1875). ** MORE ABOUT MICHEL LAMBERT
In 1880 son George had an affair with Catherine TAIT, daughter of Eliza ANDERSON and Andrew TAIT (b-1840). Their illegitimate child, Thomas William KNIGHT (later changed to TAIT) was born on Aug 10, 1881 in Saskatchewan.
Census of 1881 in St Paul Parish: James KNIGHT, age 61; wife Elizabeth, age 58. Children: Son William (age 41) and his wife Frances nee LAMBERT (age 29); and sons James (29) and John (age 14).
Census of 1891 in St Paul Parish: James KNIGHT (age 70), his wife Elizabeth (age 62) and son John (age 24).
In 1892 son John married Harriet CHAPMAN in Winnipeg, daughter of Mary Jane McCULLOUGH and Thomas CHAPMAN (b-1841).
On Jan 24, 1897 James KNIGHT died, and less than a month later, Feb 20, Elizabeth (nee HEYWOOD) KNIGHT died, both in in St Paul Parish.
In 1898 son James married his cousin, Maggie HALCRO in St Paul Parish, daughter of Mary Ann CORRIGAL & Joseph HALCRO (1837-1906). ** Indicated as great grandparents of Beth HAARSMA on the Forum.
Some sources refer to a Bertha KNIGHT (born Aug 1, 1875) as a child of Elizabeth and James, but there is no reference to that name in any of the census records. She would more likely have been a granddaughter. Manitoba Vital Stats indicated that Bertha KNIGHT married William James LYONS (1874-1919) in Portage la Prairie.  If anyone has more information, please let us know on the Forum.
Comments and queries at this link: FORUM DISCUSSING the JAMES KNIGHT FAMILY
========================= Family Details =========================
Children:
1. Dec 23, 1839 WILLIAM JAMES KNIGHT (m. Frances "Fanny" LAMBERT)
2. Oct 3, 1852 JAMES KNIGHT JR (m. Margaret Helen "Maggie" HALCRO)
3. 1853 GEORGE HENRY THOMAS KNIGHT (Catherine TATE)
4. Mar 29, 1854 SOPHIA ANN KNIGHT (m. Samuel SLATER)
5. Apr 18, 1866 JOHN H KNIGHT (m. Harriet Jane CHAPMAN)
=========================================
? Apr 1, 1875 BERTHA KNIGHT (m. William James LYONS)