JOHN IRVINE (1792-1879)
MARY INDIAN (1800-)
(Last Updated: May 21, 2017)
John IRVINE was born on May 15, 1792 in the York Factory District, the son of an Indian woman named Margaret and John IRVINE SR(1753-1901+) from Sandwick, Orkney (Scotland), a sailor, voyageur and canoe builder with the Hudson's Bay Company (HBC) who frequently travelled inland from York Factory.
** MORE ABOUT JOHN IRVINE SR in HBC ARCHIVES
An Indian wife named Mary
1820
Around 1820 John's first child (John Jr.) was born. The mother was an Indian woman named Mary of uncertain origins. On May 18, 1830 they were formally marriedat St Johns Anglican Church.
In 1846 eldest daughter Elizabeth became the second wife of Samuel FAVEL, son of a Sarah TROUT and Half-breed Thomas FAVEL (1781-1848), an HBC voyageur. ** MORE ABOUT THOMAS FAVEL
In 1847 eldest son John Jr. married Margaret PARK in St Andrews, daughter of Margaret (Metis) and John PARK (1770-1847), a retired HBC trader from the Orkneys, recently deceased. ** MORE ABOUT JOHN PARK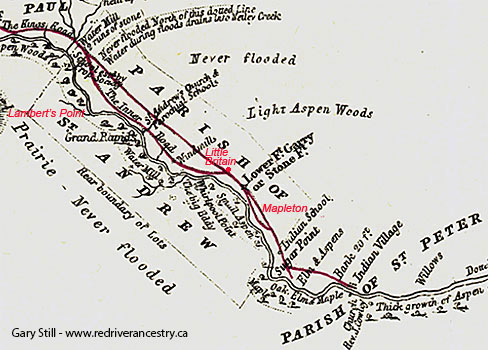 St Andrews Parish from Hind's Map of 1857
Around 1857 son William married Isabella Elizabeth LEWIS in St Andrews, daughter of Isabella SPENCE and James LEWIS aks LOUIS (1807-1882). ** MORE ABOUT JAMES LOUIS
In 1858 son James married Angelique ST GERMAINE in St Paul Parish, daughter of Marie CADOTTE and Joseph ST GERMAIN (1795-1850) from Quebec.
In 1870 John was a resident of St Andrews Parish (From his Scrip).
On Jul 25, 1875, John IRVINE of St Andrews, applied for his Scrip.
On Jun 27, 1879 John IRVINE died in St Andrews.
Comments and queries at this link: FORUM DISCUSSING THE JOHN IRVINE FAMILY
======================= Family Details =======================
Children:
1. 1820 JOHN IRVINE (m1. Margaret PARK, m2. Anne (nee LILLIE) HARCUS)
2. 1825 JAMES IRVINE (m. Angelique ST GERMAIN)
3. 1829 ELIZABETH IRVINE (m. Samuel FAVEL)
4. 1830 MARY IRVINE
5. July 19, 1831 WILLIAM IRVINE (m. Isabella Elizabeth LEWIS)
6. 1834 GEORGE IRVINE