SAMUEL FAVEL (1820-1896)
MARGARET KIPLING (1822-1845)
ELIZABETH IRVINE (1829-1870)

(Last Updated: May 22, 2017)
Samuel FAVEL was born Jun 4, 1820 at Beaver Creek, son of a Sarah TROUT, a Cree woman, and Thomas FAVEL (1781-1848), an HBC voyageur. Beaver Creek (later Fort Ellice, St Lazare, MB) was located at the confluence of the Assiniboine and Qu'Appelle rivers; west of Birtle, MB; east of the MB-SK border and east of Qu'Appelle, SK (See map above). ** MORE ABOUT THOMAS FAVEL
Sam marries Margaret KIPLING
1836-1845
By about 1836 Samuel was in a connubial relationship with Margaret KIPLING, probably the daughter of Margaret OKANENS and Jack Ram KIPLING (1788-1836).
It isn't certain when their first child, Tom, was born, but he was baptised on Oct 29, 1836 in Red River. Tom and Margaret were not formally married until 1838, at St Andrews Church, Red River. 
They had two more children, Harriet (1842) and John(1843) before Margaret died, at the young age of 23 in 1845.
Sam marries Elizabeth IRVINE
1846
In December of 1846, Sam (now 26) re-married Elizabeth IRVINE, daughter of Mary (Indian) and John IRVINE (1792-1879). ** MORE ABOUT JOHN IRVINE
In 1849 Sam was engaged by the Hudson's Bay Company (HBC) at Red River as labourer until June 1 of 1852 (salary 20 £); then (June 16) at Ft Simpson as bowsman/ fisherman until June 1, 1854, salary now 25 £.  He was back at Red River in 1856, engaged at Fort Garry as steersman until June 1, 1857, same until 1860. 
In 1861 son Thomas married Angelique ADAMin St Boniface, daughter of Angelique RACETTE and Joseph ADAM (1785-1873).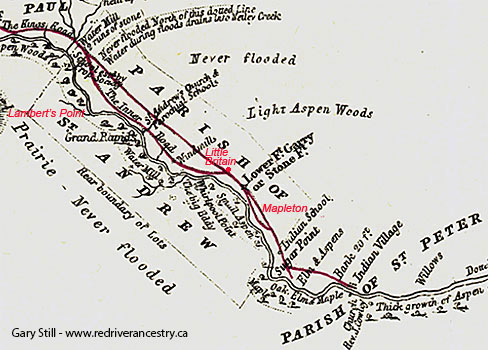 St Andrews Parish from Hind's Map of 1857
Around 1865 son George married Isabella MUNROE, daughter of Jane DUNNING and Finlay MUNROE (1824-1901).
Around 1866 son John married Nancy THOMAS, daughter of Eleanor and Richard THOMAS (1800-1861).
** MORE ABOUT RICHARD THOMAS
Canadian Confederation
A Red River Rebellion
Manitoba becomes a Province
1867-1870
On July 1, 1867 the British colonies in North America were united under the British North American Act to become the Dominion of Canada.  Sir John A MACDONALD (1815-1891) was appointed as Canada's first Prime Minister. William McDOUGALL (1822-1905) became the Minister of Public Works, and he began negotiations to acquire Rupert's Land from the HBC; surveyors were sent to Red River to prepare the way for an expected influx of settlers.
On Oct 11, 1869, Louis RIEL (1844-1885) placed his foot on the surveyors' chain to tell them their work was finished! This marked the beginning of the historic Red River Métis Rebellion.
On July 15, 1870 the Rebellion ended when RIEL's Provisional Government accepted the terms of the Manitoba Act and Manitoba became the fifth province of Canada.
On Nov 11, 1870 Elizabeth (nee IRVINE) FAVEL died in St Andrews Parish.
Census of 1870 in St Andrews Parish (Lot 270): Samuel FAVEL, age 52. Children: James (age 22), Mathilda (2), Mary J (15), William (5) and Cornelius (age 3). Parish Lot 270 was located on the east side of the river, across from Lambert's Point as shown on the map above.
Sometime before 1875 daughter Mary Jane married Edward BURNS of uncertain origins (from Scrip record).
On Jan 10, 1877 Henry McCORRISTER filed a Scrip Affidavit on behalf of the heirs of Elizabeth FAVEL who died Nov 11, 1870 in St Andrews, leaving as heirs her children: 1) James, 2) Alexander, 3) Mary Jane, 4) William, 5) and Cornelius.
In 1880 Sam claimed his Metis Scrip as a resident of St Andrews.
In 1880 son William married Adele LEMIRE in Battleford, daughter of Josephte Suzanne BOUCHER and Francois LEMIRE (b-1815).
On Sep 10, 1896 Samuel FAVEL died in Fort Saskatchewan, AB (obit).
In 1903 son Cornelius married Caroline Clara DAHL in St Andrews, daughter of Chloe McDONALD and William DAHL (1849-1910).
Comments and queries at this link: FORUM FOR DISCUSSING THE FAMILY OF SAMUEL FAVEL
========================== Family Details ==========================
Children with MARGARET KIPLING:
1. 1836 THOMAS FAVEL (m. Angelique ADAM)
2. 1842 HARRIET FAVEL
3. Aug 13, 1843 JOHN FAVEL (m. NANCY THOMAS)
Children with ELIZABETH IRVINE:
1. 1846 GEORGE FAVEL (m. Isabella MUNROE)  
2. 1848 JAMES FAVEL (m. Mathilda)
3. 1850 MATHILDA FAVEL
4. 1850 CHRISTOPHER RICHARD FAVEL (Died in infancy)
5. 1852 ELIZABETH FAVEL (Died in infancy)
6. 1853 ALEXANDER FAVEL
7. Nov, 1854 SAMUEL FAVEL (m. Margaret "Peggy" STANLEY)
8. c1855 MARY ANN FAVEL (Died in infancy)
9. Feb 15, 1857 MARY JANE FAVEL (m. Edward BURNS)
10. c1858 WILLIAM FAVEL (m. Adele LEMIRE)
11. 1860 ANGUS MATTHEW FAVEL (Died in infancy)
12. March, 1866 JOSEPH FAVEL (Died in infancy)
13. June 14, 1869 CORNELIUS FAVEL (m. Caroline Clara DAHL)