SAMUEL BENJAMIN SMITH (1868-1934)
JESSIE JANE FLORENCE SMITH (1874-1937)
(Last Updated: January 05, 2014)
Samuel Benjamin SMITH was born Jan 18, 1868 in St Andrews Parish, the youngest child of Elizabeth MOORE and John Lee Lewis SMITH (1820-1910). ** MORE ABOUT JOHN LEE LEWIS SMITH
Until he withdrew from Treaty in 1874, Sam's father (John Lee) was a member of the St Peters Indian Bard with a residence not far south of Breezy Point as shown on the map below. The SMITH family lived part of the time in the Reserve and part of the time in St Andrews Parish.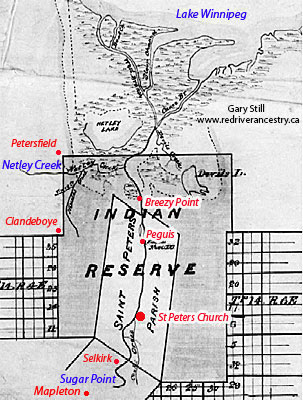 Boundaries of the St Peters Reserve after Treaty No.1
In 1875, Half-breed Scrip for Sam was claimed by mother Elizabeth.
On June 15, 1882the Town of Selkirk was incorporated.
In 1887 Sam's father received Patent for Lots 114-115 (south of Breezy Point) in the St Peters Reserve.
In the census records of 1881 and 1891, Sam was enumerated with his parents in St Andrews Parish (age 12; then 24).
Marriage to Jessie Jane SMITH
1895
On Jan 11, 1895 Sam married Jessie Jane Florence SMITH, daughter of Harriet THOMAS & James SMITH (1825-1901). This SMITH family was not related; they were purely Indigenous Sam & Jessie lived in Selkirk for a few years after their marriage. In 1896 their first child, James was born.
In 1906 Sam and his family were enumerated on Lot 10 in St Peters Parish. They now had three children: James (age 10), Daisy (6) and Lucy (age 2).
Surrender of the St Peters Reserve
Relocation of the Band to Fisher River
1907-1911
In 1907, after meeting with DIA officials, the Chief and Councillors of the St Peters (Peguis) Band agreed to a Surrender of their Reserve, a controversial decision that was hotly disputed by many of the Band members at large. A new site for the Band was selected in the Fisher River area (north of Hodgson, MB), the New Peguis Reserve. By 1909 most of the native residents of St Peters had moved to their new Reserve.
In 1910 Sam's father (John Lee Lewis SMITH) died in Selkirk at the age of 89. Sam was also  living in Selkirk at the time.
ICC: In 1911 a Manitoba Royal Commission investigating the titles to the river lots and the surrendered land, were to vindicate those who had opposed the surrender's validity. In the meantime, however, a significant proportion of the Band had relocated to Fisher River, patented lots had been sold, a sale of the remaining surrendered reserve land had taken place, and proceeds had been distributed to band members. The dominion government was unwilling to turn back the clock and reopen the St Peter's land question. It was perhaps inevitable that the surrender would ultimately be validated by special legislation: the St. Peter's Reserve Act.Under its provisions, purchasers would be required to pay an extra $1 per acre (to be added to the St Peter's Band fund) to obtain a secure title to their land. The legislation had the effect of increasing the balance in the Band's trust account by $40,000, but the St Peter's Reserve was gone forever. A St Peters Land Dispute erupted thereafter that would last well into the next century.
In 1911 Sam and his family were living on Lily Avenue in Selkirk. The census that year recorded Samuel (age 43); wife Jessie (age 37) and children as James (age 14), Daisy (12), Lucy (7), Samuel (age 4) and baby Peter.
World War I
1914-1919
On Aug 4, 1914 Great Britain (Canada on Aug 5) declared war on Germany and Austria-Hungary to uphold treaties with France and Belgium which were under German attack. This marked the beginning of World War I.
In the 1916 census Sam was recorded again of Lilly Ave in Selkirk as a 47 year old City Policeman; wife Jessie (age 43) and children: James (age 19), Daisy (17), Vivian (12), Samuel (9), Peter (5) and Alverado (age 2). ** Leslie Smith tells us that Alverado was in fact the son of Daisy Mary Elizabeth SMITH.
On Sep 29, 1918 son James Sinclair SMITH died at war. He was a member of the Canadian Infantry (Manitoba Regiment; 43rd Bn). He was buried in Pas de Calais, France.
November 11, 1919, Armistice Day (Remembrance Day) marked the end of the First World War.
On Sep 10, 1934 Samuel Benjamin SMITH died in Selkirk at the age of 76.
On Jan 20, 1937 Jessie Jane Florence SMITH died in Selkirk at the age of 62.
In December of 1937 son Samuel Benjamin married Sybil SABEL, daughter of Margaret McRAE & William Henry SABEL (1882-1938).
Please post comments & queries at this link: FORUM DISCUSSING the SAMUEL BENJAMIN SMITH FAMILY
======================= Family Details =======================
Children:
1. Sep 23, 1896 JAMES SINCLAIR SMITH (Died age 22 in WW I)
2. Mar 31, 1898 DAISY MARY ELIZABETH SMITH
3. Dec 11, 1903 LUCY VIVIAN SMITH
4. Jan 11, 1906 FRANCES FLO SMITH
5. Apr 11, 1907 SAMUEL BENJAMIN SMITH (m. Sybil SABEL)
6. Oct 7, 1910 PETER NAPOLEON SMITH (m. Nellie SMITH)