JOHN HODGES SPENCER (1790-1881)
ANNE SINCLAIR (1802-1861)
(Last Updated: August 25, 2015)
John Hodges SPENCER was born Apr 7, 1790 St Peter Cornhill Parish, England, son of Elizabeth KNOTT and John Simpson SPENCER (1767-1790) who died in Jamaica.
In 1793, after his father died, John was sent to Christ's Hospital in London to be educated. This was a school for boys without parents, or with only one parent (usually the mother), supported partially by private funds from 'the gentry'. Students were called the Blue Coat Boys and were often hired by the HBC.
Hired by the Hudson's Bay Company
1806
Hired in 1806 by the Hudson's Bay Company (HBC) as a 'Writer', John spent his first six years with the Company in the York Factory District.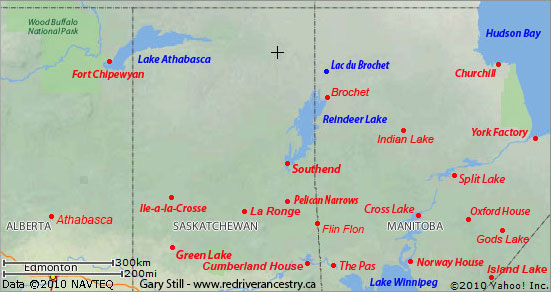 From 1812 to 1813 John was the Assistant Accountant in the Severn District, then back to York until 1814.
The First Selkirk Settlers Arrive at the Forks of the Red River
1812
On August 30, 1812, after a heartbreaking journey of 730 miles in 45 days, Miles MacDONELL (1767-1828), the new Governor of Assiniboia, arrived with the first group of Selkirk Settlers  at the junction of the Red and Assiniboine rivers (the Forks). By that time his party had fallen to 18 members. ** MORE ABOUT MILES MACDONELL in DCBO
The NWC and the HBC had of course been in fierce competition for many years. The Nor'Westers were opposed to the increasing influx of settlers into what they considered their domain. They would do whatever they could to make things difficult for them. They purposefully encouraged opposition from the Indians and Métis buffalo hunters of the region. Settlement would cause the already diminishing buffalo herds to move away. During the winter of 1813-14, John PRITCHARD (1777-1855), under orders of John WILLS (1775-1815), both in the employ of the NWC, bought up most of the provisions available at the Forks and sent them off to their fort at La Souris (SE of Brandon House). This of course created a shortage for the Settlers. The NWC would later claim they needed pemmican as food supply for their voyageurs
The Pemmican War
John SPENCER Appointed Sheriff of Assiniboia
Arrested by the Nor'Westers
1814
On Jan 8, 1814, anticipating the arrival of yet another large group of settlers and seeking to solve the colony's food problems once and for all, Governor  MacDONELL issued his historic Pemmican Proclamation. The proclamation prohibited the export of provisions of any kind from within the limits of Assiniboia without a special license from the Governor (himself). For two winters the Métis had provisioned the colonists with bison meat, so this severe measure was considered an insult, not only to them but to the NWC.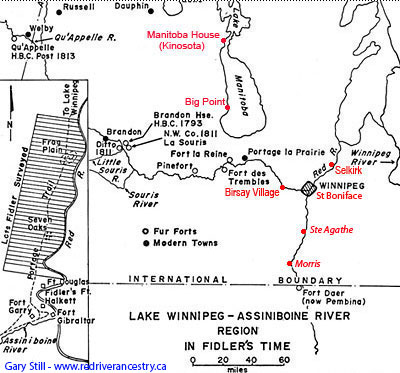 On May 29, 1914, upon the recommendation of William AULD, John SPENCER was appointed as a Councilor and Sheriff of Assiniboia under the direction of Governor MacDONELL, to assist him in enforcing his Proclamation. SPENCER's first action was to go to La Souris bearing the Governor's "Warrant for Seizure". He forcibly entered the fort there and seized the stashed provisions taken there and held by John PRITCHARD.
PRITCHARD would later relate the event as follows: I thought it my duty to oppose as far as I could without the effusion of blood; therefore Mr SPENCER was of necessity obliged to make a forcible entry into the fort, and to break the door of the store in which the provisions were; all which his warrant authorised him to do. When I arrived at the Forks, I found a number of the partners and servants of the NWC assembled there, with as many Indians as they had been able to collect.
The Nor'Wester Offensive Begins
METIS REBELLION
Cuthbert GRANT on a Rampage
In July of 1814 the NWC held its annual meeting at Fort William where an indignant William McGILLIVRAY (1798-1804) declared regarding MacDONELL's actions "It is the first time the Nor'Westers have permitted themselves to be insulted". From that day there would be civil war in the North-West.** MORE ABOUT WILLIAM McGILLIVRAY in DCBO

To meet force with force the NWC later appointed a soldiery of men often referred to as "Captains of the Métis". Included were: Cuthbert GRANT, Simon FRASER (1776-1862), Angus SHAW (c1765-1832), Nicolas MONTOUR (1790-1846) and Bostonnais PANGMAN (b-c1778).

The NWC partners discussed how to deal with the Red River problem. In was officially agreed that the Red River District needed to be re-enforced, that arrest warrants should be issued for John SPENCER, John WARREN and Miles MACDONELL and that Selkirk's colony should be reduced by offering the settlers free passage to Upper Canada.
On Aug 30, 1814 Cuthbert GRANT (1796-1854) arrived at Fort Gibraltar with Duncan CAMERON. A great display of hostility and intimidation was put on by their men, and CAMERON (in an Officer's uniform) actively persuaded many of the Settlers to accept a NWC offer of transportation out of the colony to the Canadas.  (DCBO)
** MORE ABOUT CUTHBERT GRANT
SPENCER Arrested
September, 1814
In September of 1814 Duncan CAMERON arrested Sheriff John SPENCER and sent him to the NWC's Fort Gibraltar located south of the Red River colony. As the canoe that was conveying SPENCER to Lac la Pluie passed Fort Douglas, several colonists broke into the arms locker to give them the weapons needed to mount a rescue. They drove the canoe ashore, but SPENCER convinced the settlers not to kill the Nor'Westers and to let them carry out their duty.
Miles MacDONELL Taken Prisoner by the Metis
1815
On June 17, 1815 Miles MACDONELL was arrested by the Nor'Westers, and three days later he was taken as a prisonerto Montreal to stand trial for his "crimes," which included the "illegal" confiscation of pemmican. Peter FIDLER (1769-1822), the HBC surveyor, then took temporarily command of the colony.
On July 15, 1815 Duncan CAMERON arrived at Fort William (on their way to Montreal) with his prisoners, Sheriff John SPENCER and Governor MACDONELL.
Lord SELKIRK Arrives at Fort William
The Seven Oaks Massacre
Governor SEMPLE Killed
Nor'Westers Arrested
1816
On June 19, 1816, the Battle (Massacre) of Seven Oaks occurred at Frog Plain.  Governor SEMPLE and twenty of his men were killed when Cuthbert GRANT and his Métis soldiers took Fort Douglas.
On Aug 12, 1816, Lord SELKIRK and his soldiers arrived at Fort William where he arrested all of the NWC Partners who were present. On Aug 18, 1816, NWC Partners William McGILLIVRAY, John McLAUGHLIN, Allan MacDONELL, Simon FRASER, John McDONALD, Hugh McGILLIS, Kenneth MacKENZIE and Alexander MacKENZIE were all sent off for Upper Canada as prisoners.
In September of 1817 John SPENCER first appeared before the Court of King's Bench in Montreal, and he was joined by Colin ROBERTSON (1783-1842). Two justices of the court had declared their interest for the NWC, and said they could not proceed in the cases. Without a quorem, neither SPENCER or ROBERTSON could receive a trial but simply had their rcognizances again extended.
Finally, in 1818 John SPENCER and Colin ROBERTSON were both acquitted of the charges brought against them.
Union of the North West Company with the Hudson's Bay Company
1821
In 1821 the union of the North West Company (NWC) and the Hudson's Bay Company (HBC) occurred, ending the years of bitter rivalry for dominance of the fur trade in Western Canada. George SIMPSON (1786-1860) became the Governor of Rupert's Land.
English River District – Pelican Lake – Lac La Ronge – Ile a la Crosse
Marriage to Ann SINCLAIR
1823-1826
From 1823 to 1826 John was posted to the English River District (Pelican Lake - Lac La Ronge – Ile a la Crosse).
In 1823 John married Anne SINCLAIR at York Factory, daughter of Margaret (NAHOWAY) and William SINCLAIR (1766-1818).** MORE ABOUT WILLIAM SINCLAIR
** Some sources suggest that sons Edward (b-c1821) and William (b-1822) were either step-sons or that John had a wife or wives previous to his union with Ann SINCLAIR.
HBCA 1826: John indicated as Chief Trader Columbia Distract. ** This is a rather dubious entry. We know that Governor George SIMPSON made a second trip from York Factory to the Columbia in 1826, but there is no mention of SPENCER in relation to that trip or anywhere else regarding him as a Chief Trader in the Columbia. To the contrary, Ile a la Crosse correspondence from George KEITH (NWC) notes Chief Trader John SPENCER as "building a large canoe to accommodate transportation of families leaving that district. However, SPENCER did not have the canoe built, and the families did not leave."
Penetanguishene and Retirement
1827-1834
His HBCA Bio indicates that in 1827 John was on furlough at Penetang (Penetanguishene), a town in Sincoe County, Ontario, located at the southeastern tip of Georgian Bay, and that he retired in 1828.
Rehired by the HBC - Rupert's River – Eastmain Districts
1834-1857
In 1834 John was re-hires by the HBC and sent to the Rupert's River District. From 1835 to 1837 he was the Clerk in Charge at Rupert House; 1837-1844 at Nichiquon (Nichikun Post); and from 1844-1857 at Fort George.in the Eastmain District.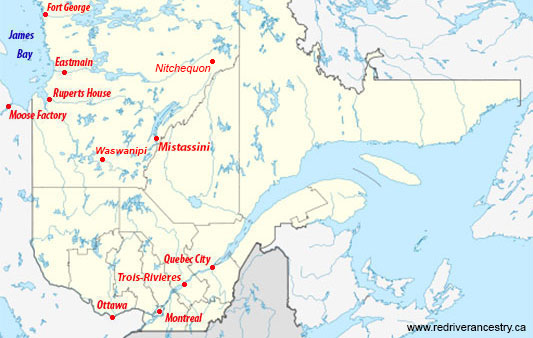 In 1839 eldest son Edward began his apprenticeship with the HBC in the Columbia District (Fort Vancouver).
An HBCA note indicates that in 1845 John was at Fort George with eight children, and that three were absent.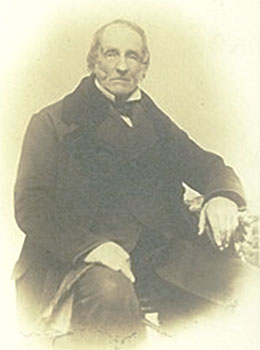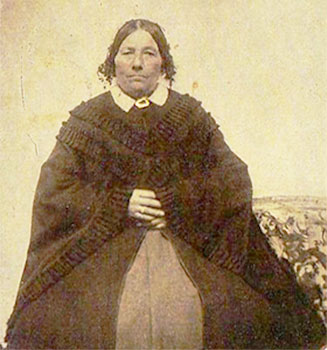 John Hodges Spencer – Ann Sinclair
(From Family Trees on Ancestry.com))
In 1849 son William married Carolyn SMALL, daughter of Nancy HUGHES and Patrick SMALL (1800-1846).
In 1855 daughter Mary married John GARTON, son of Jane SHASTICH and John GARTON SR (1784-1831).
HBCA: In 1857 John retired to Red River (passed the winter at Albany), then to Goderich (Ontario) on a pension in 1861.
In 1861 Anne (nee SINCLAIR) SPENCER died in Goderich.

In 1864 son Rupert married Mary Anne ROSS in Toronto.
Around 1866 daughter Sarah married Joseph William CARTWRIGHT (1842-1913) from England.
Canadian Confederation
A Red River Rebellion
Manitoba becomes a Province
1867-1870
On July 1, 1867 the British colonies in North America were united under the British North American Act to become the Dominion of Canada.  Sir John A MACDONALD (1815-1891) was appointed as Canada's first Prime Minister. William McDOUGALL (1822-1905) became the Minister of Public Works, and he began negotiations to acquire Rupert's Land from the HBC; surveyors were sent to Red River to prepare the way for an expected influx of settlers.
On By about 1867 son Miles was married to Edith McLAREN in Eastmain (PQ), daughter of Christine WILLIAMS and David McLAREN (1815-1894).
Oct 11, 1869, Louis RIEL (1844-1885) placed his foot on the surveyors' chain to tell them their work was finished! This marked the beginning of the historic Red River Métis Rebellion.
On July 15, 1870 the Rebellion ended when RIEL's Provisional Government accepted the terms of the Manitoba Act and Manitoba became the fifth province of Canada.
In 1871 son Charles married Sarah Anne TRUTHWAITE in St Johns (Red River), daughter of Catherine McDERMOT and Thomas TRUTHWAITE. (1820-1899). ** MORE ABOUT THOMAS TRUTHWAITE
In 1872 son John Robert married Ann Jane PHAIR from Ireland, daughter of Jane CRAWFORD and Hugh PHAIR (b-1813).
In 1875 John SPENCER of St John Parish claimed his Scrip as an original white settler.
On Jan 4, 1881 John Hodges SPENCER died in St Catherines, ON, at the age of 90.
Comments and queries at this link: FORUM DISCUSSING THE JOHN HODGES SPENCER FAMILY
========================== Family Details ==========================
Children:
1. c1821 EDWARD SPENCER
2. 1822 WILLIAM SPENCER SR (m. Carolyn SMALL)
3. c1831 JOHN ROBERT SPENCER (m. Ann Jane PHAIR)
4. 1836 RUPERT SPENCER (m. Mary Ann ROSS)
5. Jul 7, 1837 MARY ELIZABETH SPENCER (m. John GARTON)
6.  Jun 11, 1839 MILES SPENCER (m. Edith McLAREN)
7. May 4, 1841 SARAH SPENCER (m. Joseph William CARTWRIGHT)
8. 1845 CHARLES ALEXANDER SPENCER (m. Sarah Ann Elizabeth TRUTHWAITE)