MATTHEW TRUTHWAITE (1753-1793)
ELIZABETH POCATHEA (1770-?)
(Last Updated: July 18, 2015)
Matthew TRUTHWAITE was born around 1753 in St Marylebone, Middlesex, England (vicinity of London).
On Apr 17, 1782, Matthew signed a five year contract to serve with the Hudson's Bay Company (HBC) as a "Joiner" (Carpenter). His salary was to be £25 per annum. That summer he set sail from England, bound for Fort Albany on James Bay.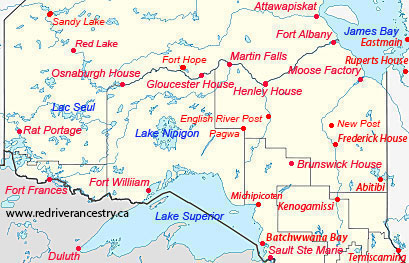 The French Capture (briefly) Churchill and York Factory
Matthew TRUTHWAITE arrives at Albany
1782
On Aug 13, 1782 Jean Francois LA PEROUSE (born 1741, a French Naval Officer and Explorer) captured and destroyed Prince of Wales Fort (Churchill) then under Governor Samuel HEARNE (1745-1792) who was taken prisoner. Soon after, York Factory surrendered without a fight. John's previous boss, Humphrey MARTEN (1729-1792), was also taken prisoner.
On Sep 10, 1782, perhaps unaware that La PEROUSE had captured Churchill and York Factory the previous month, Chief Factor HUTCHINS left Albany for good. It seems very likely that Matthew TRUTHWAITE arrive at Albany aboard the same ship on which HUTCHINS departed.
Much anxiety followed over whether the French would attack other English forts (like Albany) and whether the HBC ships would arrive in the summer of 1783. HUTCHIN's successor at Albany was Edward JARVIS. As chief JARVIS advocated a policy of inland expansion, supporting the establishment of posts in order to "distress the North West Company (NWC) and cut their Communication with the Interior Country where their whole trade is Carried on."  In keeping with this strategy, JARVIS sent Matthew TRUTWAITE up river to Henley House where the man in charge was John KIPLING (1724-1794).
** MORE ABOUT JOHN KIPLING
Gloucester House
On Oct 10, 1782 Matthew arrived at Henley House. Three days later he set off for Gloucester with John KIPLING, but they were forced to return to Henley on Oct 17 due to river conditions.  On Nov 19, they set out once more with 6 sledges, arriving at Gloucester on Dec 15, 1872. For the next few years Matthew worked there as a carpenter there. At that time James SUTHERLAND (1751-1797) was Second in Command (to KIPLING) at Gloucester House.
Matthew and Elizabeth POCATHEA
1785
By 1785 Matthew was in a connubial relationship with an Indian woman named Elizabeth POCATHEA. According to Sprague & Frye, Elizabeth was born around 1770 which means she was only in her mid-teens when she became Matthew's wife (not unusual in those days). Their first child, Edward, was born on Christmas Eve that year. About a year later, 1786, son Jacob was born. It is believed that Elizabeth may have been a sister-in-law of John KIPLING.  ** See my Notes at the bottom of this page.
Matthew was left in charge of Gloucester House in August of 1788, while John KIPLING went to Albany Fort. He was again left in charge during the summers of 1789 and 1790. 
During the winter of 1791-92 John KIPLING was "struck with strokes" and in the spring he was discharged and went home to England,.leaving Matthew as the Master of Gloucester House  KIPLING apparently took Matthew's son (Edward TRUTHWAITE) with him. Edward was baptised at St Mary's Church, Marylebone, London, on Nov 12, 1792.
It was probably around 1792-93 that Matthew's daughter Mary was born.
Matthew TRUTHWAITE dies at Fort Albany
1793
On Jan 24, 1793 Matthew TRUTHWAITE was confined to bed after "a severe fit of sickness" and he died on Feb 18, that year at Fort Albany.
On May 3, 1793in England John KIPLING made his Will. At the end of the same month, he boarded the King George at London, arrived back at Albany on Sept 8, 1793. He then fell very ill, and died on Nov 18, 1794. 
After Matthew died it seems likely that his son Edward (about eight years old) was in England being educated; he most likely remained there after his father died. This left Elizabeth with baby Mary and seven year old Jacob.
It would seem that Widow Elizabeth POCATHEA was only in her early to mid-twenties when Matthew died, young enough to have perhaps remarried. I have no further information about her.
Around 1800 son Jacob (in his mid-teens) began to work as a carpenter for the HBC at Fort Albany. He later worked as a voyageur, interpreter and eventually an Assistant Trader in the Southern Department. It was about 1815 at Brandon House that Jacob married Elizabeth VINCENT, daughter of Jane RENTON & Thomas VINCENT (1776-1832), Governor "Locum tenens" (temporary) at Moose Factory, Southern Department. ** MORE ABOUT THOMAS VINCENT
It was also around 1815 that daughter Mary married George MOORE (1776-1846), an HBC canoe builder from Moose Factory.
Please post comments & queries at this link: FORUM DISCUSSING the MATTHEW TRUTHWAITE FAMILY
========================== Family Details ==========================
Children:
1. Dec 24, 1785 EDWARD TRUTHWAITE
2. 1786 JACOB TRUTHWAITE (m. Elizabeth VINCENT)
** MORE ABOUT JACOB TRUTHWAITE
3. c1792 MARY TRUTHWAITE (m. George MOORE)
========================== Notes & References ==========================
Quite a few years ago I communicated with Rod McQuarrie, also known as Rupertslander, a well known and respected genealogist. I asked him if he knew more about the relationships between John KIPLING and Matthew TRUTHWAITE. Following is a quote from one of his replies:
"The statement in KIPLING's Will, calling him "brother" is problematic. TRUTHWAITE seems to have been quite unrelated to KIPLING, at least before TRUTHWAITE joined the HBC. His home parish was St Marylebone in the heart of London.  The statement has been interpreted, notably by HBCA people, who made up service cards (but which contain many errors) as meaning that TRUTHWAITE was KIPLING's brother-in-law.  This could be so, if TRUTHWAITE's wife POCATHEA was a sister to KIPLING's New World Wife.  But "brother" could also be figurative, could refer to Matthew's status as fellow-master at Gloucester House, or could even be brother in a religious sense, as the will may have been prepared by Quaker brethren.  In short, the statement in the will does not, by itself, prove a family relationship. It seems to me that the will is remarkable for not making any provision for KIPLING's New World family at all. KIPLING seems to have been anxious to keep that family hidden. So I don't think he'd want anyone to know that Matthew TRUTHWAITE was his brother-in-law, because of the questions that would raise. I suspect that the bequest to TRUTHWAITE and the care of TRUTHWAITE's son was part of a reciprocal arrangement. KIPLING expected to rely upon TRUTHWAITE to provide for the KIPLING children in the New World.  If so, it came to nought, as Matthew died before John KIPLING did, and didn't get a chance to do anything for the KIPLING children. (TRUTHWAITE died at Gloucester House on Feb 18, 1793)