THOMAS VINCENT (1776-1832)
JANE RENTON (1782-1858)
JANE SUTHERLAND (1796-1832)
(Last Updated: July 18, 2015)
Thomas VINCENT was born 1776 in Edmonton, Middlesex, England.
** MORE ABOUT THOMAS VINCENT in DCBO by Jennifer Brown
Albany District
1790-1797
On May 5, 1790, Thomas entered the service of the Hudson's Bay Company (HBC). His first year was spent at Fort Albany, and his second (1791) at Henley House (near the junction of the Albany and Kenogami rivers) under John HODGSON (1796-1826). ** HBC ARCHIVES BIO FOR THOMAS VINCENT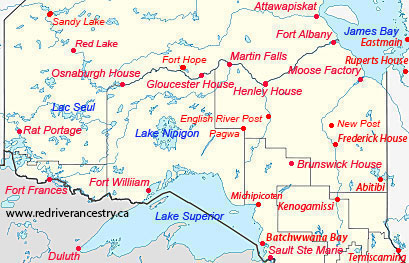 Fortunately the details about Thomas VINCENT's travels and exploits are well documented elsewhere, so the main focus of this narrative will be genealogical; his familial relationships and his descendants.
Marriage to Jane RENTON
1796
Around 1796 Thomas was married to Jane RENTON, the daughter of Hannah and William RENTON (1754-1798) from England, Chief Mate on the ship King George at the time he died of a stroke in 1798. 
HBCA:  In 1814-15 Thomas VINCENT was Governor "Locum tenens" (temporary) at Moose Factory, Southern Department.It was during this time that his daughter Elizabeth, barely in her teens, began a relationship with Jacob TRUTHWAITE, son of an Indian woman named Elizabeth POCATHEA and Englishman Matthew TRUTHWAITE (1753-1793), a carpenter with the Hudson's Bay Company (HBC). ** MORE ABOUT MATTHEW TRUTHWAITE
Thomas VINCENT and Jane SUTHERLAND
1817
Quote from"Many Tender Ties: by SylviaVan Kirk: Jane RENTON who had been the country wife of Albany officer Thomas VINCENT for many years was deeply wounded when, around 1817, her husband decided to take a second wife, a young widow named Jane SUTHERLAND. The response of the first wife, whose family was now grown up, was to promptly leave VINCENT and go to live with her relatives at Moose Factory. The censure of some of VINCENT's colleagues was not enough to make him repent his action, but he did have enough sense of moral responsibility to make financial provision for both his wives.
HBCA: In 1817 charges laid against him, including "that you have separated from the woman with whom you have been living & by whom you have had a family of children, & have taken another man's wife to live with you"
Jane SUTHERLAND, was allegedly the daughter of a Cree woman and James SUTHERLAND (1751-1797), an HBC postmaster from the Orkneys.
It was around 1817 that daughter Harriet became the wife of David Ramsay STEWARTat Moose Factory, an HBC clerk born about 1786 in Aberdeen, Scotland.
Union of the North West Company and the HBC
1821
In 1821 the union of the North West Company (NWC) and the Hudson's Bay Company (HBC) occurred, ending the years of bitter rivalry for dominance of the fur trade in Western Canada.
Around 1823 son John married Charlotte THOMAS in the Albany district, daughter of Catherine BEST and William THOMAS (1780-1818). ** MORE ABOUT WILLIAM THOMAS
In 1827 daughter Jane married Edward CHAMBERS (1797-1892) at Moose Factory, an HBC voyageur from the Orkneys.
Around 1827 daughter Harriet, abandoned by her husband David RAMSAY, became the wife of George GLADMAN at Moose Fort, the son of Mary MOAR and George GLADMAN SR (1765-1821), an HBC Postmaster from England.
Thomas VINCENT retires and dies in England
1826-1832
On Jun 1, 1826 Thomas VINCENT retired, and that autumn he returned to England on the Camden.
On Mar 30, 1832 Thomas VINCENT died in Durham, Hartlespool, England.
In his will of 1826 Vincent described Jane SUTHERLAND as his wife. She apparently predeceased him, however, for his final will, dated Hartlepool, County Durham, 24 March 1832, made no reference to her but left legacies to his children and stepchildren and to Jane RENTON, who was later described as his widow. Jane RENTON lived for many years with George GLADMAN's widowed mother at Moose Factory, where James HARGRAVE in 1837 described them as "without flattery two of the most respectable Ladies I have met in this land." She died there in September 1858 at age 76 and was buried as Mrs. Jane VINCENT.
Around 1838 daughter Mary became the second wife of James PEEBLES in St Andrews Parish (Red River), the son of Mary (Indian) and James PEEBLES SR (1780-1840) from the Orkneys of Scotland.
** MORE ABOUT JAMES PEEBLES SR
On Sep 17, 1858 Jane (nee RENTON) VINCENT died in Moose Factory at the age of 76.
Comments and queries at this link: FORUM DISCUSSING THOMAS VINCENT and his DESCENDANTS
============================ Family Details ============================
Children of Thomas and Jane RENTON:
1. Jul 15, 1797 JOHN VINCENT (m. Charlotte THOMAS)
2. 1798 HARRIET VINCENT (m1. David Ramsay STEWART, m2. George GLADMAN)
3. 1802 ELIZABETH VINCENT (m. Jacob TRUTHWAITE)
** MORE ABOUT JACOB TRUTHWAITE
4. 1806 JANE VINCENT (m. Edward CHAMBERS)
5. before 1810 JAMES VINCENT
6. Jan 18, 1810 THOMAS VINCENT
7. 1812 MARY VINCENT (m. William PEEBLES)
Son or Step-son (?) with Jane SUTHERLAND:
1. JOHN SUTHERLAND