WILLIAM THOMAS (1780-1818)
CATHERINE BEST (c1780-?)
(Last Updated: July 18, 2015)
William THOMAS was born around 1780 in Hornsey, Middlesex, England.
In the Service of the Hudson's Bay Company
1797
On March 27, 1797 William began his career with the Hudsson's Bay Company (HBC) as a "Writer" at Fort Albany on James Bay. ** MORE ABOUT WILLIAM THOMAS in HBC Archives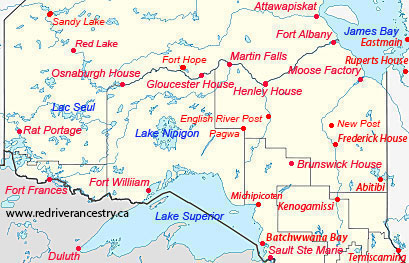 In 1797 when 17 year old William THOMAS first arrived at Fort Albany. Governor John McNAB (1755-1820) was the Chief Factor in charge there. In 1800 McNAB was succeeded by John HODGSON (1763-1826).
William & Catherine BEST
1800
Around 1800 William began a connubial relationship with Catherine BEST, daughter of an Indian woman and John BEST (1754-), a Scotchman who was then an HBC Carpenter and Post Master at Osnaburgh House on Lake St Joseph, the farthest inland HBC post on the Albany River at that time.Son Richard was born around that time.
William spent summer of 1803 at Osnaburgh House. It was around this time that daughter Eleanor was born. That fall father-in-law John BEST retired from service and left the country.
For the next seven years William was in charge of numerous posts in the Albany District, including Lac Seul, Red Lake, Eagle Lake (also called Lake Sanderson), Thunder Lake, Sandy Narrows (also called Lake Saunders) and back to Osnaburgh.
From Aug 19, 1808 to Sep 14, 1809, son Richard (age 9) appears on the list of children in the school at Albany (HBCA).
HBC Restructured
1810
In 1810 the HBC divided Rupert's Land into two new jurisdictions, the Northern and Southern Departments. William AULD (1770-1830) was appointed Superintendant of the Northern Department (Churchill, York Factory, Winnipeg and Saskatchewan Districts). Thomas THOMAS (1765-1828) was appointed Superintendant of the Southern Department (Fort Albany, Moose Factory and Eastmain Factory). That year, John HODGSON was replaced by Englishman Thomas VINCENT (1776-1832) as the Chief Factor in charge of the Albany District.
By 1810 two more children were added to William's family, Charlotte and Mathilda.
Osnaburgh House
1813-1814
From 1813 to 1818 William was Second (to Thomas VINCENT) at Albany; District Master at Osnaburgh; and Chief & Master at Marten Falls and Gloucester House. He spent the winter of 1814-15 as the Chief Factor at Attiwapiskat Lake.
In 1815 teenage son Richard began his career with the HBC as a Labourer and Hunter at Marten Falls and Albany. By this time two more daughters had been added to William's family, Catherine and Nancy.
Albany Inland District
1815-1818
William spent his last three years of service in the Albany Inland District, mainly at Gloucester House.
William dies in England
1818
On Sep 4, 1818 William returned to England where on Nov 27 that year he died in Pentonville County, London. William would have been only about 38 years old when he died. Widow Catherine would have been around the same age.  
Around 1820 eldest son Richard (about 20 years old) moved to Moose Factory where he began a relationship with Eleanor THOMAS, daughter of MEENISH & John THOMAS (1784-1816), step-daughter of Richard STEVENS (1796-1872).
** MORE ABOUT JOHN THOMAS
** MORE ABOUT RICHARD STEVENS
Around 1823 daughter Charlotte became the wife of John VINCENT (1797-1874) in the Albany District, son of Jane RENTON & Thomas VINCENT (1776-1832). ** MORE ABOUT THOMAS VINCENT
By 1824 daughter Eleanor was the wife of William LINKLATER.
 In the early 1830's daughter Matilda married Thomas MOORE, and daughter Nancy married John MOORE, both sons of Mary & Andrew MOAR aka MOORE (1767-1846) from the Orkneys.
Around 1836 daughter Catherine became the wife of Thomas COOPER (1810-1846), a Scotchman.
I have no information as to when or where Catherine BEST-THOMAS died. One uncorroborated reference indicates she died in 1861.
Post comments and queries about this family here: FORUM DISCUSSING the WILLIAM THOMAS FAMILY
========================= Family Details =========================
Children:
1. c1800 RICHARD THOMAS (m. Eleanor THOMAS)
** MORE ABOUT RICHARD THOMAS
2. c1803 ELEANOR THOMAS (m. Willam LINKLATER)
3. 1805 CHARLOTTE THOMAS (m. John VINCENT)
4. c1810 MATILDA THOMAS (m. Frank (Thomas) MOAR)
5. 1813 CATHERINE THOMAS (m1. Thomas COOPER, m2. Richard SMITH)
6. c1818 NANCY ANN THOMAS (m. John MOAR aka MOORE)
** MORE ABOUT JOHN MOAR aka MOORE