EDWARD MOWAT (1786-1857)
MARGARET (Indian) (c1800-1876)
(Last Updated: September 28, 2014)
Edward MOWAT was born around 1786 in Orphir, Scotland.
Edward recruited by the Hudson's Bay Company
Churchill River District
1806
Recruited by the Hudson's Bay Company (HBC) in 1806, Edward sailed from the Orkneys of Scotland to Fort Churchill aboard the King George.
Nelson House
Marriage to Margaret STEWART
1810-1820
From 1810 to 1823 Edward was assigned to Nelson House; first as a labourer until 1817 when he was made "second trader" in the New Churchill District.
It was around 1820 that Edward was united with an Indian woman named Margaret. ** Some sources refer to her as Margaret STEWART, but that has yet to be substantiated.
Early HBC Trading Posts
Union of the North West Company with the Hudson's Bay Company
1821
In 1821 the union of the North West Company (NWC) and the Hudson's Bay Company (HBC) occurred, ending the years of bitter rivalry for dominance of the fur trade in Western Canada. George SIMPSON (1786-1860) became the Governor of Rupert's Land.
Edward MOWAT was still at Nelson House when the union occurred, and from 1824 until he retired he was described as an Interpreter (In Charge) there.
Norway House
1827-1833
In 1827 Edward retired to Red River as a colonist. As a retiree he would have been offered free land. However it seems that farming wasn't a priority for him. Instead, we find him as one of the 'freemen' who had been living at the old Norway House site.
On Sep 12, 1827 Edward arrived back at the New Norway House post where he was immediately re-engaged for HBC service by Chief Factor John McLEOD (1788-1849) and assigned the job of a fisherman for the Company. In 1830 McLEOD was replaced by Donald ROSS (1798-1852) as Chief Factor.
Red River – St Andrews Parish
1833
In 1833 Edward was again retired as a 'freeman' to the Red River Settlement.
On Sep 19, 1834 Reverend William COCKRAN (1798-1865) baptized Edward MOWAT and all of his nine children (birth-dates only approximate): John and Thomas (both around 12-13 years old), Jane (age 10), Margaret (8). David (6), Robert (4); and Charlotte, Edward and Rebecca (all born in the early 1830's). ** Birth-dates are under review and reliable details are hard to find. Help would be appreciated.
** MORE ABOUT REVEREND WILLIAM COCKRAN in DCBO

On Dec 13, 1838.Edward MOWAT was church-wed to his Indian wife Margaret.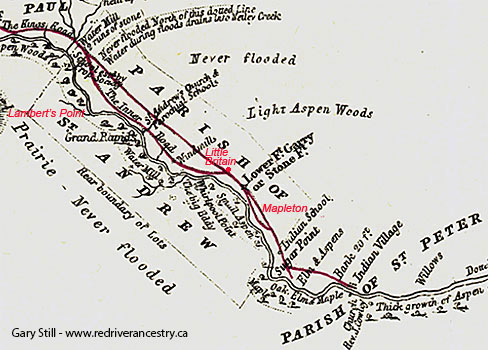 St Andrews Parish from Hind's Map of 1857
Around 1845 son Thomas married Mary TRUTHWAITE in St Andrews, daughter of Elizabeth VINCENT and Jacob TRUTHWAITE (1786-1873). ** MORE ABOUT JACOB TRUTHWAITE
Also around 1845 daughter Margaret married William McDONALD, son of Jean BEAUDRY and Donald McDONALD (1794-1876), an HBC voyageur from Scotland.
On May 19, 1846, interestingly, a Catherine ATKINSON was baptized as an adopted daughter of Margaret & Edward. So far unable to determine who her birth-parents were.
Around 1848 daughter Charlotte married William SMITH, son of Mary INDIAN & John James SMITH (1791-1850).
** MORE ABOUT JOHN JAMES SMITH
Around 1855 son Robert married Charlotte FIRTH, and daughter Jane married Charles FIRTH in St Andrews, both children of Eliza BOUCHER and Thomas FIRTH (1794-1875), an HBC voyageur from Scotland.
Around 1856 son Edward married Jane NORQUAY, daughter of Isabella TRUTHWAITE and John NORQUAY (1810-1849). ** MORE ABOUT JOHN NORQUAY
On Mar 17, 1857 Edward MOWAT died in St Andrews.
In 1857 son David married his sister-in-law, Catherine SMITH in St Andrews, daughter of Mary (Indian) and the aforementioned John James SMITH (1791-1850).
On Oct 17, 1876 Margaret (nee STEWART?) MOWAT died in St Andrews.
Comments and queries at this link: FORUM DISCUSSING this EDWARD MOWAT FAMILY
========================== Family Details ==========================
Children:
1. 1820 JOHN MOWAT
2. 1821 THOMAS MOWAT (m. Mary TRUTHWAITE)
3. Jun 17, 1823 JANE MOWAT (m. Charles FIRTH)
4. 1825 MARGARET MOWAT (m. William McDONALD)
5. 1827 DAVID MOWAT (m. Catherine SMITH)
6. 1829 ROBERT MOWAT (m. Charlotte FIRTH)
7. c1830 CHARLOTTE MOWAT (m. William SMITH)
8. c1830 EDWARD MOWAT (m. Jane NORQUAY)
9. c1830 REBECCA MOWAT