WILLIAM SMITH (1828-1884)
CHARLOTTE MOWAT (1830-1865)
LOUISA THOMAS (1828-1910)
(Last Updated: September 28, 2014)
William SMITH was born 1828 in St Andrews Parish (the Little Britain area), son of an Indian woman named Mary and John James SMITH (1791-1850), a retired Hudson's Bay Company (HBC) trader who was born in England.
** MORE ABOUT JOHN JAMES SMITH
In 1832 William's Indian mother Mary died when he was only four years old. Around 1835 his father re-married to Nancy FAVEL, a half-breed woman from the St Peters area, daughter of Jenny-Jane "Pawpitch" and Humphrey Martin FAVEL (1775-1850).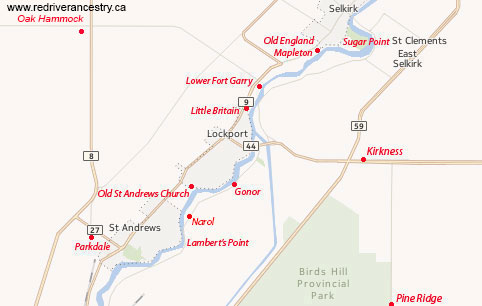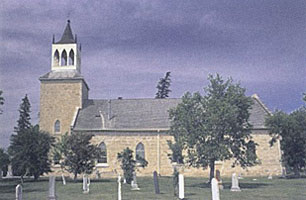 The Old St Andrews Church on the Red River
Marriage to Charlotte MOWAT
1848
Around 1848 William married Charlotte MOWAT, in St Andrews, daughter of Margaret (Indian) and Edward MOWAT (1786-1857), a retired HBC employee from the Orkneys of Scotland. ** MORE ABOUT EDWARD MOWAT
Charlotte died in 1865 after leaving seven children: William(age 14), Catherine (13), Jane Mary (11), John James (9), Edward (7), Joseph (5) and Thomas (age 2).
William re-marries to Louisa THOMAS
1866
On July 25, 1866 William re-married to Louisa THOMAS in Little Britain, daughter of Eleanor THOMAS and Richard THOMAS (1800-1861). ** MORE ABOUT RICHARD THOMAS
Canadian Confederation
Red River Metis Rebellion
John Marries Margaret FOLSTER
Manitoba becomes a Province
1867-1870
On July 1, 1867 the British colonies in North America were united under the British North American Act to become the Dominion of Canada. Sir John A MACDONALD (1815-1891) was appointed as Canada's first Prime Minister. William McDOUGALL (1822-1905) became the Minister of Public Works, and he began negotiations to acquire Rupert's Land from the HBC. Surveyors were sent out to prepare the way for an expected influx of settlers.
On Oct 11, 1869, Louis RIEL (1844-1885) placed his foot on the surveyors' chain to tell them their work was finished. This marked the beginning of a Red River Métis Rebellion.
** MORE ABOUT THE RED RIVER REBELLION in WIKIPEDIA
On July 15,1870 Manitoba became the fifth province of Canada, the Canadian Government having acquired the territory previously governed by the HBC. The Rebellion was essentially over.
In 1870 William and his family were recorded on River Lot 102 in St Andrews Parish. This lot runs along the north side of the Lockport Road that crosses the Lockport Bridge. Children were recorded as William Jr. (age 20), Catherine (18), John (16), Jane (15), Edward (13), Joseph (11), Helene (Eleanor) (6), Richard (3), Matilda (2) and Henry (age 1).
In 1871 eldest son William Jr. married Mary McKAY in St Andrews, daughter of Mary ENGLAND and John McKAY (1816-1922). ** MORE ABOUT JOHN McKAY
In 1881 son Joseph married Jane PRUDEN in St Andrews, daughter of Maria FIDLER and William Albert PRUDEN (1832-1890). ** MORE ABOUT WILLIAM ALBERT PRUDEN
Census of St Andrews Parish in 1881: William SMITH, age 53; wife Louisa, age 52. Children at home: John James(age 25), Edward (22), Jane (20), Joseph (20), Thomas (17), Helena (14), Richard (12) and Matilda (age 11).
On June 15, 1882the Town of Selkirk was incorporated.
On Apr 18, 1884 William SMITH died in St Andrews (Lockport).
In the 1891 Census of St Andrews, Widow Louisa SMITH was recorded as 59 years old. With here were her step-sons, John James (age 38) and Edward (age 36), and her children Eleanor (age 23), Richard (22) and Matilda (age 20).
Around 1894 daughter Eleanor married Thomas SINCLAIR, son of Sarah WALLER and William SINCLAIR (1838-1924).
In 1901 Widow Louisa SMITH (age 55) was recorded with her daughter and son-in-law, Eleanor and Thomas SINCLAIR in the Tyndall area.
On Sep 1, 1910 Widow Louisa SMITH died in the Tyndall area at the age of 85 (Vital Stats).
Comments and queries at this link: FORUM DISCUSSING the WILLIAM SMITH FAMILY
========================== Family Details ==========================
Children by Charlotte MOWAT:
1. 1852 WILLIAM SMITH JR (m. Mary McKAY)
2. Mar 11, 1852 (bapt) CATHERINE SMITH
3. Mar 30, 1854 (bapt) JANE MARY SMITH
4. Apr 23, 1856JOHN JAMES SMITH
5. Mar 18, 1858 EDWARD SMITH
6. Apr 13, 1860 JOSEPH SMITH (m. Jane PRUDEN)
7. Jul 23, 1863 THOMAS SMITH
Children by Louisa THOMAS:  
1. Sep 6, 1867 (bapt) ELEANOR "NELLIE, HELENE" SMITH (m. Thomas SINCLAIR)
2. Oct 29, 1868 RICHARD SMITH
3. 1869 HENRI/ HENRY SMITH
4. Aug 28, 1870 (bapt) MATILDA HARRIET SMITH