SIDNEY "SID" PALMER (1871-1949)
CAROLINE  BRIFFET (1867-1906)
RACHEL HARRIOT "HATTIE" PRUDEN (1881-1961)
(Last Updated: August 14, 2017)
Sidney "Sid" PALMER was born in Over Stowey (Somerset), England in 1871, son of Susanna WARE & Daniel PALMER (1834-1891).
Marriage to Caroline BRIFFET
1894
On Christmas Day, 1894, Sid married Caroline BRIFFET, also born in England, the daughter of Mary Ann DAVIS and Nathaniel BRIFFET (1836-1869).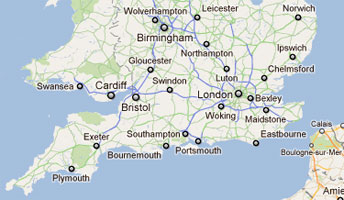 Over Stowey and Somerset are both located SW of Bristol
Census of 1901 in Cockercombe, Over Stowey, Englsnd: Sidney PALMER, farm laborer, age 32; wife Caroline, age 32. Children: Annie (age 7), Valentine (3) and Evelina (age 1).
Immigration from England to Selkirk, Manitoba
Caroline Dies
1906
 By 1906 Sid and Caroline had emigrated from England to Canada with their three children. They were recorded in the census that year on McLean Avenue in Selkirk (Manitoba) with their children: Annie (age 12), Valentine (age 8) and Evelyn (age 6). On Nov 23, 1906 Caroline (nee BRIFFET) PALMER died at the young age of 38.
Marriage to Harriet PRUDEN
1907
On Oct 23, 1907 Sid PALMER married in Selkirk to Rachel Harriet "Hattie" PRUDEN, daughter of Mary ISBISTER & John Edward PRUDEN (1839-1904). ** MORE ABOUT JOHN EDWARD PRUDEN
When the Census was taken in 1911 Sid & Hattie were enumerated on Eveline Street (north extension of River Road on map below) in Selkirk with the following children: Valentine (age 13), William J (5), Annie (18), Eva (12), Mabel (5) and Rose May (age 3).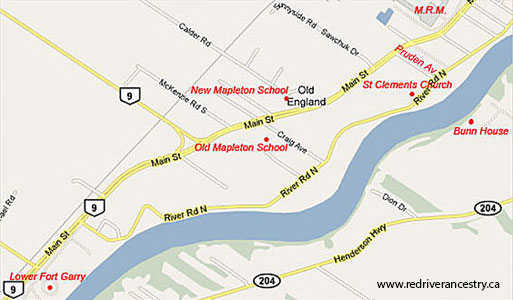 In 1912 daughter Annie married Joseph Henry PRUDEN in Winnipeg, son of Elizabeth DUFRESNE and John James PRUDEN (1867-1924).
World War I
1914-1919
On Aug 4, 1914Great Britain (Canada on Aug 5) declared war on Germany and Austria-Hungary to uphold treaties with France and Belgium which were under German attack. This marked the beginning of World War I.
On June 4, 1915 son Valentine enlisted for War service in Winnipeg (61st Overseas Battalion).
In 1916 daughter Evelyn married Robert Benjamin WOOLLARD in Selkirk, son of Annie Amelia and Robert Benjamin WOOLLARD SR (1872-1962) from England. Robert WOOLLARD Jr. was living in Lac du Bonnet, and prior to his marriage to Evelyn he had enlisted for War Service in Selkirk.
Census of 1916, Lot 23 in St Andrews Parish: Sidney PALMER, age 45; wife Harriet, age 35. Children: Valentine (age 18), Evelyn (17), William J (12), Mabel Sybil (10), Rosie May (7), Lilian Lorna (2) and Margaret Fern (age 1). Lot 23 had been previously owned by Harriet's father (John Edward PRUDEN).
November 11,1919, Armistice Day (Remembrance Day) marked the end of the First World War.

Manitoba Rolling Mills c.1920
In 1915, Hugh Buxton LYALL (1877-1948), President of Manitoba Bridge & Engineering, and a renowned local benefactor, took up residence on River Road in the area near Lower Fort Garry known as Little Britain. Three years later (1918), he established the Manitoba Rolling Mills (MRM) at its current location on Lord Selkirk Way. In the spring of 1921the Rolling Mills commenced production at its new local blast furnace, said to be the first open hearth plant in this province. The plant comprises a 15-ton furnace, three 15-ton ladles, molds and other equipment. Sid PALMER was among the first men who were employed there.
In 1921 son Valentine married Mildred Theodore PRUDEN, daughter of Margaret Jane FOLSTER & Alexander Alfred PRUDEN (1876-1960).
Census of 1921, Lot 23 St Andrews Parish: Sidney PALMER, age 50; wife Harriet R, age 40. Children: William J (age 17), Mabel S (15), Rosie M (13), Lillian E (7), Margaret (5) and Violet M (age 1).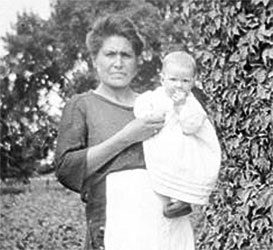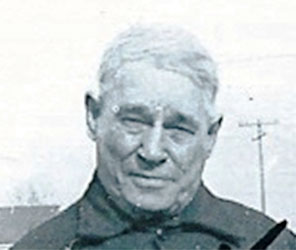 L: Harriet holding baby Mildred Hamon - R: Sidney Palmer
(From Trevor Hamon and Pruden Website)
In 1924 daughter Mabel married Marion LeGrande WAGNER in Winnipeg, son of Handy Belle JONES & Cornelius WAGNER (1858-1937).
In 1926 Hattie's mother (Widow Mary ISBISTER-PRUDEN) died. At that time she was living in Mapleton with her son (Bert PRUDEN) and his family. In 1931 Bert PRUDEN died. It was probably around that time that Sid PALMER moved to Mapleton (Pruden Avenue) where he and Hattie would spend the rest of their days.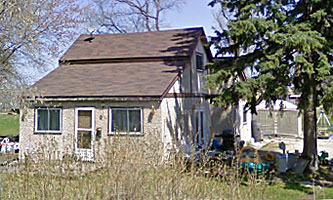 The old Palmer house on Pruden Avenue (Lot 23)
In 1932 daughter Lillian married Johann "Joe" MAGNUSSON (1910-1966).
World War II
1939-1945
On Sept 4, 1939 Canada and Britain declared war on Germany, and almost immediately new recruits began pouring into Winnipeg to sign up with the Winnipeg Grenadiers and the Royal Rifles of Canada.
Perhaps around 1940 daughter Margaret married Barney FREEMAN in Selkirk, son of Annie SEEVERT and Barney FREEMAN SR (1875-1938) from Iceland, a dredge master.
A plaque in the St Clements Parish Hall (Roll of Honour) for Second World War included H.L. Allen PALMER.
In 1942 daughter Marie married Douglas KITCHEN at St Clements Church in Mapleton, the son of Sarah WALMSLEY and Henry KITCHEN (1875-1965) from England.
On May 7, 1945 Germany surrendered and the War in Europe ended; the next day, May 8, is declared VE Day. On August 14, 1945 Japan surrendered - VJ Day. The Second World War was officially over.
On Aug 27, 1948 Sid PALMER died at the Selkirk General Hospital at the age of 79. Four days later his obituary appeared in the Winnipeg Free Press verifying much of the above information. His surviving children were as follows: Mrs. H PRUDEN (Annie) and Mrs. R.B. WOOLLARD (Evelyn) both of Winnipeg; Mrs. M.L. WAGGNER(Mabel WAGNER) of New Westminster, BC, Mrs Joe MAGNUSSON(Lillian), Mrs. B. KITCHEN (Marie) and Miss Rose PALMER, all of Mapleton, and Mrs. Barney FREEMAN (Margaret) of Selkirk; 25 grandchildren and 14 great-grandchildren. The funeral services were conducted by Rev. R.S. MONTGOMERY (1885-1973) at St Clements Church; burial was in the family plot in St Clements Churchyard, Mapleton. ** MORE ABOUT REV. R.S. MONTGOMERY
On Aug 26, 1961 Hattie (nee PRUDEN) PALMER died at her residence on Pruden Avenue, at the age of 80.
Comments and queries at this link: FORUM DISCUSSING the SID PALMER FAMILY
============================ Family Details ============================
Children by Caroline BRIFFET:
1. Mar 12, 1894 ANNIE BRIFFET PALMER (m. Joseph Henry PRUDEN)
2. Apr 14, 1896 WILLIAM EDMUND WARE PALMER (Died in infancy)
3. Feb 14, 1898 VALENTINE SIDNEY PALMER (m. Mildred Theodora PRUDEN)
4. Dec, 1899 EVELYN (EVA LENA) PALMER (m. Robert Benjamin WOOLLARD)
Children by Hattie PRUDEN:
1. 1905 WILLIAM JAMES "BILL" PALMER (m. Rosalie UNKNOWN)
2. Mar, 1906 MABEL SYBIL PALMER (m. Marion LeGrande WAGNER)
3. July 29, 1908 ROSE MAY PALMER (Never married)
4. 1914 LILLIAN LORNA PALMER (m. Johann "Joe" MAGNUSSON)
5. 1915 MARGARET FERN PALMER (m. Barney FREEMAN)
6. 1920 VIOLET MARIE PALMER (m. Douglas KITCHEN)
7. 1922 ALLEN HERBERT LIONEL PALMER (m. Mina Kathleen (nee SINCLAIR) FAVEL)