LOUIS KWARAKWANTE "KARHIIO" CALLIHOO (1782-1854)
MARIE KATIS la Sekanaise (1793-)
JOSEPHTE PATENAUDE
MARIE ANNE TEKONWAKWEHINNI PATENAUDE (1803-1854)
(Last Updated: October 11, 2014)
On Oct 17, 1782 Louis CALLIHOO aka KWARAKWANTI was born in the Iroquois Village of Caughnawaga near Montreal, son of Marie Anne TEKOUWAKWEHINNI and Thomas Anatoha KANAKONME (1750-1854).
Surname Variations: KWARAKWANTE, KARACONTI, KARAKONTI, CALLIHOO, CALIHUE, CALLIOUX, CAHILHEUE
This is another one of those genealogist's nightmares where confusing and conflicting information is presented to us from countless sources. I have listed a few of these (with Links) under Notes & References at the bottom of this narrative. For more details about Louis' travels, please refer to those sources. The main purpose of this narrative is to provide a basis for discussing his descendants.
I look forward to debate and discussions on the Forum (Link provided below). Perhaps we can iron out some of the kinks and come up with some really solid pieces of evidence.
This narrative will be updated and revised whenever significant new information is discovered and important facts are brought forward.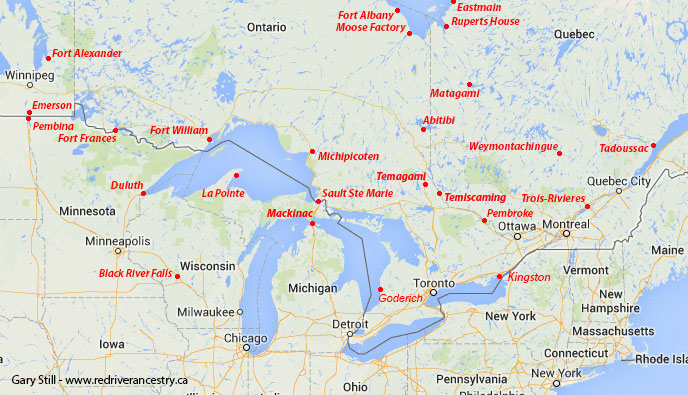 Caughnawaga is located near Montreal (to the southwest)
Hired by the North West Company
1800
Nicks: A Louis CAHILHEUE of Sault-Saint-Louis was hired in 1800 by McTavish, Frobisher and Company, agents for the North West Company (NWC), to winter in the north for two years.

The North West Company (NWC): The term 'Nor'Westers' was commonly used in reference to 'Wintering Partners' of the North West Company with a head office in Montreal and an operational headquarters at Fort William. In the late summer and fall the Nor'Westers hired voyageurs to load up their canoes with trade goods and proceeded to their remote posts in the great Northwest Territories where they traded them for furs during the winter. In the spring and summer the furs were transported back east.
In 1800-01 the NWC built forts at both ends of Lesser Slave Lake. The one at the west end (now Grouard) was probably built by Angus Shaw, Shaw's Point name sake. Fort on east end (now Slave Lake, in the past called Sawridge) built due south of Dog Island and was the principal fort until 1817. ** MORE ABOUT ANGUS SHAW in WIKIPEDIA
In 1804 it is noted that 'a small group of Iroquois' arrived in the Grouard area to work for the fur traders.
Louis undoubtedly had associations with David THOMPSON (1770-1857), the famous explorer who in 1802 surveyed the ancient Cree Kinistineau War Trail from Grouard (west of Slave Lake) to Peace River. In 1810 THOMPSON conducted his historic Columbia Expedition. ** MORE ABOUT DAVID THOMPSON in DCBO
In 1804 Joseph Soldat CARDINAL (1756-1856) was an interpreter at Fort des Prairies (Edmonton). At that time CARDINAL was married to Lizette Louise FROBISHER, daughter of Charlotte JOBERT & Joseph FROBISHER (1748-1810).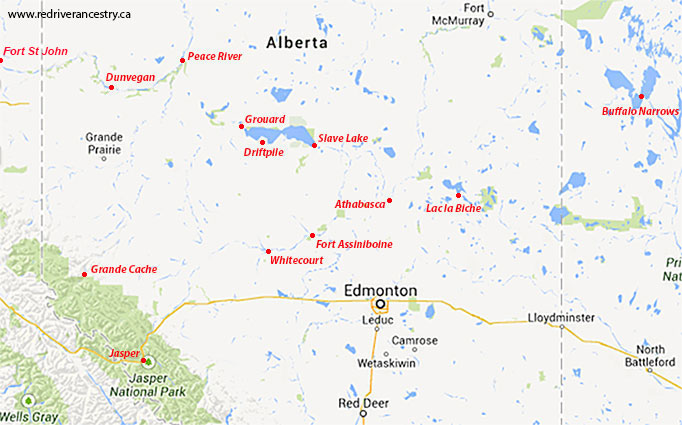 Louis and Marie KATIS
1807
By 1807 Louis had married a Sekanaise Indian woman named Mari KATIS of uncertain origins. After agonizing over the numerous convoluted versions of the CALLIHOO genealogy, I am beginning to wonder whether Marie KATIS la SEKANAISE and Marie TEKANAISE PATENAUDE may have been one and the same person.
Nicks: "CALLIHOO appears to have married two sisters from one of the Smoky River families of freemen. His first wife was Josephte PATENAUDE and his second was Marie PATENAUDE; with them he had two and seven recorded children, respectively, between 1822 and 1845." ** This statement conflicts with other sources. Nicks in his Bio offers very little genealogical information regarding his children, and only mentions sons Michel CALLIHOO and Felix CALLIHOO with no birthdates, etc.
In 1818 William Robert SMITH (1797-1869) was sent to build a new Fort Waterloo (HBC) at west end of Lesser Slave Lake on eastern shore of Buffalo Bay less than 200 meters from the North West Fort resulting in a spy network day and night by both forts to keep track of who was traded with, where, when and how much as well as supplies received. Psychological warfare such as this was started by the North West Company.
** MORE ABOUT WILLIAM ROBERT SMITH
By 1820 Louis CALLIHOO had four children: Louis Jr. (age 13), Agathe (9), Thomas (5) and baby Therese.
Union of the North West Company with the Hudson's Bay Company
1821
In 1821 the union of the North West Company (NWC) and the Hudson's Bay Company (HBC) occurred, ending the years of bitter rivalry for dominance of the fur trade in Western Canada. George SIMPSON (1786-1860) became the new Governor of Rupert's Land.
By 1830 Louis' children were presumed to be as follows: Louis Jr. (age 23), Agathe (19), Thomas (15), Therese (10), Josephte (8), Michel (7), Marie (4) and Suzanne (age 3).
In 1838 eldest daughter Agathe married Basile LAURENCE at Fort Carleton (SK), son of Marie Angelique DESROSIERS dit LAFRENIERE and Jean Baptiste LAURENCE (1763-1876).
Sometime after 1837-38 Louis and his family left Lesser Slave Lake and he became a 'colonist' and 'freeman' in the Saskatchewan District. These is a rather vague statements that generally refer to the Saskatchewan River region which covers a vast area. At that time, according to the HBC Archives, he was recorded with a wife, three sons and four daughters. This suggests that his oldest children were no longer with him. In 1838 the three sons would have been Michel (age 15), Ignace (age 9) and Jean Baptiste (age 6). The four daughters: Marie (age 13), Suzanne (10), Cecile (4) and Angelique (age 1).
Around 1840 son Thomas married Suzanne DESJARLAIS, daughter of Josephte CARDINAL and Joseph DESJARLAIS (1782-1854).
In 1841 their last child, Francoise was born at Jasper House.
In 1842 daughter Josephte married Charles BEAUREGARD from Quebec, son of Marie LAVASSEUR and Pierre BEAUREGARD (b-1786).

Louis Callihoo, 1842 at York Factory
(From Dierdre Webster)
1846
In April of 1846 at Jasper House, Father Pierre-Jean DE SMET (1801-1873) met "the old Iroquois, Louis KARAKONTE" who was there with his family comprising 36 people. ** MORE ABOUT FATHER DE SMET in DCBO

In 1846 daughter Therese (Francoise) married Francois BERLAND in Jasper, son of Suzanne NIPISSING and Jean Baptiste BERLAND aka BRELAND (b-1777).
In 1846 daughter Marie Marguerite married Louis PELLETIER dit CAMPBELL in Jasper, son of Marguerite CARDINAL and Pierre PELLETIER dit CAMPBELL of uncertain origins.
In 1846 son Michel married Marie SAVARD in Edmonton, daughter of Marie Anne VALLEE and Antoine SAVARD (1760-1832)
In 1846 daughter Suzanne married Joseph GRAY in Edmonton, son of Marie NIPISSING and Thomas GRAY (1785-1819).
Hard Times at Jasper House
Some of Louis' children move to Lac Ste Anne and Edmonton
1848
It is said that in the mid to late 1840s there was a shortage of food in the Jasper area for a fast growing population. In 1848 Colin FRASER (1805-1865) asked to be transferred from Jasper House, in part because provisioning the post was such a chore. William MOBERLY also commented on the desolation at Jasper, there were was "no game in the neighbourhood: the people were starving and making haste to leave the desolated place." ** Note: In 1857 Governor SIMPSON decided to close HBC operations at Jasper House, although a year later it was reopened with Henry John MOBERLY in charge, for the purpose of serving the "Iroquois, Metis and Freemen families living in the upper Athabasca River Valley."
By about 1848 many of Louis' children were married with families of their own, and they began moving to the Lac Ste Anne and the Edmonton areas where there would be better living conditions and more opportunities for their children. Old Louis himself apparently remained in the mountain country for the rest of his days (the Wilmore Wilderness area south of Grande Cache).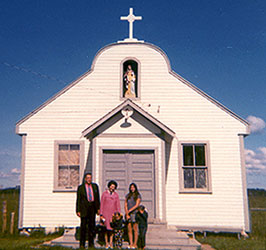 Lac Ste Anne Mission (From Christi Belcourt)
It was in 1842 that Father Jean Baptiste THIBAULT (1810-1879) established the first
Roman Catholic mission in Alberta at Lac Ste Anne.
** MORE ABOUT LAC STE ANNE in WIKIPEDIA
In 1848 daughter Marie Anne married Simon WANUT at Lac Ste Anne, son of Rosalie GLADU and Jean Baptiste WANUT of uncertain origins.
In 1848 daughter Cecile married Jean Baptiste BELCOURT in Lac Ste Anne, son of Catherine L'HIRONDELLE and Joseph BELCOURT (1786-1863). ** MORE ABOUT JOSEPH BELCOURT
In 1852 daughter Angelique married Louis LOYER (1831-1918) at Lac Ste Anne, son of Louise Genevieve JASPER and Louis Bonhomme LOYER (1803-1866).
In 1853 Father Albert LACOMBE (1827-1916) was stationed at Lsc Ste Anne. On Oct 16 that year he performed the marriage of the Elder Louis CALLIHOO to Marie KATIS la Sekanaise. Apparently at the same time he married Louis CALLIHOO JR to Marguerite CARDINAL b-1803, daughter of Louise (Lizette) FROBISHER and Joseph Soldat CARDINAL (1756-1854). ** MORE ABOUT ALBERT LACOMBE in DCBO

During his years at Lac Ste Anne, Father LACOMBE visited Jasper House, Fort Edmonton (Edmonton), Lac la Biche, Lesser Slave Lake, and Fort Dunvegan (Dunvegan).
In 1854 son Jean Baptiste married Angelique BRUNEAU at Lac Ste Anne, daughter of Suzanne (Saulteaux) and Jean Baptiste BRUNEAU (b-1795) of uncertain origins.
On Nov 30, 1854 Louis CALLIHOO died in the Wilmore Wilderness (south of Grande Cache).
In 1857 son Ignace married Marguerite BEAUDRY in Edmonton, daughter of Louise LADOUCEUR and Joseph BEAUDRY (1809-18I77).
Village Named St Albert
1861
By 1860 Lac Ste Anne was deemed unsuitable as a central mission, and in January 1861 Fathers TACHE and LACOMBE selected a new location a short distance north of Fort Edmonton. TACHE named it St Albert in honor of LACOMBE's patron saint.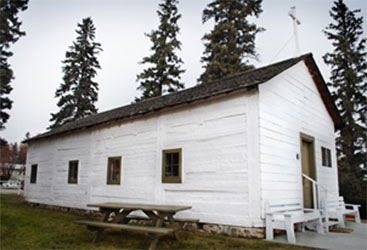 St Albert Mission on Mission Hill (built in 1861)

In 1870 widowed son Michel re-married to Philomene COLLINS, daughter of Genevieve BRUYERE and Richard COLLIN (1793-1865).

Comments and queries at this link:

FORUM DISCUSSING DESCENDANTS of LOUIS KWARAKWANTE CALLIHOO

=========================== Family Details ===========================

Children:
1. 1807 LOUIS CALLIHOO dit KARAKONTI (m1. Suzanne ATAWATOUS; m2. Marguerite CARDINAL)
2. 1811 AGATHE KARAKONTI dit CALLIHOO (m. Basile LAURENCE)
3. 1815 THOMAS KARACONTI CALLIHOO (m1. Suzanne DESJARLAIS, m2. Lizette, m3. Angelique FINLAY)
4. 1820 THERESE (FRANCOISE) CALLIHOO dit KARAKONTI (m. Francois BERLAND)
5. 1822 JOSEPHTE CALLIHOO (m. Charles BEAUREGARD)
6. Oct 1, 1823 MICHEL CALLIHOO (m1. Marie SAVARD; m2. Philomene COLLINS)
7. 1826 MARIE ANNE KARACONTI (m. Simon WANUT)
8. 1826 MARIE MARGUERITE CALLIHOO dit KARAKONTI (m. Louis CAMPBELL)
9. 1827 SUZANNE/ SUZETTE CALLIHOO (m. Joseph GRAY)
10. 1829 IGNACE (IROQUOIS) GAUCHER CALLIHOO dit KARAKONTI (m. Marguerite BEAUDRY)
11. 1832 JEAN BAPTISTE CALLIHOO (m. Angelique BRUNEAU)
12. 1834 CECILE CALLIHOO dit KARAKONTI (m. Jean Baptiste BELCOURT)
13. 1837 ANGELIQUE (ANGELE) CALLIHOO (m. Louis LOYER)


=========================== Notes & References ===========================

** MORE ABOUT LOUIS CALLIHOO in DCBO by Trudy Nicks
Note: The biography authored by Nicks is somewhat incomplete in that it speaks very little about Louis' earlier life, and doesn't even mention his first wife Marie KATIS. In that regard perhaps the best source of information comes from LARANCE Family Trees/.

** MORE ABOUT LOUIS CALLIHOO in HBC ARCHIVES

The book "The Sun Traveller" (The Story of the Callihoos in Alberta) by Elizabeth Macpherson.