JOSEPH BELCOURT (1786-1863)
CATHERINE L'HIRONDELLE (1793-1885)
(Last Updated: June 11, 2014)
Joseph BELCOURT was born around 1799 in Quebec.
In 1811 Joseph and Augustin BELCOURT (believed to be his older brother) both began to work for North West Company (NWC) in the Athabasca River District. ** MORE ABOUT JOSEPH BELCOURT in HBC ARCHIVES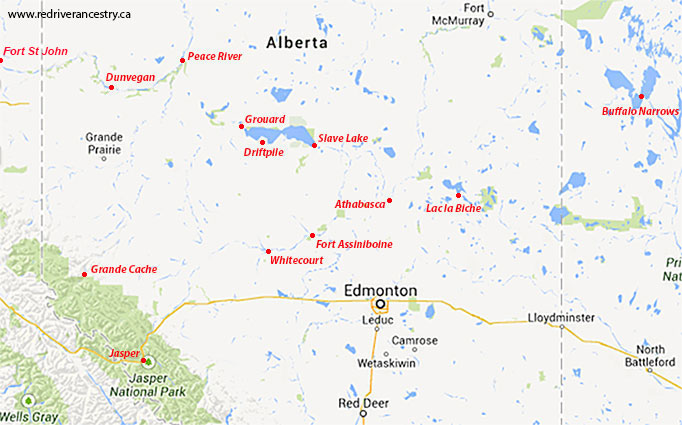 Joseph and Catherine L'HIRONDELLE
Lesser Slave Lake
1819
By about 1819 Joseph was married to Catherine L'HIRONDELLE, daughter of Josephte PILON and Jacques L'HIRONDELLE (1759-1854). Daughter Julie was born around that time at Lesser Slave Lake.
Union of the North West Company with the Hudson's Bay Company
1821
In 1821 the union of the North West Company (NWC) and the Hudson's Bay Company (HBC) occurred, ending the years of bitter rivalry for dominance of the fur trade in Western Canada. After the merger, almost 1,300 employees lost their jobs since the single HBC organization that emerged had no need for most of the voyageurs and fur traders. Joseph BELCOURT was retired on June 1, 1822.
After the HBC-NWC merger Joseph remained at Lesser Slave Lake, now as a 'freeman'.
In 1837-38 the HBC listed Joseph as a resident at Lesser Slave Lake, along with his three sons, Baptiste, Joseph Jr. and Alexis.
By about 1840 Joseph and his family had moved to Fort Edmonton or Fort-des-Prairies as it was called by French speaking voyageurs and trappers.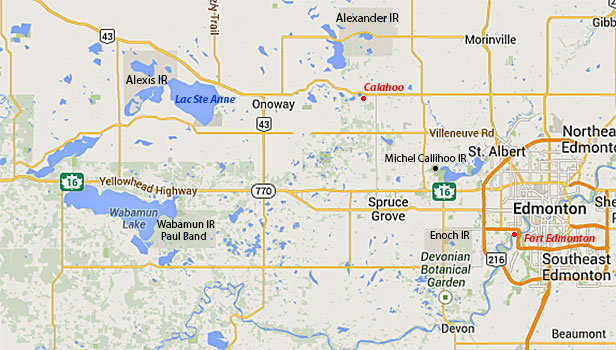 Lac Ste Anne
1842
By about 1842 Joseph and his family were living in Lac Ste Anne.
In 1842 Missionary Jean Baptiste THIBAULT established the first Roman Catholic Mission west of Winnipeg on the shores of Lac Ste Anne.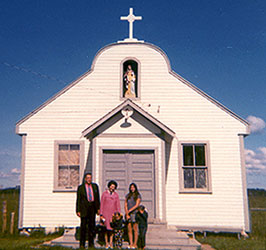 Lac Ste Anne Mission (From Christi Belcourt)
Descendants Tony Belcourt and his daughter Christi are in this picture
In 1842 daughter Julie married Pierre THIBERT at Fort Carlton (SK), son of Julie MAHEAU and Pierre THIBERT SR (b-1790). Pierre (born in Quebec) was a voyageur with the HBC when he met Julie. After they married they settled in St Francois Xavier (Red River).
In 1842 daughter Elizabeth married Francois Xavier PLANTE at Lac Ste Anne, son of Genevieve LACOURSE and Basil PLANTE (1796-1833).
In 1843 son Joseph Jr. married Madeleine CAMPION, daughter of Marie NIPISSING and Joseph SAPIN dit CAMPION (1791-1885).
In 1848 son Jean Baptiste married Cecile CALLIHOO in Lake Ste Anne, daughter of Marie PATENAUDE and Louis CALLIHOO (1782-1854). ** MORE ABOUT LOUIS CALLIHOO

In 1848 son Alexis married Nancy ROWAND in Edmonton, daughter of Archange NIPISSING and Antoine ROWAND (1805-1875).
In 1849 Michel CALLIHOO, his wife Marie SAVARD, and their four children moved to Fort Edmonton, where Michel worked on contract as a voyageur, a carpenter, and the man responsible for the fort's fishery at Lac Ste. Anne. They live at the fort through the 1850s.
In 1850 daughter Josephte married Jean Baptiste COURTEPATTE at Lac Ste Anne, son of Genevieve BRUYERE and Jean Baptiste COURTEPATTE SR of uncertain origins.
In 1852 daughter Annabelle married Joseph GLADU at Lac Ste Anne, son of Genevieve GRAY and Louison Francois GLADU (1798-1857).
In 1863 Joseph BELCOURT died.
On Nov 13, 1885 Catherine (nee L'HIRONDELLE) BELCOURT died at Lac Ste Anne.
Comments and queries at this link: FORUM DISCUSSING DESCENDANTS of JOSEPH BELCOURT
========================== Family Details ==========================
Children:
1. 1819 JULIE BELCOURT (m. Pierre THIBERT)
2. 1821 JEAN BAPTISTE BELCOURT (m. Cecile CALLIHOO)
3. 1825 MARIE ANNABELLE BELCOURT (m. Joseph GLADU)
4. 1827 ALEXIS BELCOURT (m1. Nancy ROWAND)
5. 1828 JOSEPH BELCOURT (m. Madeleine CAMPION)
6. 1829 ELIZABETH (ISABELLE) BELCOURT (m. Francois Xavier PLANTE)
7. Oct 5, 1833 JOSEPHTE BELCOURT (m. Jean Baptiste COURTEPATTE)