ALEXIS BELCOURT (1827-1881)
NANCY KINOWISS alias ROWAND (1832-)
(Last Updated: June 11, 2014)
Alexis BELCOURT was born about 1827 at Lesser Slave Lake, the son of Catherine L'HIRONDELLE and Joseph BELCOURT (1786-1863) a retired North West Company (NWC) employee from Quebec.
Alexis' future wife, Nancy ROWAND alias KINOWISS, was also born at Lesser Slave Lake around 1832, daughter of Archange NIPISSING and Antoine ROWAND (1805-1875).
By about 1840 this BELCOURT family had moved to Fort Edmonton or Fort-des-Prairies as it was called by French speaking voyageurs and trappers of that era.
Marriage to Nancy ROWAND
1848
Around 1848 at Edmonton, Alexis married his childhood sweetheart from Lesser Slave Lake, Nancy ROWAND. Around 1849 daughter Sophie was born there.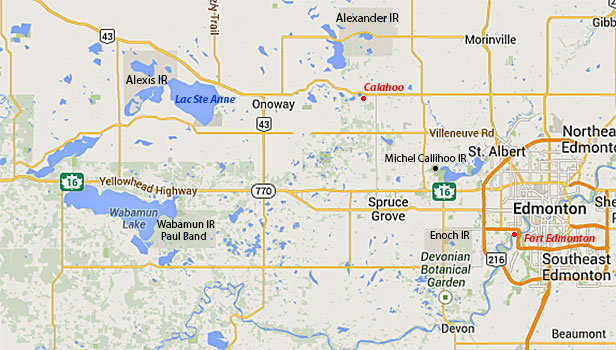 Canadian Confederation
1867
On July 1, 1867 the British colonies in North America were united under the British North American Act to become the Dominion of Canada. Sir John A MACDONALD (1815-1891) was appointed as Canada's first Prime Minister.
In 1870 daughter Sophie married Louis COURTOREILLE, son of Susanne Josephte DESJARLAIS and Joseph COURTOREILLE (1818-899).

In 1873 son Alexis Jr. married Madeleine GLADU, daughter of Jane COLLINS and John Dorion GLADU (b-1836)
In 1875 daughter Christine married Jean Baptiste LETENDRE at Lac Ste Anne, son of Madeleine GLADU and Jean Baptiste LETENDRE SR (1807-1901).
In 1877 daughter Victoria married Louis CALLIHOO at Lac Ste Anne, son of Angelique BRUNEAU and Jean Baptiste CALLIHOO (1832-1910).
Treaty Number Six
1876
On Aug 23, 1876 Treaty Number Six was signed at Fort Carlton, Saskatchewan, and on Oct 7, 1876 the Federal Government passed the first Indian Act which continued to subordinate Aboriginal peoples to the discretion of federal lands. Treaty 6 covered a remarkably large piece of land, and involved the most populous area in what was then the Northwest Territories and included the central portions of Alberta. The negotiations took place during a time when the Aboriginal population faced threats of starvation, smallpox, and the loss of their land to white and Métis settlers. Bison herds were dying off, farms were encroaching upon their lands, and some saw making treaty as a possible way — perhaps the only way — out of their problems.
In 1877 Chief Alexis KEES-KEE-CHEE-CHI executed an adhesion to Treaty 6 on behalf of the ancestors of the present-day Alexis First Nation. To fulfill the Crown's obligations to provide reserve land, IR 133, comprising 23 square miles, was laid out for the Alexis Band on the north shore of Lac Ste Anne in October 1880.
In 1881 daughter Louise married John BRAZEAU at Lac Ste Anne, son of Marguerite BRABANT and Joseph Edward BRAZEAU (1812-1871).
In October of 1881 Alexis BELCOURT died at the age of 54.
In 1883 daughter Virginie married Isaie (Isaac) GAGNON at Fort Saskatchewan. His origins are uncertain.
Nancy Re-marries to Adolphe TAILLON
1884
According to her Scrip affidavit, on Jan 28, 1884 Widow Nancy re-married Adolphe TAILLON of uncertain origins. Nancy would have been about 57 years old at that time.
Around 1888 Adolphe TAILLON died; buried in St Albert Cemetery.
In 1898 son John married Margaret FRASER, daughter of Sophia BRAZEAU and Simon FRASER (1847-1922).
Youngest daughter Mary Jane married Adolphus CALLIOU, son of Genevieve GAUCHER and Elzear CALLIHOO (1868-1932).
When did Nancy die? Many sources indicate that Nancy (nee ROWAND) BELCOURT-TAILLON died on Apr 21, 1866 in St Albert which has to be an error if we are to believe her Scrip affidavit which states that she married in 1884 to Adolphe TAILLON. Perhaps the Scrip affidavit is in error?
Comments and queries at this link: FORUM DISCUSSING the ALEXIS BELCOURT FAMILY
========================== Family Details ==========================
Children:
1. 1849 SOPHIE BELCOURT (m. Louis COURTOREILLE)
2.Jul 19,1854 ALEXANDER (ALEXIS) BELCOURT (m. Madeleine GLADU)
3. 1856 CHRISTINE/ CHRISTIANNE BELCOURT (m. Jean Baptiste LETENDRE)
4. Feb 4, 1858 LOUISE BELCOURT (m. John BRAZEAU)
5. Nov 19, 1861 VICTORIA BELCOURT (m. Louis CALIHOO)
6. 1865 ATHANASE BELCOURT (Died age 5)
7. 1867 VIRGINIE BELCOURT (m. Isaie (Isaac) GAGNON)
8. 1871 JOSEPH BELCOURT (Died age 17)
9. 1875 JOHN BELCOURT (m. Margaret FRASER)
10. 1882 MARY JANE EUPHRASINE BELCOURT (m. Adolphus CALLIOU)