JOHN MOORE (1836-1913)
MATILDA MORRISSEAU (1842-1924)
(Last Updated: July 19, 2016)
John MOORE was born around 1836 in the Eastmain District (Hudson Bay), the eldest child of Nancy THOMAS and John MOAR aka MOORE SR (1805-1898). ** MORE ABOUT JOHN MOORE SR
HBC Archives: John Jr. as an Apprentice Laborer in the Albany River District in 1847. He was only about 11 years old at that time.
A Voyageur with the Hudson's Bay Company
Fort Alexander – Lac La Pluie District
1864
In the fall of 1864 John (described as a "native") entered the service of the Hudson's Bay Company (HBC) at Fort Alexander. For the next 22 years he worked as a voyageur, guide and interpreter for the Company in the Lac La Pluie District (Ontario). ** MORE ABOUT JOHN MOAR 'B' IN HBC ARCHIVES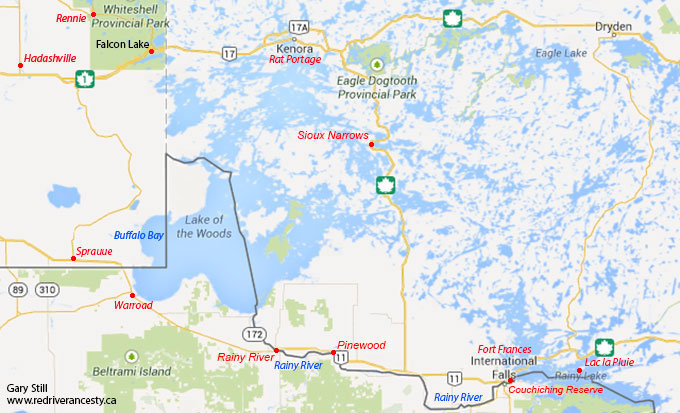 Canadian Confederation and another Red River Rebellion
Manitoba becomes a Province
1867-1870
On July 1, 1867 the British colonies in North America were united under the British North American Act to become the Dominion of Canada. Sir John A MACDONALD (1815-1891) was appointed as Canada's first Prime Minister.
Marriage to Matilda MORRISSEAU
1868
Around 1868-69 John married Matilda MORRISEAU at Lac Seul (North of Dryden, ON), daughter of Mary DANIEL & Antoine MORRISEAU (1808-1872). In 1869 daughter Nancy was born.at Eagle Lake (southeast of Dryden)
.
On Oct 11, 1869, Louis RIEL (1844-1885) placed his foot on the surveyors' chain to tell them their work was finished! This marked the beginning of another Red River Métis Rebellion. When it was all over, RIEL's Provisional Government accepted the terms of the Manitoba Act and on July 15,1870 Manitoba became the fifth province of Canada, the Canadian Government having acquired the territory previously governed by the HBC.
In 1871 their first child, Nancy died at Trout Lake in the Lac La Pluie District, and an alleged son Alexander was born that same year.
Unfortunately for the next 30 years I have been unable to find John MOORE in the census records but from his HBC biography we know that from 1874-77 he was a guide ant the Interpreter in charge at the English River Post (probably Mammamattawa). In 1877-78 he was a 'freeman' hired monthly at the Rat Portage Post (Kenora). From 1878 to 1884 he was the Interpreter in Charge at the Trout Lake Post (probably Timiskaming). From 1884 to 1886 he was again a 'freeman', and from 1886 to 1891 he was a Post Manager (temporary) at Eagle Lake Post (west of Dryden).
Census of 1901 at Eagle Lake (Dryden): John MOAR, Hunter, age 71; wife Matilda, age 61. Children: Charley (age 25) and Peter (age 20). Alleged son Alexander was also recorded at Eagle Lake that year; age 30 (b-1871) with a wife named Mary, age 28 (b-1872), both indicated as born in the Algoma district. Proximity of this Alex to John MOAR strongly suggests that he was in fact John's son.
JC Briere on the Forum: My grandfather's first wife's name was Nancy MOORE, born 1897 in the Kenora district and her death certificate states that her father's name was Alexander MOORE of uncertain origins who was also born in the Kenora district. In 1917 Nancy married JC's grandfather, Elzear McPERSON (1898-1977).
** MORE ABOUT ELZEAR McPHERSON
On Nov 2, 1912 John MOORE died in the Kenora District, probably in Eagle River.
On June 24, 1924 Mathilda (nee MORRISSEAU) MOORE died in the Kenora District, probably in Eagle River.
Comments and queries at this link: FORUM DISCUSSING the JOHN MOORE FAMILY
========================== Family Details ==========================
Children:
1. May 10, 1869 NANCY MOAR (Died in infancy, age 2)
2. 1871 ALEXANDER MOAR (m. Mary)
3. Aug, 1876 CHARLES MOAR
4. Sep 2, 1881 PETER MOAR