ANDREW MOAR aka MOORE (c1765-c1836)
HALFBREED WIFE MARY (?-?)
(Last Updated: October 14, 2012)
Andrew MOAR aka MOORE was born around 1765 in Birsay, Orkney, Scotland.
In 1786 Andrew began his career with the Hudson's Bay Company (HBC) as a Sailor based at Eastmain Factory in the Eastmain District (Quebec). He continued there later as a labourer and a Steward (he renewed his contract on Jun 5, 1792).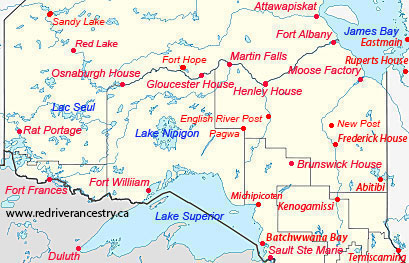 Much of the information in this narrative is based upon information from the HBC Archives (HBCA) which can be seen at this link: HBC BIO for ANDREW MOAR
Andrew is the forefather of many Red River descendants by that name. Another HBC employee named George MOORE SR (1774-1846) of unknown origins arrived at Moose Factory in 1794. He also spent time in the Rupert's River district and would undoubtedly have associated with Andrew. George was also a forefather of Red River descendants. It would be interesting to know if he was an Orkney man as well. Could he have been Andrew's brother?
In 1795 Andrew became an "Inland Trader" in charge of Nemiskau Lake Post. Nemiskau Lake is inland east from Rupert's House, reached via the Rupert River.
A Half-breed Wife named Mary
1802
Around 1802 a halfbreed woman named Mary became Andrew's wife (supported in Scrip records). Son Thomas was born around that time. Some references refer to her as Mary IMOKQUAY.
On Sep 10, 1804 Andrew returned home on the Prince of Wales. He returned on the same ship on June 27, 1805 to resume trading at Nemiskau and Neosweskau and Eastmain.
HBC Restructured
1810
In 1810 the HBC divided Rupert's Land into two new jurisdictions, the Northern and Southern Departments. William AULD (1770-1830) was appointed Superintendant of the Northern Department (Churchill, York Factory, Winnipeg and Saskatchewan Districts). Thomas THOMAS (1765-1828) was appointed Superintendant of the Southern Department (Fort Albany, Moose Factory and Eastmain Factory).
In 1812 son Thomas (only about 10 years old) was first recorded as a Labourer with the HBC at Eastmain; he probably got on the payroll by assisting his father.
From 1815 through to 1836 Andrew remained in the Eastmain and Rupert's River districts, serving in various capacities (Clerk, Outpost Master, Trader and Interpreter).
In 1818 son John was on the Company payroll in the Rupert's River District. Just a teenager, John and his brother Thomas were probably just assisting his father. By 1822 he was working the canoes as a Middleman and Labourer (Voyageur).
HBC – NWC Merger
1821
By October of 1821, the Hudson's Bay Company (HBC) and the North West Company (NWC) agreed on terms and approved an "amalgamation." The new, merged Company retained the HBC name and governing board in London. At the time of the union, (Sir) George SIMPSON (1786-1860) became the Governor of Rupert's Land.
In the early 1830's son Thomas married Matilda THOMAS and son John married Nancy THOMAS, both half-breed daughters of Catherine BEST & William THOMAS (1780-1818). ** MORE ABOUT WILLIAM THOMAS
In 1834 sons Robert and Peter began working for the HBC.
Andrew Retires to Europe
1836
In September of 1836 Andrew retired to Europe from Moose Factory as a passenger on the Prince of Wales. He was an old man by that time, around 71 years old. He never returned and in all likelihood he died in his homeland. He left behind a half-breed family consisting of his wife Mary and four sons (Thomas, John, Robert and Peter).
Colleen: In 1836 Andrew brought one of his sons back to Orkney. His name was Alexander; he would have been quite young.
In 1836 son Peter (when was he born?) was an Apprentice Labourer with the HBC in the Rupert's River District. He later married Nancy ALDER and died around 1900.
Andrew's Will was dated May 30, 1846: he made provisions for all of his sons.
Information about son Robert is very limited at this time. It seems he remained in the Rupert's River District where he died in 1876.
We don't know when or where Andrew's wife Mary died. Other details about this family are hard to find. If anyone can provide further valid information, we would love to hear from you. Please post comments & queries at this link:
FORUM DISCUSSING the ANDREW MOORE FAMILY
========================== Family Details ==========================
Children:
1. c1802 THOMAS MOAR aka MOORE (m. Matilda THOMAS)
2. 1805 JOHN MOAR aka MOORE (m. Nancy THOMAS)
** MORE ABOUT JOHN MOAR aka MOORE
3. ROBERT MOAR aka MOORE
4. May 14, 1819 PETER MOAR aka MOORE (m. Nancy ALDER)
5. ALEXANDER MOAR aka MOORE