ROBERT JAMES BEGG (1860-1951)
MARGARET JANE "MAGGIE" FIDLER (1865-1927)
(Last Updated: May 22, 2015)
James Robert BEGG was born Apr 23, 1860 in Michipicoten on Lake Superior, the youngest son of halfbreed Catherine SPENCE and HBC trader Charles Robert BEGG (1814-1902) from Scotland.  ** MORE ABOUT CHARLES BEGG
The BEGG Family Settles in Old England
1862-63
In 1862 Robert's father (Charles), an HBC sailor (a sloop master) and fur trader, was transferred to Lower Fort Garry in the Red River District. His father and his older siblings travelled from Lake Superior to build a house and prepare the way for Robert and his mother to make the move the following year.
In 1863, three year old Robert and his mother Catherine, with the help of two Indian guides, travelled by canoe from Fort William via Kenora, the Winnipeg River and Lake Winnipeg, and up the Red River to Lower Fort Garry. This was a homecoming for Robert's mother. She had been born and raised there, and it was there that she met and married his father before moving to the Lake Superior region where Robert was born.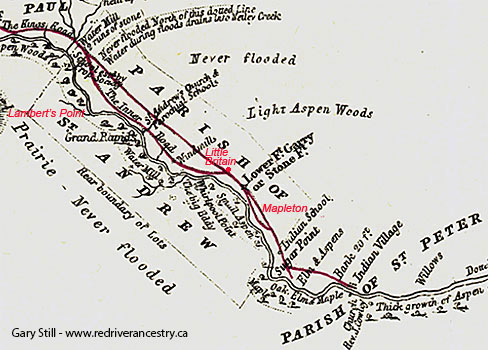 From Hind's Map of 1852
The district where the BEGG family lived is most commonly referred to as Mapleton, but it is sometimes also referred to as Old England, a term that was later (after1870) after Thomas TAYLOR (1847-1877) from England built a house on the property that now belongs to the GOWEN family. It was originally built as a hotel called the Old England Inn, although it was never used as such. It did however have a store, and it was a stopping place that sold refreshments.
Canadian Confederation
Manitoba becomes a Province
1867-1870
Canada's Confederation year was 1867.  Louis RIEL's Red River Rebellion began in 1869 and ended in 1870, and Manitoba became Canada's fifth Province. Robert was about 10 years old at that time.
Town of Selkirk Incorporated
1882
On June 15, 1882 the Town of Selkirk was incorporated (first mayor was James COCLEUGH); and a CPR branch line was constructed from Winnipeg to Selkirk. Robert was 23 years old.
Around 1883 as a young bachelor Robert became part of a musical group started by Claud MacFIE (1857-1936). Practices were held in th MacFIE homestead on the east side of the river, and people used to walk all the way from Selkirk to join them. Besides Robert, other members of the band from Mapleton included Magnus SPENCE (1857-1890) and John Peter PRUDEN (1856-1939).On Feb 15, 1884 they made their first public appearance at the Selkirk Skating Rink during a carnival.
Marriage to Maggie FIDLER
1886
On March 23, 1886, at St Clements Church, Robert married Margaret Jane "Maggie" FIDLER, daughter of Nancy Ann PRUDEN & Henry FIDLER (1831-1908). ** MORE ABOUT HENRY FIDLER
On Sep 25, 1886 daughter Mary Anne was born, followed by Henry in 1888 (died in infancy) and Minota in 1889. In the 1891 Census, Robert, Maggie, and their youngsters were living with Robert's elderly parents, Catherine & Charles BEGG.
Robert took up farming, raising cattle and sheep. He had a team of horses with which he did odd jobs and also worked on the building of the main highway. He and Maggie were active and concerned members of the community. From 1892 to 1896 Robert served as Church Warden for St Clements Church. Maggie became a mid-wife, trained by her mother-in-law (Catherine nee SPENCE). 
In 1892 son Cecil was born (he died at the age of two); daughter Effie in 1894. Their next three children died in infancy (Edgar, Wilfred and Jessie).
On Aug 25, 1902, his father, Charles BEGG, died and Robert became the head of the Mapleton BEGG family. Son Reuben was born on Nov 13 that year; son George in 1904.
On Jun 5, 1907 daughter Mary Anne married William Henry FIELDS, a fisherman, son of Isabella NORQUAY & John Hamilton FIELD.
With the addition of Ellen Agnes in 1909 (died in infancy), Maggie had given birth to a total of 11 children. Only five would survive to adulthood. 
In 1909 daughter Minota married Ferdinand McKENZIE, son of Harriet FIDLER & Reverend Benjamin McKENZIE (1837-1928).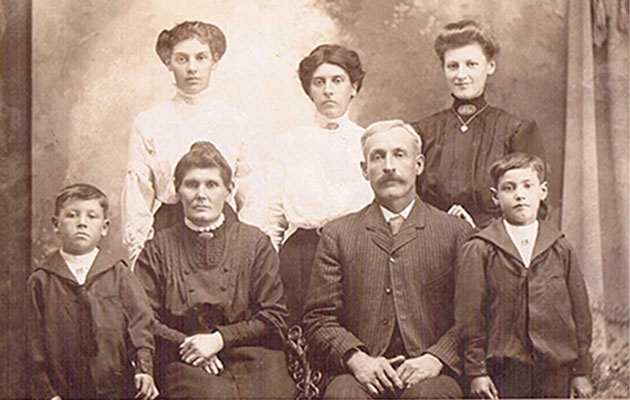 Robert James Begg and Family
Back, L-R: Effie, Mary Ann and Minota
Front L-R: George "Doodie", Margaeret "Maggie", Robert James and Reuben
The House across the Tracks
1911
In 1911, the family moved (from near the river) into a house they had built just west of the CPR tracks on Lot 5.  It was from that time on to be a home filled with love and hospitality. No one was ever turned away; all were made to feel welcome. When the Census was taken that year, Robert himself was the Enumerator for the district. In his own house he recorded himself as age 51; Margaret (age 45) and their children as Mary Anne FIELDS (age 24), Reuben (age 8) and George (age 6); his mother Catherine (age 87) and his brother Duncan BEGG (age 66).
In 1912 Mapleton School #5 was built on land donated by the BIRSTON family. Sons Reuben and George were probably among the first students there.
World War I
1914
On Aug 4, 1914 Great Britain (Canada on Aug 5) declared war on Germany and Austria-Hungary to uphold treaties with France and Belgium which were under German attack. This marked the beginning of World War I.
In 1916 daughter Effie (age 21) and her sister Mary Ann FIELD (age 30) were also recorded as Lodgers (Cooks) at the Selkirk Asylum. Effie gave parties for the young men going off to fight in the first Great War. For those who returned, there were other parties. During the War Effie and her sister Mary Ann (Mrs FIELDS) were working as cooks at the Selkirk Asylum.
The Great War ended on November 11, 1919, Armistice Day (Remembrance Day).In 1920 Effie married a returned soldier, Robert Gordon LAING who was now a Poultry Inspector for the Federal Government, the son of Janet MOULTRIE and John Cook LAING (1854-1937) from Scotland. ** MORE ABOUT JOHN COOK LAING
On Feb 11, 1927 son George "Doodie" married Nora CALDER, daughter of Sarah CHASTELLAINE & Albert CALDER (1858-1927).
On Nov 6, 1927 Maggie BEGG died (of rheumatism) at the age of 61; she was buried St Clements Church Cemetery.
In 1928 son Reuben married Sadie FAVEL, daughter of Frances SINCLAIR & John FAVEL (1872-1948). They would spend the rest of their lives in the "house across the tracks". ** MORE ABOUT JOHN FAVEL
On Jan 10, 1951Robert BEGG died (He would have been almost 91 yrs old).
Please post your comments and queries at the following: FORUM regarding the ROBERT BEGG FAMILY
============================= Family Details =============================
Children surviving to adulthood:
1. Sept 25, 1886 MARY ANNE BEGG (m. William Henry "Bill" FIELD)
2. Nov 15, 1889 MINOTA BEGG (m. Ferdinand "Ferdie" McKENZIE)
3. Apr 21, 1894 EUPHEMIA "EFFIE" BEGG (m. Robert Gordon "Bob" LAING)
** MORE ABOUT ROBERT GORDON LAING
4. Nov 13, 1902 REUBEN BEGG (m. SARAH ELLEN "SADIE" FAVEL)
** MORE ABOUT REUBEN BEGG
5. Jun 25, 1904 GEORGE MITCHELL "DOODIE" BEGG (m. Nora Ann CALDER)